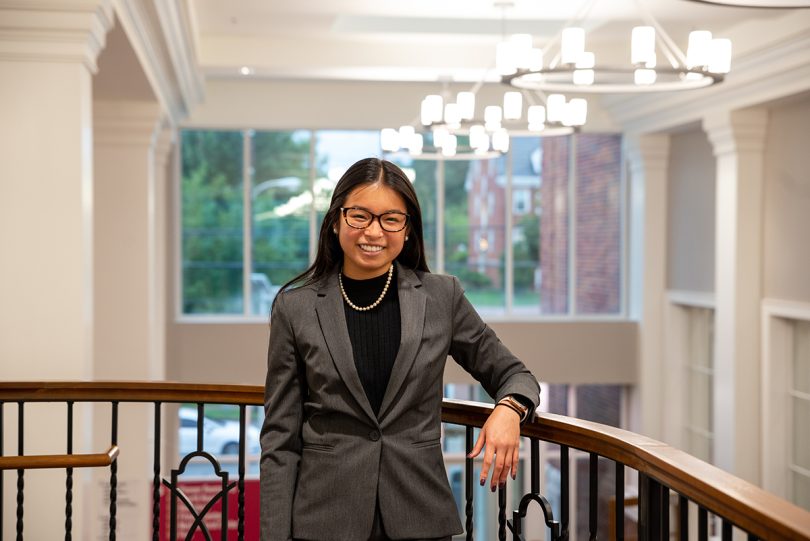 Lindsey Steffen, president of the Transylvania University Student Government Association, recently was appointed to represent independent colleges across the state on the Kentucky Board of Student Body Presidents.
Through her role with the Association of Independent Kentucky Colleges and Universities, the senior from Georgetown, Kentucky, will take part in discussions of state policy and serve as convener of Kentucky's independent college student leaders.
"I sincerely look forward to facilitating discussions regarding our Student Government Associations and representing the interests of independent college students at the state level," Steffen said. "More importantly, I want to express my excitement to build relationships between passionate, intelligent student leaders from around Kentucky."
Yesterday, Steffen along with the rest of the KBSBP met on Transylvania's campus with the Kentucky Council on Postsecondary Education and public university presidents. Through events like this, she's looking forward to advocate for independent college students on matters such as more state funding for scholarships and mental health resources (expanded counseling hours, for instance).
Mason Dyer, AIKCU vice president for student affairs, said, "Lindsey's drive and passion for working with other student leaders was evident from our early conversations, and she came highly recommended by Transy leadership. We're happy to have her in this role representing independent college students at the state level and building connections and capacity among our AIKCU student leaders."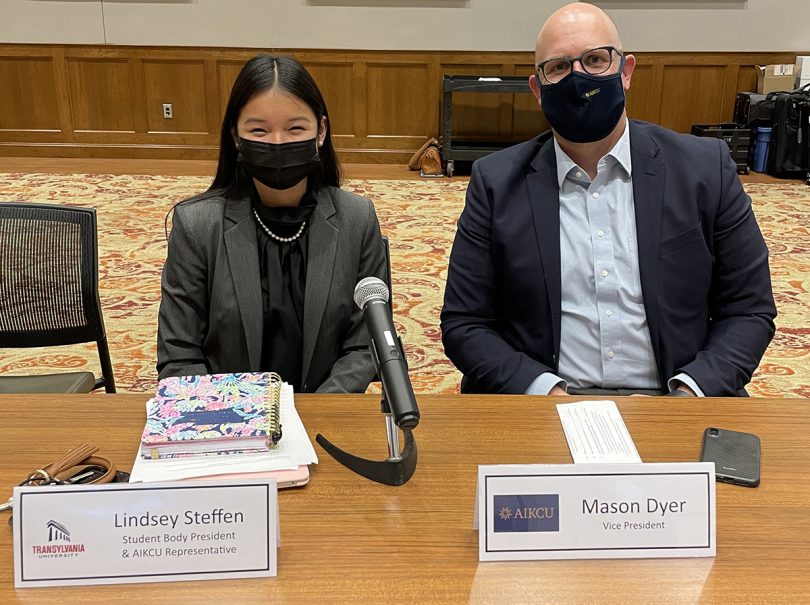 Steffen, the first Transylvania student to serve on the KBSBP, is a double major in English and writing, rhetoric, and communication. She's also an admissions ambassador, coordinator of Transy's First Engagements program, vice president of the Chi Omega chapter, president of Sigma Tau Delta English international honors society, and a concert band flautist.
"As a student leader, I think that it can be easy to feel overwhelmed and fatigued," Steffen said. However, I am quickly learning that inspiration and a renewed sense of purpose can be found in surrounding yourself with other empowered, driven leaders who simultaneously support and challenge your thoughts and your approach to leadership."
AIKCU said its representatives in recent years have taken on the additional responsibility of working with the organization to convene and build a network of independent college student leaders.
About the Kentucky Board of Student Body Presidents
The KBSBP was established by statute in 2013 and includes the student government leader from each of Kentucky's eight public universities, two representatives from the Kentucky Community and Technical College System and one independent college student leader chosen by AIKCU. The KBSBP advises the legislative and executive branches and the Council on Postsecondary Education on education issues and the concerns of college students.