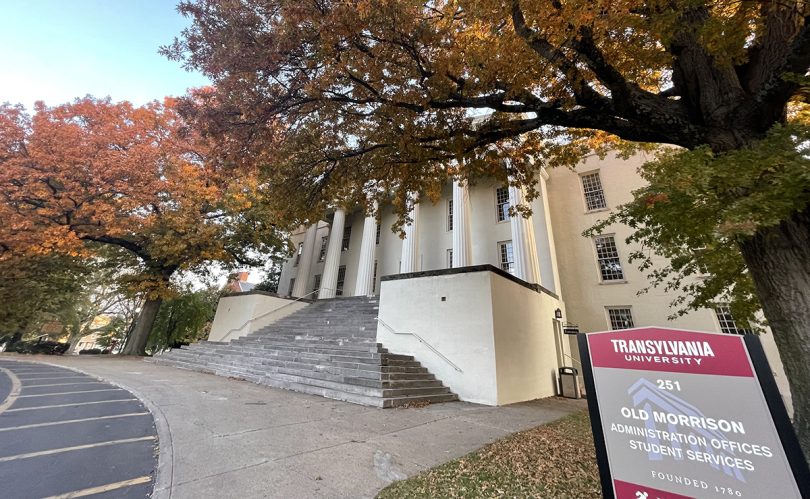 Beginning next month, Transylvania University will replace the limestone steps in front of its historic Old Morrison administration building.
Old Morrison graces the Lexington city seal and is the site of many events for the school community and beyond, including the annual PumpkinMania. It's also a traditional stop for campus tours.
The project is expected to cost around $400,000 and wrap up in July 2022. Construction fencing will go up Wednesday, but no major work will start until the week of Dec. 13.
Construction will involve removing the decaying steps and installing new ones from the ground up to the main, second-story entrance. Also, workers will replace the concrete slabs on either side of the stairs (the one on the left, facing the building, covers Rafinesque's tomb).
"That's something we've needed to make happen for a long time," said Danny Knox, director of facilities management. "Having this replacement done is definitely a great move for the university."
Transylvania has hired local Gilpin Masonry for the project, and the school will reuse some of the old steps for future projects.
The goal is to use the same type of materials and retain the original look of the building, which was constructed in the 1830s after the school's main building was destroyed by a fire.
Founded in 1780, Transylvania is the oldest institute of higher learning west of the Alleghenies.
Old Morrison, a registered National Historic Landmark, has served a variety of purposes throughout its history, including as a Civil War hospital. It is also home to a chapel that poet Robert Lowell referred to in his sonnet "The Graduate (Elizabeth)" as "one of the best Greek Revival things in the South."
The Lexington Historical Society has been consulted on the project, Knox said.
The construction will have a minor impact on parking in Old Morrison Circle, which may be closed to traffic at times — for instance, to move equipment on and off the site. The steps will be blocked off during the work, and the side entrances will be closed when necessary.
Read more about Old Morrison from the National Park Service.