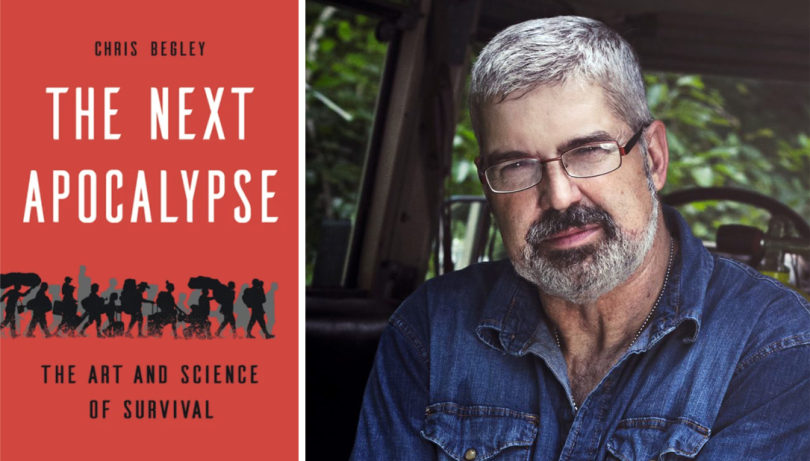 Transylvania University professor Chris Begley's book "The Next Apocalypse: The Art and Science of Survival" was released earlier this week to positive reviews by national publications, including Kirkus, Publishers Weekly, Library Journal and Booklist.
He will discuss and sign the book at Joseph-Beth in Lexington Green on Thursday at 7 p.m. Get the details.
You can also find the book, published by Hachette/Basic Books, in hardcover locally at Barnes & Noble and as an ebook and audiobook on most online platforms.
Begley teaches wilderness survival tips — which could come in handy after an apocalypse (for a while, at least) — but they're not how the National Geographic Explorer and 1988 Transylvania graduate suggests we will pull through a catastrophe. He thinks the effort will be communal, as opposed to individual.
His book examines the past, present and future — from "collapses" of civilizations such as the Maya to potential disasters looming over our future, such as climate change.
Begley points out that when we talk about a societal collapse, it's not really a near-total destruction by an obvious cause. Take the Mayan fall around 850 A.D. for instance. "It wasn't a collapse in the way we think about," said the anthropology professor. "It might not have been very fast and wasn't homogeneous — there were numerous factors that ultimately caused significant transformations." Things like warfare or changes in weather patterns can contribute to loss of confidence in leadership or mass population movements, which in turn reorder society in ways that aren't always negative — and are in fact happening all the time. "Ultimately my book isn't a doomsday book," he continued. "It's exactly the opposite."
Dealing with a societal crisis typically will look more like repairing a damaged system than dramatically starting anew.
The project started after a 2019 Lexington Herald-Leader op-ed by Begley: "I Study Collapsed Civilizations. Here's My Advice for a Climate Change Apocalypse." Also, check out this week's Herald-Leader article.
The 2019 article led to several interviews for books, blogs and videos — and to him being contacted by a literary agent to write "The Next Apocalypse."
The book has already drawn much praise.
"Archaeologist and survivalist Begley debuts with an insightful look at the history of natural and man-made disasters and how people have survived them," according to Publishers Weekly. "Seeking guidance for dealing with climate change, pandemics and other future threats, Begley examines how ancient Romans, Mayans and Indigenous tribes in North America responded to catastrophes."
Library Journal says, "Full of witty anecdotes about survivalism and prepper culture, Begley's book is an absolute joy to read and a hidden gem."
---
Above photo of professor Begley by Alicia Calton