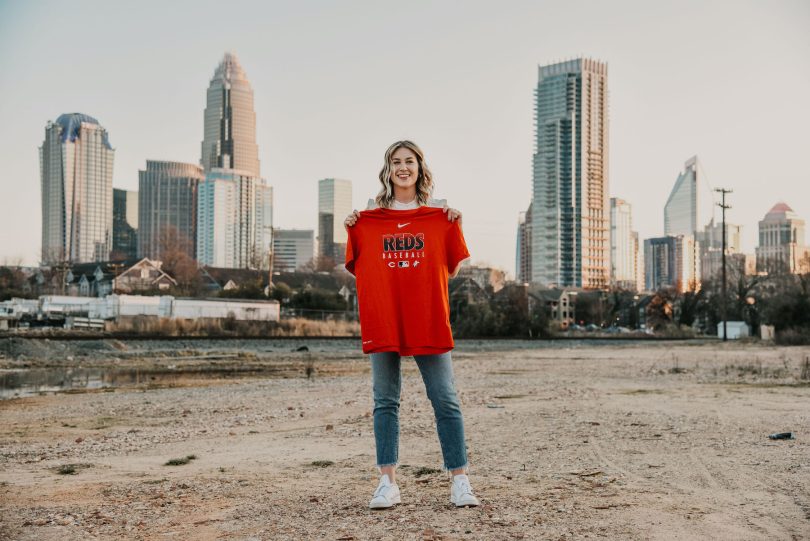 Every kid who has played sports imagines growing up and playing for their favorite team. As a young baseball fanatic raised in Cincinnati, Katie Hulsman's team was her hometown Reds. And while she may not come to work with her name on the back of a uniform, she's very much a part of the club.
Hulsman came to Transylvania University with the class of 2016 as a softball player, and she chose the university because she knew that the small classes and care from professors would help her succeed in her academics while she was often gone traveling with the team.
"I knew I wouldn't be just another student in the class," she says. "I took tests on the weekends and spent a lot of time in office hours with professors because I was an athlete. It was a huge part of who I am — I love sports so much, and Transy allowed me to do that."
She declared a computer science major and took quickly to coding, working closely with professors Robert England and Kenny Moorman to build her technology skills. She earned two separate internships with Duke Energy, which offered her a job the summer before her senior year. Following graduation, she moved to Charlotte, North Carolina, and spent the next four years getting experience in all aspects of information technology — server administration, SQL reporting, back-end development, front-end development. And she succeeded at all of them.
"A lot of coding is solving problems, and Transy did a really good job teaching us the logic behind how it all works and how you solve those problems," Hulsman says. "It really set me up for success. I knew how to look at data and glean information from it, but I also understood the big picture, which allowed me to hit the ground running."
And then came a job opening with her beloved Reds. The team was hiring a baseball application developer, somebody who could take large amounts of scouting data and put it all together into a user-friendly format that coaches and players can use to decide how to approach any situation. Who better to take on that kind of task than someone who knows both the sport and the tech inside and out?
She started out helping with a scouting app, but was quickly approached to build a web application to be used during the Amateur Draft to help the front office compare players in real time to make decisions on who to take. The experience has allowed her the unique opportunity to be an integral part of the team that she grew up rooting for.
"It's full circle for me because I'm a developer, but I'm also an athlete and a huge baseball fan, and I've been able to combine those two worlds," she says. "The amount of data they have can be overwhelming, but it's so cool. Tech is constantly evolving and changing, and you have to be able to learn and push yourself to keep up. Whether it was my computer science classes or my psychology minor or the classes I took outside of those, Transy taught me how to question things and be a lifelong learner."