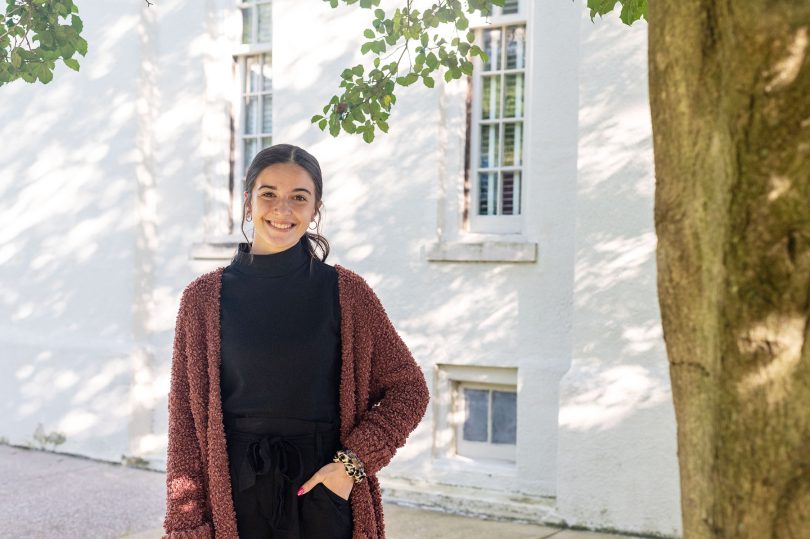 Over the next month, Transylvania's 1780 blog will highlight student-athletes, past and present. First in the series is a Q&A with a member of the Heartland Collegiate Lacrosse Conference 2020-21 women's lacrosse championship team.
Even as a first-year student arriving from Louisville, Kentucky, Ysa Leon earned HCLC Player of the Year honors along with two senior teammates. And although Leon has always put academics first, it was lacrosse and the support of team members that provided the motivation to get out of bed on the lowest days of the pandemic, to triumph on the field and to go on to lead as a sophomore. Leon is majoring in writing, rhetoric, and communication and has a self-designed second major in social advocacy.
Why lacrosse?
"Lacrosse is a very liberating sport. Physically, you're standing up, your lungs are expanded. I play midfielder, so I run a lot. It can be tiring, but it's also very liberating. I love lacrosse and our team. We have a very tight family as a team and are there for each other on and off the field."
Live to fight another day
"I think we all lost something when COVID hit. My high school class lost its senior season. Everyone else who was already at Transy lost the majority of their season. So I think that common experience of losing something tremendous helped us come together emotionally, but also to hold each other accountable for what we were doing off the field that might put the team in danger. We have this common understanding that it's out of respect for each other — especially for the seniors. We wanted a good season for them. I'm really glad we were able to do that."
Take nothing for granted
"As a high school senior, we didn't know that one game was going to be our last game (in a promising season). So I think, going into my first year at Transy, it taught me to not take it for granted, because any game can be your last game. Our coach (Lauren Bickford Wentworth) really instilled that in us. And I think that's why we had such a successful season. It's because we knew what it was like to have that taken away."
The generosity of seniors
"A lot of the preseason was kind of difficult finding myself as a freshman. I have to give it up to seniors Salem (Carlow '21) and Courtney (Pontious '21) because they were huge role models for me. (The three shared HCLC Player of the Year honors.) Having older role models is important in any aspect of life, but definitely in sports. I grew so much as a player and as a person. It's hard to find a common ground between a senior and freshman, so for them to incorporate me was really awesome. They taught me so much and were like second coaches to me."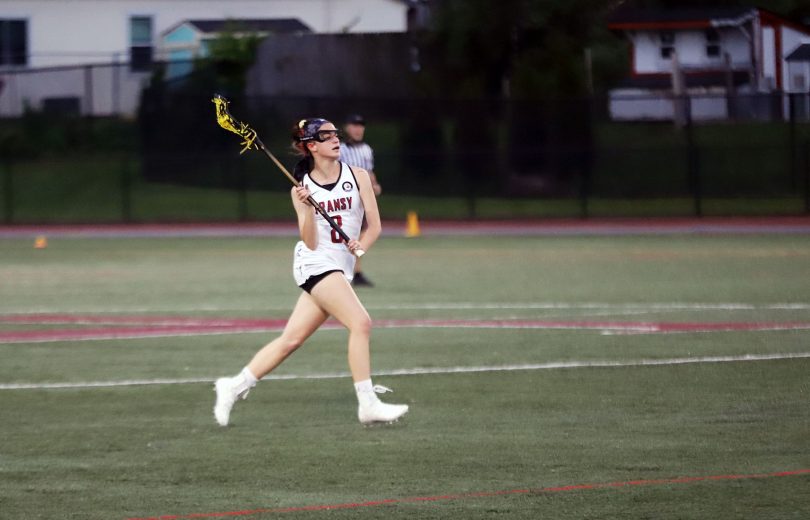 When being a first-year student-athlete is challenging in the best of times
"The odds were definitely stacked against us as freshmen. The first semester was really tough, I'm not going to lie. I have a lot of struggles with my mental health. And I think that's a very common experience with a lot of different people during COVID and continues to be. I think having those role models on the team definitely helped me. … Lacrosse was one of the things that kept me going. It got me out of bed. I got to go see my friends because we had limited interactions, so practice or conditioning was enjoyable. I got to be with the people I love.
The second semester got a lot easier. We started to get vaccinated, and we were able to do more with our team and travel a little bit. Obviously, it kind of adjusted from what a normal season would look like. But I think just to have those little bits of normalcy was a saving grace. I think we all learned not to take that for granted. And so we're especially grateful for all of us being safe now. Hopefully we'll have even more of a normal season this year."
Shout-out to Transy's mental health resources
"Everyone struggles with mental health to a certain degree. COVID has exacerbated those experiences. I've always struggled with mental health, and I think the isolation and uncertainty heightened my anxiety. Going to therapy regularly has been really important to me. I think everyone should go to therapy if they have the resources available. Ashley Hill (Transy's associate dean of students and director of student wellbeing) actually started that journey for me. She's a great resource. I recommend any Transy student to go to her and talk to her. Also we had a sports psychologist last year, and he was great. And we're meeting with one more regularly this year. So I'm excited that we're recognizing mental health as a huge part of athletes' lives and students' lives."
Lessons learned
"I will not take anything for granted. Playing a sport (in Division III) can be seen as just an addition to your college experience, but it's an important aspect of my life. I know that the physical activity and camaraderie with my team definitely improves my mental health. Being active and being with your friends is definitely important. Feeling supported by people who love you and have a common goal is great. I think for anyone it's important to keep connected and find things that you love, because it can be taken away at the blink of an eye."