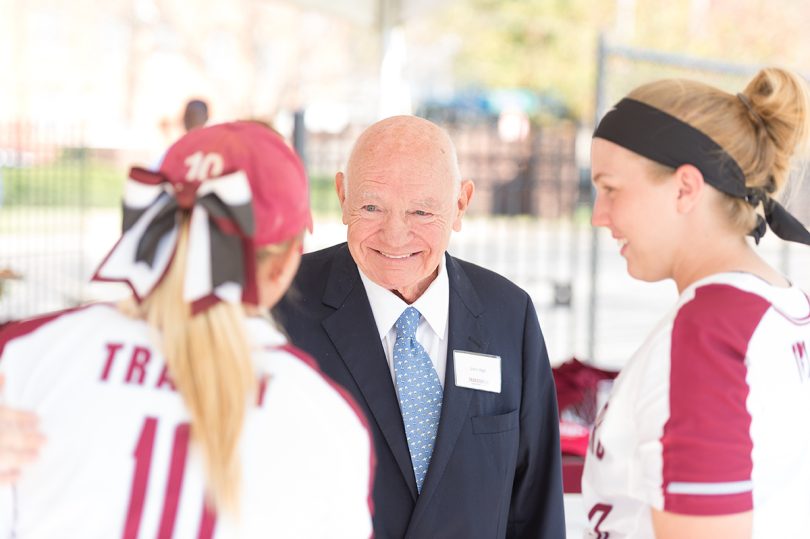 John Richard Hall, one of only eight Transylvania University lifetime trustees, died Thursday at the age of 88.
The Transylvania community remembers the Lexington man for his kindness and generosity — and his name will live on through the school's John and Donna Hall Softball Field at the corner of Third and Broadway.
"John was a good friend of mine and a great friend of Transylvania," said Norwood Cowgill Jr. '65, chair of the Board of Trustees. "His judgment and support will be missed."
Hall, who was a retired chairman and CEO of Ashland Inc., helped make the sports facility possible and later funded major renovations. Transylvania honored him and his wife, Donna, in a citation for the 2017 rededication ceremony: "May all who compete on Hall Field embrace their example and live with the same measure of integrity, leadership, camaraderie and devotion to others."
They also were praised for being "tireless supporters" of the university during the event.
The original field was dedicated in 1996 and at first served as a venue for soccer and field hockey, as well as softball. After the renovations wrapped up four years ago, it was the site of an NCAA super regional softball tournament.
Holly Sheilley, vice president for athletics, remembers Hall as a kind man. "Despite his own success, he was always excited for others to do well."
Hall graduated from Vanderbilt University in 1955 after serving as co-captain of the Commodore football team. He started at Ashland in 1957 as a chemical engineer.
A long-time champion of education, Hall was "well respected throughout the petroleum refining industry, financial markets and the communities where he lived and served tirelessly to create a stronger future for all," according to his obituary.
Milward Funeral Directors is handling the arrangements.