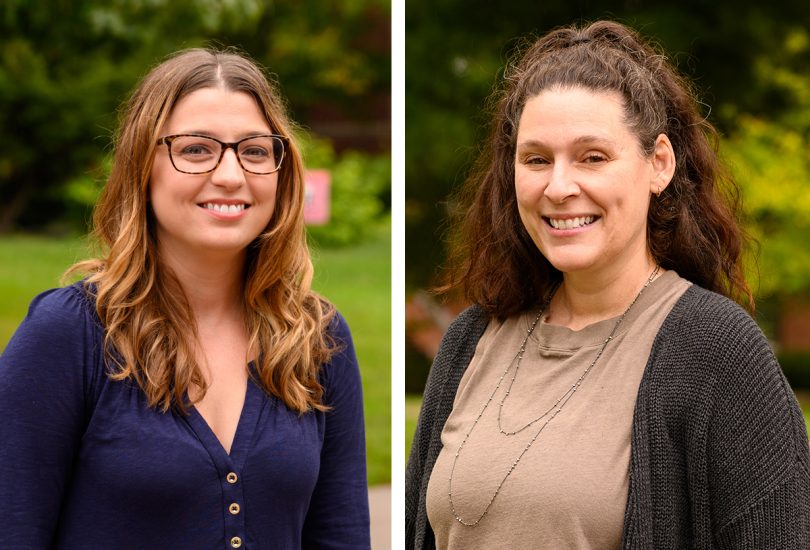 Transylvania University this fall term welcomes two new professors who bring with them a wealth of experience and interests, as well as an enthusiasm for the liberal arts.
Madeline Aulisio '10 recently started as an assistant professor of health and exercise science, and Amy Rector-Aranda began as a visiting assistant professor of education.
Aulisio, who earlier taught at Transylvania as an adjunct, is helping the school strengthen its focus on the field of public health, teaching a course by that name along with Health and Wellness.
Public Health is now a required class for health and exercise science majors.
As an undergraduate at Transylvania, Aulisio's research interest in wellness and prevention was sparked by professor Mike Nichols' Health Psychology class. She went on to earn a Master of Public Health and Doctor of Public Health from the University of Kentucky.
Aulisio said that since the pandemic began, there's been a rising interested in the public health field across the country, including at Transylvania. And students are discovering there's more to public health than just, say, restaurant inspections — it includes a variety of career options, from biostatistician to health educator. "People are really starting to realize how rich, how interprofessional, just how influential public health really is in our lives," she said.
As a professor, Aulisio loves seeing her students make connections when the classroom conversation is rich and things in their minds are clicking with what they're learning in other classes (which ties into the liberal arts value of interdisciplinary learning).
"I'm excited to have my experiences at Transylvania come full circle and return as an instructor," Aulisio said.
Rector-Aranda said she knew Transylvania was the right place for her to teach after reading its mission statement. "I am excited to be part of a close-knit learning community where creativity, critical thinking and consciousness raising are the most important things we do every day, not just buzzwords or afterthoughts."
This term she's teaching Schooling in U.S. Culture and Philosophy of Education, and on tap next term is Foundations of Education.
Rector-Aranda's recent personal work has examined applications of "critically compassionate intellectualism" and "relational-cultural theory" in teacher education. She's also collaborating with colleagues and students on "various research in education equity and urban and multicultural education and higher education."
Before serving as a faculty member at Texas A&M University, Rector-Aranda graduated from the University of Cincinnati with an M.A. and Ph.D. in educational studies. Her undergraduate studies were at Northern Kentucky University.
"I believe we must all learn to recognize historical, structural and cultural inequities, validate multiple forms of knowledge and experience, and embrace all types of diversity so that we can create new alternatives in teaching and learning that overcome our past and current barriers," Rector-Aranda said. "I want to contribute to creating a future in which everyone has a chance to reach their individual potential as well as thrive within, contribute to and harmoniously interact as equals in a more enlightened global society."