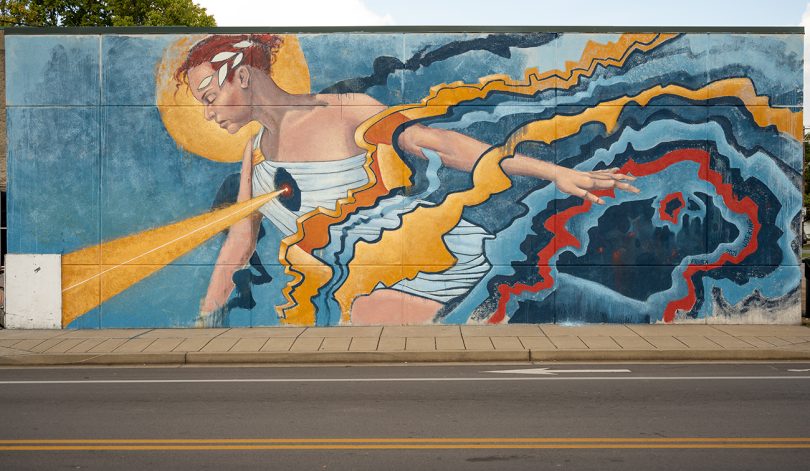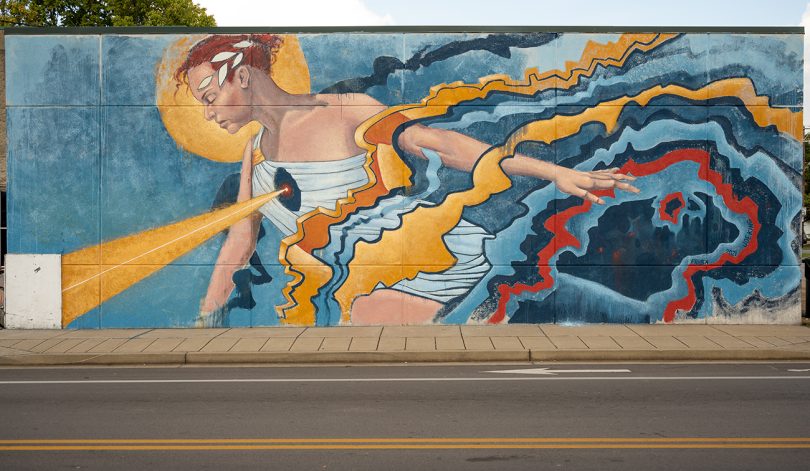 A new mural on the side of a Transylvania University warehouse depicts a scene from a land and time far removed from our own: a Greek Oracle of Delphi channeling the muses to illuminate a path for humans.
Despite this apparent remoteness, the mural started resonating with folks who live nearby even while artist Joe King was still painting it. He appreciated how many people walking along Fourth Street near Jefferson stopped to thank him for bringing art to the neighborhood in such a visible way.
Titled "The Pythia in Agate," the work is part of this month's PRHBTN street art festival in Lexington. It shows a Delphic oracle wreathed in vision-inducing vapors, focusing a ray of light toward passersby on the sidewalk.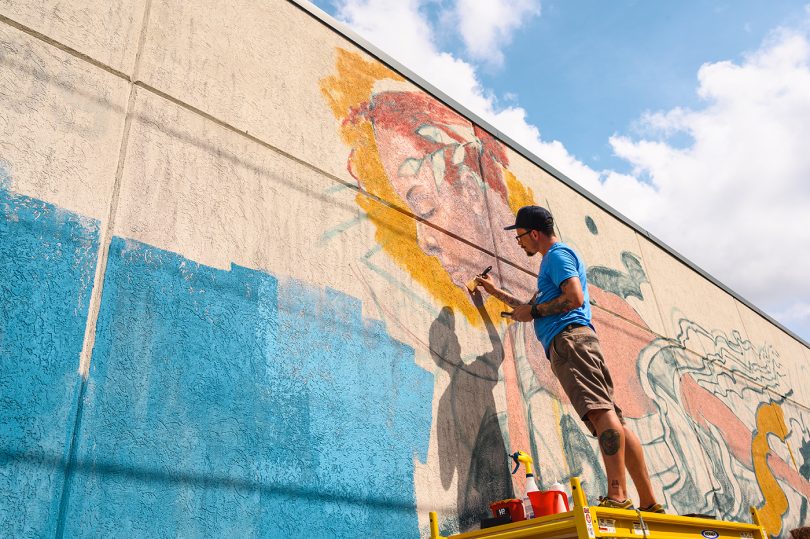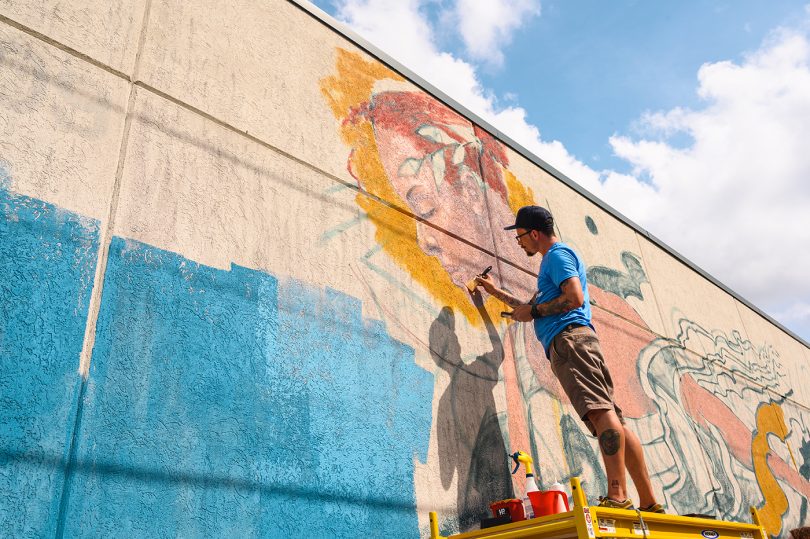 She's lighting the way, but to where? The "Agate" part of the title provides a clue — from murky gray-blues to vibrant oranges, the color scheme reflects the state rock: Kentucky agate, King said. So the mural's message is that "with wisdom, we follow our hearts down the path to home."
The mural's classical subject matter is no passing fascination for the artist, who once ran Oracle Tattoo Guild. "Pretty much everything I do anymore is some retelling of Greek myths," King said.
He also pointed out how the Temple of Apollo's high priestess (aka the Oracle of Delphi, aka the Pythia) was consulted by many different cultures, even warring nations, to pursue knowledge of the future without the "normal objections of the past." King said he'd like to paint more Pythias around town, ones that reflect a shared hope for the future.
The Fourth Street artwork, though, is vague enough for viewers to come up with their own interpretations, which actually reflects how oracles gave their predictions. "Nothing was being dictated to you," he said. "It's kind of liberating."
It also was liberating for him to paint a work as large as a mural. "There's something very freeing about having your entire arm in a brush stroke," he said. Other of King's murals are displayed in Roulay Restaurant and Bar and outside Broomwagon cafe.
Another reason he likes murals is that they become integrated into people's lives. "I like that they're in the middle of a neighborhood — they're in a community," King said.
Check out this WKYT story on his new work.
Also during this year's PRHBTN festival, Transylvania art professor Jack Girard and graduate Josie Willis '19 have new pieces in a Lexington Art League exhibition.