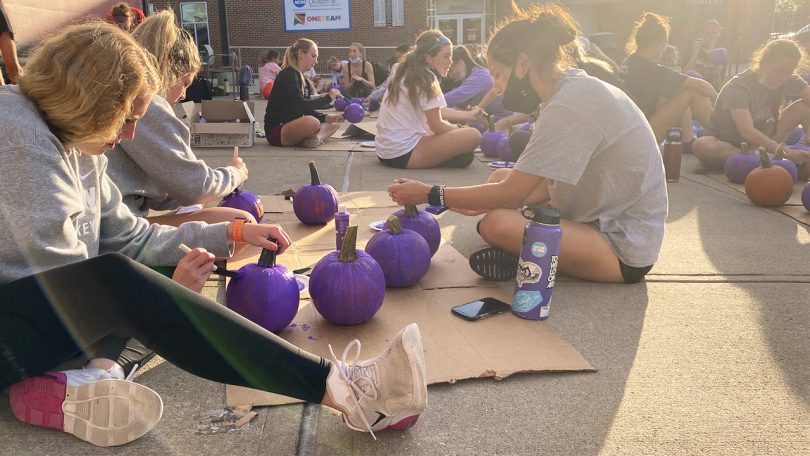 Transylvania University student-athletes have sourced pumpkins from a local farm — and painted them purple — to raise awareness of domestic violence during this National Domestic Violence Awareness Month.
Through Oct. 31, Lexington businesses and organizations will display the gourds to show that domestic violence can be found everywhere. Purple is the nationally recognized color for domestic violence awareness, and these pumpkins are part of a new Peace Pumpkins campaign from the Domestic and Sexual Violence Prevention Coalition and GreenHouse17.
"We've had such great support for our citywide awareness events and are excited to support survivors and raise awareness about domestic violence in October," said Ashley Hill, associate dean of students and director of student wellbeing at Transylvania and chair of the DSVPC Outreach and Awareness Committee. "By placing these pumpkins around Lexington, in many different types of locations, we hope survivors will see how many resources are available and find safety in our city."
The university's women's soccer and field hockey teams worked on the project, and anyone is welcome to join the campaign by painting and decorating their own purple pumpkin. (Speaking of pumpkins, Transylvania is hosting a community pumpkin carving Oct. 24 as part of its annual PumpkinMania.)

Each pumpkin has a QR code that links to a list of local domestic violence resources and services, according to DSVPC coordinator Stephanie Theakston.
Local residents are encouraged to take a picture of themselves with the purple pumpkins they find around town and post it on social media using #PeacePumpkins and #LexStopDSV to help spread the word of support and resources.
Anyone who has been or knows someone who has been a victim or survivor of domestic violence can contact GreenHouse17's 24-hour hotline at 1-800-544-2022.
Stats
On average, 24 people per minute are victims of rape, physical violence or stalking by an intimate partner is the U.S. That's more than one person every three seconds.
1 in 7 women and 1 in 25 men have been injured by an intimate partner.
Kentucky women experience the highest rate of stalking in the nation.
98% of victims also experience financial abuse as a form of control, making it likely victims are reliant upon partners for basic life necessities.
Only 47% of domestic violence is reported to the police, meaning more than half goes unreported.
---
Information for this article was provided by the Lexington-Fayette Urban County Government.