Over the past several months, the Transylvania Student Government Association has piloted the building of a "pocket park" for the campus community to enjoy.
Branson Gillispie, a junior double-majoring in international affairs and writing, rhetoric, and communication, initiated the project in his role as an SGA senator. "We would always talk about planting a tree 'here' or a flowerbed 'there,' but it never actually happened until now," he says. Gillispie is proud of the new park, saying he hopes it serves as a place for students to relax, chat and study.
This park was not a new idea for Gillispie. In fact, he's been hoping to get one at Transylvania since high school. "When I lived in Cynthiana, they would always talk about building a pocket park," he says. "They finally did while I was in high school, and I held onto the idea for Transy."
The park, which is yet to be officially named, sits near several residential buildings for students. Its location makes it an ideal spot for students to view the natural flowers and shrubbery while meeting or working independently. With plenty of room to expand, Gillispie hopes future classes will add on to the park, mentioning the addition of trees or annual flowers planted by the graduating class.
Gillispie does make one request: "If you're walking past the park, please pick a weed or two. If we all make little contributions to the park here and there, we can keep it clean and pleasant for everyone."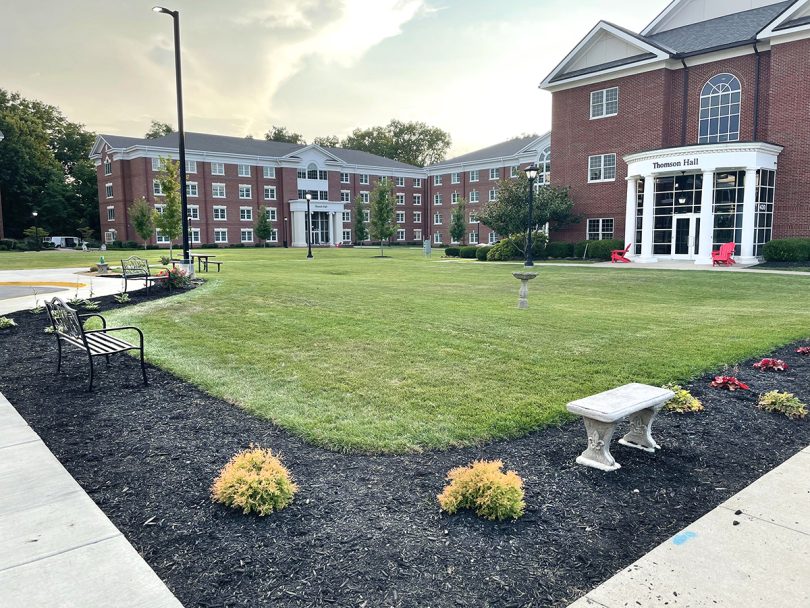 ---
Jeffery Proffitt is a sophomore from London, Kentucky.