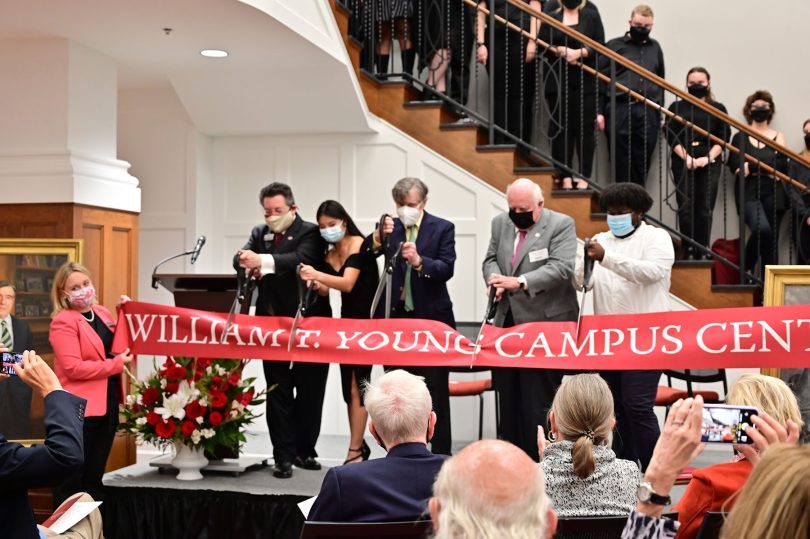 Transylvania University officially dedicated the William T. Young Campus Center on Thursday. The $30 million Campus Center on North Broadway, a mix of new construction and renovation of the previous student center, bridges the residential and academic sides of Transylvania.
Thursday's dedication recognized William T. Young Sr., after whom the original campus center (completed in 1983) was named, and William T. Young Jr., who recently completed a 20-year tenure as chair of Transylvania's Board of Trustees.
"Not only are we dedicating a magnificent new facility that will enhance the living and learning experience on campus, but in doing so we are also honoring a great benefactor of the university and paying tribute to his family members who have so willingly embraced his commitment to the school," current board chair Norwood "Buddy" Cowgill '65 said.
"For Transylvania University, the Young family — W.T., Bill, Barbara and Chris — have been both a treasure and a godsend. Selfless with their time, energy, wisdom and wealth, I can assure you that this institution would not be where it is today without them," Cowgill added. "While this wonderful new facility will carry the name of W. T. Young, it will serve as both a tribute to and testimony of the entire Young family's commitment to the well-being of this university and community."
William T. Young Jr. recalled his father's commitment to Transylvania.
"My father first became associated with Transylvania in the late 1960s when a close friend and Transylvania curator persuaded him to join the board," he said. "He always had a strong interest in education and, even though he was a UK graduate, felt that his support at a small school like Transylvania with a reputation for educational excellence would be more meaningful than anything he might do for UK. He was right."
During W.T. Young's 33-year association with Transyvlania, the school's student body grew in size and in quality. "Its teaching, already good, improved further; a significant portion of its physical plant was renovated or built anew, and its endowment increased significantly," Young Jr. said.
The William T. Young Campus Center is a 97,710-square-foot building that includes 61,400 square feet of new construction and 36,310 square feet of renovated space. The facility opened in 2020 and has bright, welcoming areas for student organizations, student services, dining, fitness, a bookstore, community outreach and more.
"​​This new student center will feel the steps of students walking up and down its hallway as we make our way to the bookstore or to class, and this building will watch each student grow physically, mentally and emotionally from their first year to their senior year," said Lindsey Steffen '22, president of Transylvania's Student Government Association. "Most importantly, this building will come to represent something so much more. It will mean comfort, challenges and — ultimately — home, as we begin to rebuild and reconnect in this post-pandemic life."