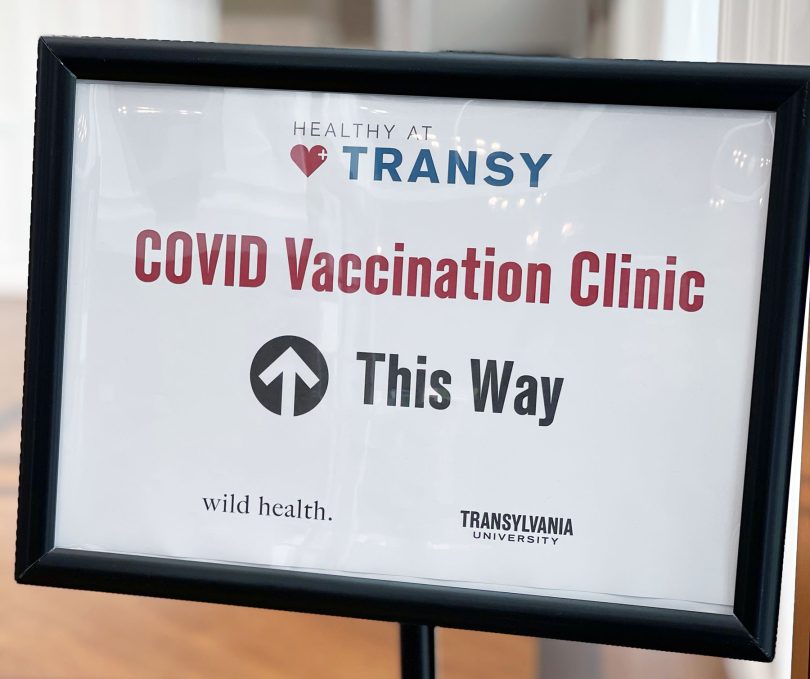 Transylvania University, in partnership with Wild Health, is offering four community vaccine clinics over the next month. The clinics on Sept. 9, 23, 30 and Oct. 7 will offer the Pfizer vaccine to anyone aged 12 and older, including local community members and Transylvania students, staff, faculty, alumni and family.
To schedule an appointment between noon and 5 p.m., go to kyvax.wildhealth.com and select the Transylvania University location.
This Thursday's clinic will be in the lobby next to the pool in the William T. Young Campus Center at the corner of Fourth Street and North Broadway. Parking is available in any university-designated parking area, including those at Graham Cottage Alumni House off Broadway and behind the Mitchell Fine Arts Center at the corner of Fourth and Upper streets.
On Aug. 25, Transylvania announced it is requiring all students and employees to be vaccinated by the return from fall break Oct. 13. As of today, 83% of students and 86% of employees have reported they are fully vaccinated.
Transylvania students and employees are asked to upload a copy of their completed COVID vaccination card to the university's secure portal as part of the ProtecTU initiative. To do so, go to my.transy.edu and log in to Colleague Self-Service. Employees should select the Employment icon in the left toolbar, and students should select the Academics icon. All uploads are secure, and an individual's health information will remain accessible only by those authorized to view it.