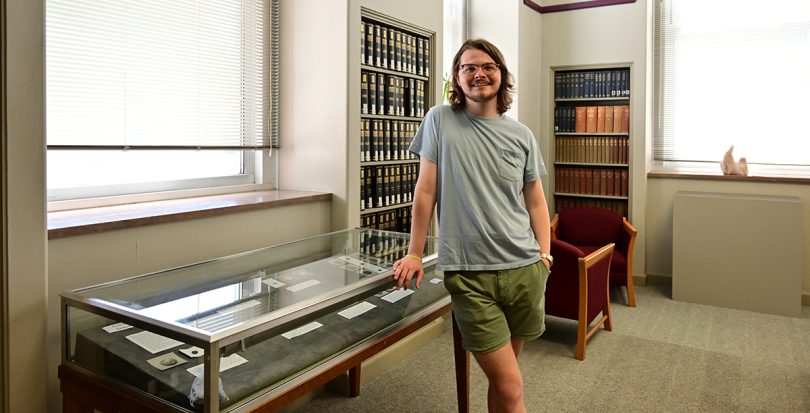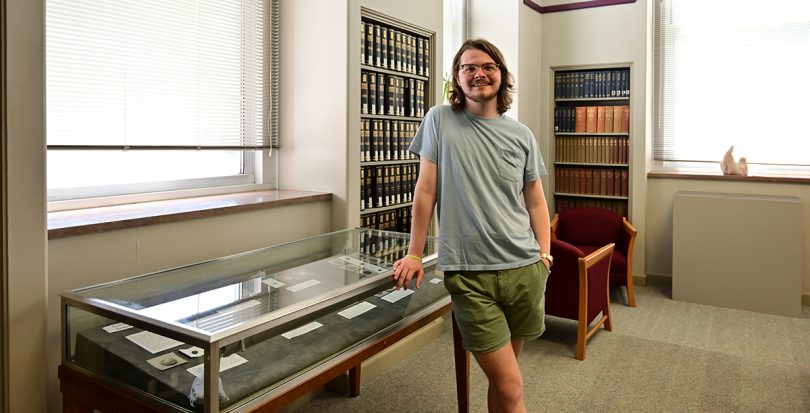 When we're shoving quarters into a vending machine, we probably don't stop to think about the aesthetics of their design or what they tell us about our culture.
Likewise, ancient Romans might not have given much thought to the deeper meaning of the denarii rattling around in their purses. But put those coins under a glass case 2,000 years later and their significance becomes obvious.
Transylvania University senior Ben Gallenstein was struck by this insight over the summer as he assembled a collection of ancient coins for a display in the school's library.
Through a summer internship for academic credit, he archived, arranged and described the 23 coins so everyone can now experience them (the classics program, which had been using them in classes, gave them to the library last fall).
"The experience of all the moving parts made it easier for me to realize everything that goes into what I want to do in the future," said Gallenstein, a classics and art history double major with an interest in becoming a curator or archivist.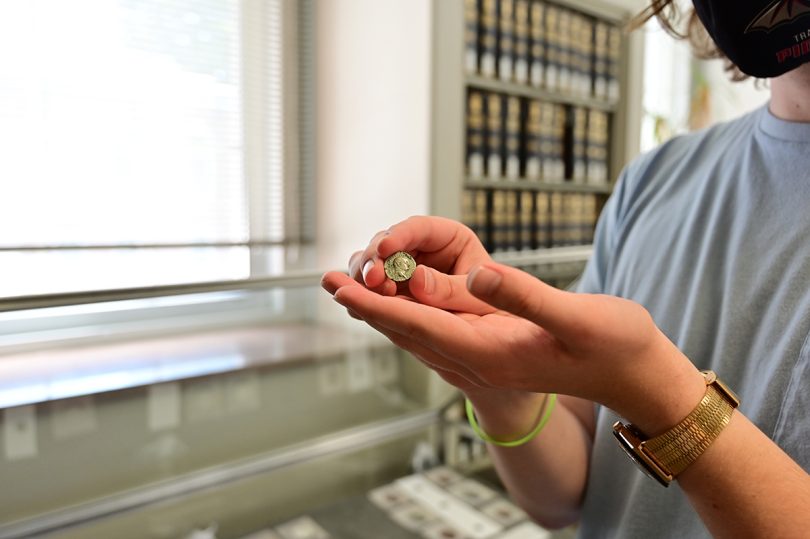 The oldest coin — a bronze, Greek one dating back to the 400s B.C. — features the goddess Athena on its heads side and a hippocampus (horse/fish creature) on the reverse. "Gods, heroes, and other mythological figures are a common motif among ancient and classical coins," according to the online Special Collections guide that Gallenstein curated.
"You get to know a lot about what they appreciated as a culture," he said. Plus: "The craftsmanship is beautiful."
The rest of the coins, which are bronze and silver, date back to the Roman Empire. They, too, honor gods — including Mercury, who also appeared on U.S. dimes from 1916-45. Other coins feature images like soldiers and a cornucopia (everybody likes a good harvest).
They don't look as precise as today's coins because they were struck by hand — and you had to wack them pretty hard, to boot. The Romans were able to strike up to 20,000 coins a day, according to Gallenstein.
He got help for the project from library director Susan Brown and professors John Svarlien and Frank Russell.
The study and collection of coins — "numismatics" — is "an important dimension of the study of ancient history," Svarlien said. "The imagery and legends on coins can reveal a lot about the zeitgeist of a particular period and the political ambitions of leaders. Greek and Roman rulers took very seriously the power coins had in influencing public opinion."
Svarlien emphasized how the work, which grew out of Senior Seminar research, involved much more than arranging coins in a case. For instance, Gallenstein studied and photographed them and cataloged them into Special Collections. He also found out the best way to care for the coins.
"It is an outstanding piece of work," Svarlien said. "I hope the Transy community will visit the collection."
Brown shares his enthusiasm. "Ben's work will assist researchers and students in Transylvania courses for years to come," she said. "He brought a passion for the subject, which shows in both the display and the guide that he created."