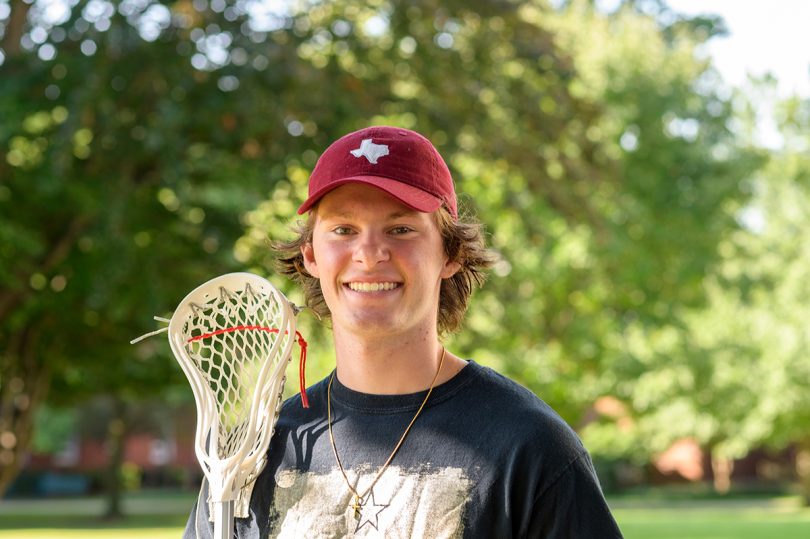 First-year student and lacrosse player Liam Morgan likes a good challenge. He loves to prove doubters wrong. Case in point is his lacrosse playing and arrival at Transylvania University.
Growing up in Spring, Texas, from fourth grade until eighth, Morgan remembers how none of his friends or coaches thought much of his potential in the sport. By the ninth grade, he began to take their doubts as a personal challenge, fully committing himself to training and conditioning and to proving the doubters wrong.
"I'm here now," Morgan says enthusiastically of being recruited by Transylvania. "And this is probably one of the high points of my life. Lacrosse is my favorite sport. I've loved it ever since I picked up a stick. I've taken it this far and I don't want to stop."
Morgan decided on Transy, he says, because of the "awesome" coaches and all of the players he met on his first college visit. "I just liked the atmosphere of the school," he adds, and how welcoming everyone was.
The marketing major also chose Transy for the academics. When his GPA as a high school senior was a weighted 3.8, he thought to himself, "why not challenge myself further?" He wanted something rigorous, but also to be in a supportive community. He didn't want to struggle on his own.
"Since I've been here, all my professors have been very nice and helpful," he says. "Overall, it's been a really good experience in their classrooms, because they're really outgoing. They're not just lecturing you, they're engaging with you." He also feels the readiness of his friends and teammates to be helpful in and outside of class.
"Honestly, "I've never had a bad day here," he says. "It's just been an awesome experience so far."
When asked to name some of the best things about the experience to date, he mentions the team, coaches and his roommate. The cafeteria isn't far behind. "The food is absolutely amazing," he says. "It's a really cool atmosphere, too. They call it the Great Hall, which kind of reminds me of the Hogwarts from "Harry Potter." The chefs are really nice. You can talk with them while they're making your food. It's a really good time."
He also mentions the advantage of being in the city of Lexington. "There's a lot to do and lots of businesses. And Transy has good relationships with companies," he notes. "They'll have job fairs and internships. And even though you're in college, you'll get experience. That will look good on a resume and in your portfolio."
But for now, as his first semester unfolds, it's all about his new life at Transy.
"I can't wait to get into the groove of things, just get a rhythm going — going to class, getting something to eat, going to practice, coming home," he says. "I'm just really excited to make this home."