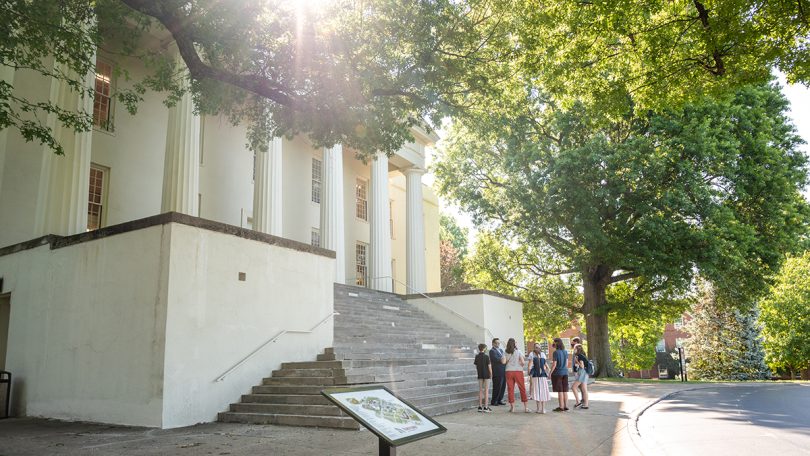 This is the time of year when high school seniors and their families are poring through a sea of university websites and recruitment materials, trying to decide which school is best for them. It can be an exciting process, but also a stressful one as there is a wealth of information out there.
This guide will help lay out some factors and questions to consider while families explore a variety of institutions — not just Transylvania.
Step 1 — Where to Start?
The first step is to determine your priorities. Is it size, location, program offerings, athletics? Here are a few factors to consider:
What type of college? Large public university with 300 students in a classroom, private college with 15-18 students in each class, technical school, community college
Where would they like to be? Urban campus in a medium/large city with job and internship opportunities, rural community away from the bright lights, in-state and closer to home, out-of-state in a new place
What do they want to study? Specialized program focusing on one subject, making connections across disciplines with a liberal arts curriculum, learning a trade skill or undecided
What extracurricular activities pique their interest? Clubs and organizations, community service, varsity athletics, intramurals, student media, Greek life
Tip: There are several different ways to find the answers to these questions. Try these resources to learn more about what a college offers:
College websites like transy.edu.
High school professional school counselors.
College alumni and current students.
College fairs and high school information sessions.
Online resources like CollegeBoard, Niche, etc.
Step 2 — The Campus Visit
Nothing can truly give you the experience of life as a Transylvania student like a campus visit. Walking through campus, seeing the residence halls, chatting with students, meeting coaches and professors — the campus visit immerses you in the feel of a college, not just the facts.
Most schools will offer a few different visit options to fit your schedule, including weekday, weekend and overnight visits, as well as special preview days and admitted student events. Note that visits may currently have some restrictions due to COVID-19, but they are still really useful.
Tip: Be sure to ask questions of your student guides like: "Why did you choose this college?" "What is the average class size?" "What academic and personal support services are available?" "Will my student get a job or accepted into grad school after graduation?"
Step 3 — Consider Financial Aid
Don't let the sticker price fool you. When it comes to the real cost of a college education, you have to look beyond a school's total cost of attendance. Only after you've applied will you find out what the actual cost to your family will be.
Tip: Colleges are required by the federal government to provide a Net Price Calculator, a tool that helps estimate your expected actual cost based on questions about your family's finances.
The first step is to fill out the Federal Application for Financial Student Aid (FAFSA). This is how you become eligible for state and federal grants (free money) and loans. In Kentucky, for example, there is a grant available specifically for students who want to attend a Kentucky private college. You and your student will need to request a FSA ID number to electronically sign the FAFSA once complete.
Tip: State and federal aid is first come, first served. For the best results, file as soon as possible after Oct. 1 to make sure you're eligible for every possible dollar.
Your student may also be eligible for a range of scholarships. There are a few different kinds to look for:
Merit-based scholarships: These are rewards for a student's academics and extracurricular activities in high school.
Talent-based scholarships: These are awarded based on a student's ability in areas like art, music or athletics.
Program-specific scholarships: Students who complete certain programs like the Governor's School for the Arts may be eligible for college scholarships. Transy recognizes several qualifying programs.
Need-based scholarships: Based on your family's expected family contribution (EFC) from the FAFSA showing financial need.
Diversity scholarships: Many schools will offer scholarships for students from diverse racial, ethnic, socioeconomic and international backgrounds.
Step 4 — The Application
Finally, the all-important application for admission. Don't worry — it's not as daunting as it seems.
Often, colleges offer multiple options for submitting an application. Schools may have their own individual application or be a member of the Common Application, which sends one application to your choice of multiple institutions.
Tip: A few schools, including Transy, are test-optional, which means that you can choose not to submit ACT or SAT scores if you don't feel they accurately represent your student's abilities.
Here's everything you'll typically need to apply:
Application (and fee, if applicable). Your student will answer questions about their high school experience, extracurricular activities and interests.
Transcript from current high school (and any colleges where they may have received college credit).
Test scores from ACT/SAT. Some colleges, like Transy, are test-optional. At Transy, if you choose not to submit scores, you'll be asked to submit an essay or graded paper to remain eligible for admission and scholarship.
Letter(s) of recommendation. These are typically from school administrators or counselors who are familiar with your academic work (we always recommend from someone who has worked directly with the student).
Essay. This may be required or optional depending on the college. At Transy, it's only necessary if the student is competing for top academic scholarships or plans to apply as test-optional.
Next Steps
Hopefully this guide has been helpful as you consider ways to research possible college homes for your student. We would love to have you as a Transylvania parent. If you're ready to learn more information about Transy, here's what you can do next: