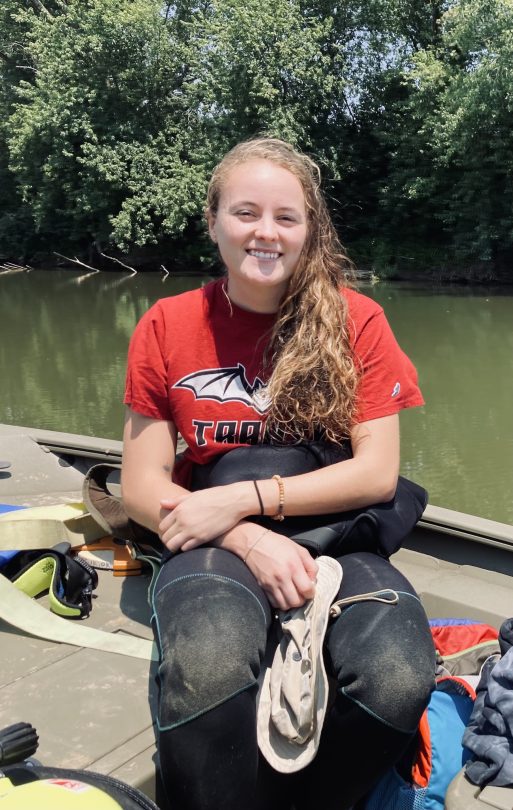 If there can be a bright side to the coronavirus pandemic, Caroline McMahan has found it. She's making the most of Transylvania University Pioneer Plus initiative that was created for students during COVID-19. It includes the offer of a fifth year at Transy tuition free.
McMahan is using the additional year to finish an extra major and to gain precious underwater research experience. She's now an anthropology and health and exercise science double major.
"Both archaeology and the exercise science fields have some great options," she says of the choices that await her after graduation. The advantage of having underwater research is something that will likely put her ahead when she applies to graduate school.
McMahan answered a few questions about her underwater research project.
Can you tell us about the research you are doing?
I'm doing research on ways to locate submerged archaeological sites, like shipwrecks, or areas that have been submerged due to sea level rise. My specific focus is on how we can find metal artifacts in rivers, especially in places with high iron content in the sediment.
What is the purpose of the research?
The purpose is to try a variety of techniques and sensors in a real-world situation, with all of the unexpected things you encounter as you do fieldwork.
What specifically are you doing on the research project?
I am testing the two main types of metal detectors in an area where we think a flatboat loaded with iron from one of Kentucky's many iron furnaces sank in the late 19th century. The potential wreck is in the Kentucky River near Irvine.
The two types of metal detectors use different systems to locate ferrous and other metals, and each has potential advantages and disadvantages. For instance, one is less sensitive to background iron content that we expect to find in the sediment on the river bottom. I wanted to see if there was any real-world difference to go along with the hypothetical differences we imagine from knowing the ways the machines work. So, we are diving in the river and checking the area where we suspect the shipwreck is and checking in random areas outside of the site to try and establish a baseline for what to expect.
How long have you been working on the project?
I started working on this particular idea this year, funded by the Grants Allocation Committee, but preliminary work started earlier. Professor Chris Begley has been working on locating and documenting this wreck since 2019, but my methodological-focused project just began.
What are you learning in the process? And how do you hope to apply this to your future?
One thing I'm learning is that diving in a muddy river with almost zero visibility is a challenge. We have to be very careful because you might find sunken trees, cars or even refrigerators. We check the areas in which we'll dive with a side-imaging sonar, but you can't see everything.
I've learned that not everything goes as planned, and to be adaptable enough to adjust as needed when challenges arise. This has been a learning experience that can apply to my future in general, even outside of archaeology.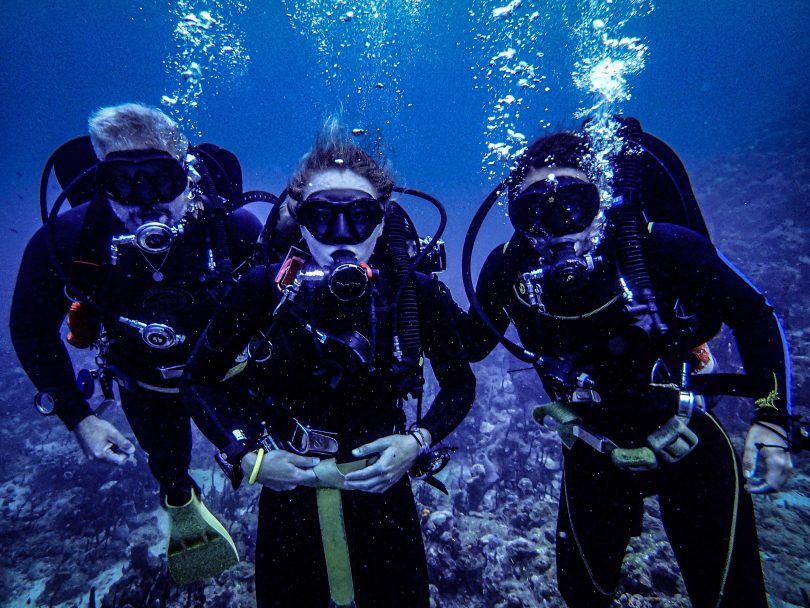 Did you ever think you'd be doing underwater archeology or researching the technical aspects of it?
I am from Campbellsville, Kentucky. I never imagined that I would be doing underwater archaeology, but my years at Transy have given me the amazing opportunity to explore and research underwater, learning alongside Dr. Begley. As someone who grew up around Kentucky lakes and rivers, the fact that I can now dive in them and learn more about the technical and historical aspects of these areas is incredible. 
What's the broader value of this opportunity?
I've had the opportunity to work on underwater archaeological projects here in Kentucky and on the island of St. Vincent in the Caribbean in 2019, and have worked on terrestrial archaeological sites in Kentucky and West Virginia. Some of these have been paid positions with archaeological consulting companies. This experience lets me know if I really enjoy and want to continue studying archaeology. And it provides valuable experience for graduate school.
Also, seeing the process of formulating an archaeological project, from the conception to dealing with the logistics to actually operationalizing your idea, is something in common with things we do in all walks of life. I certainly have developed an ability to deal with the unexpected, to problem-solve on the fly and to remain calm when nothing seems to be going as planned. These are skills that have carried over into every aspect of my life.