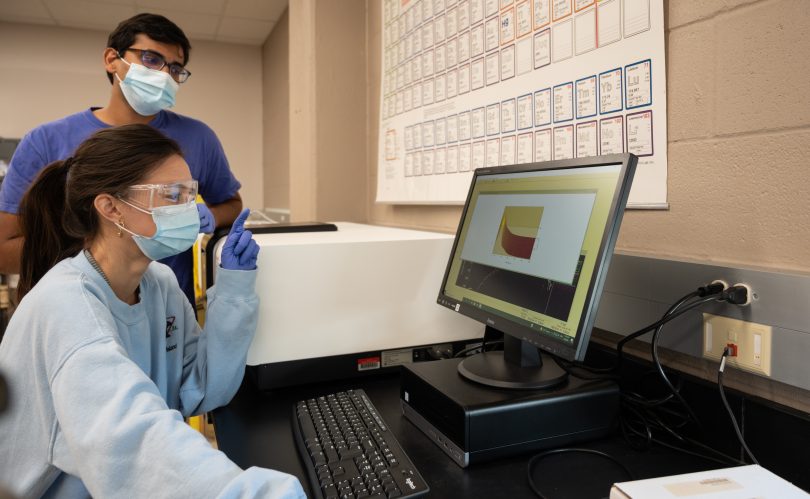 Transylvania University students are conducting cutting-edge research this summer thanks to a National Science Foundation grant to boost Kentucky's manufacturing capabilities.
Not only are they learning lab techniques, but they're also getting paid to work on projects led by the grant recipients, professors Stephen Johnson and Kyle Schnitzenbaumer.
The student and faculty researchers are collaborating to analyze thermal and optical properties of new materials that could be embedded in sensors that go into advanced manufacturing robots. The NSF grant funding their work comes from the Established Program to Stimulate Competitive Research, which goes to states that haven't received much NSF funding over the years. Scientists at eight Kentucky colleges received funds through the $24 million grant.
Undergraduates typically don't typically get this kind of high-level research experience.
In a Brown Science Center physics lab (photo below), Transylvania students are using a technique called photothermal deflection spectroscopy in their investigations. Junior Madison Kellione appreciates the opportunity to conduct these kinds of experiments. "I knew it would look good on a resume one day, and I thought it was really good to get some hands-on experience," she said.
Lab partner Luke Schroeder said research is a requirement for juniors like him, so this work over the summer is a chance to get a head start before getting graded on it.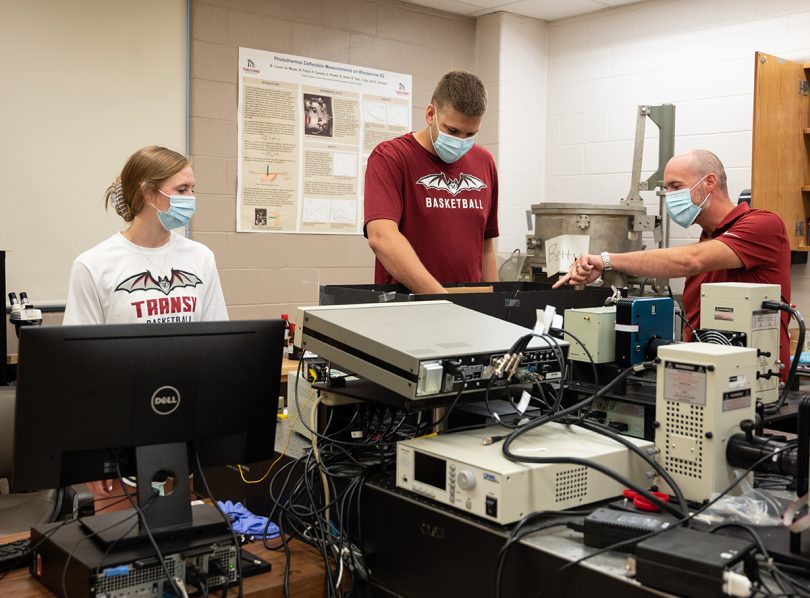 Upstairs in a chemistry lab, seniors Alyssa Nguyen and Saif Ahmed are working on a spectrofluorometer, a piece equipment purchased with grant funds that determines the intensity and color of light a material emits and absorbs (top photo).
They pointed out how they get to collaborate with chemistry professor Schnitzenbaumer on setting goals and deciding how to achieve them — which reflects how science is done in industry or graduate school, Schnitzenbaumer said.
"The biggest thing that I've gained from it is learning how to game-plan," Nguyen said.
Ahmed agreed, pointing out how this level of autonomy is different than, say, in a general chemistry class. "We get to make a lot more decisions in this type of research setting," he said.
Not only are these investigations collaborative between Transylvania's physics and chemistry departments, but they're also part of larger next-generation material research with scientists at the University Kentucky.
Through the grant, Transylvania is expected to receive around $200,000 over the next few years. (Students are being paid both through these funds and money the university awards for summer research.)
"We've gotten some pretty interesting data so far," physics professor Johnson said.