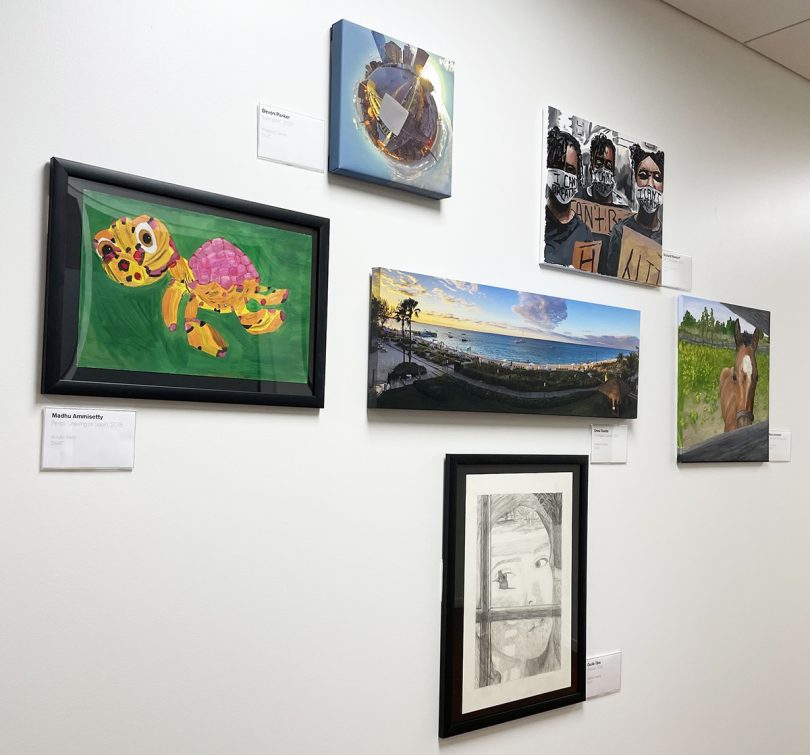 Part of making any new space feel inspired and aesthetically enriched is the addition of art. But showcasing artwork by the people who inhabit the space offers something more.
As the new William T. Young Campus Center opens its doors to the 2021-22 academic year, students are finding art by their peers, representing a moment in time, exhibited in space that is in high demand.
A partnership between Transy's Student Government Association and the Campus Center administration, the idea blossomed last spring as then senior Drew Dodds '21 worked with Campus Center director Brittany Wildman. Both were intent on adding art to the new center. Dodds was a photographer and swimmer on the pre-health track and SGA's chief of finance.
When SGA funds went untapped because of the pandemic, Dodds pitched the idea to the SGA and Campus Center administrators that SGA funds normally reserved for student travel to conferences could be used to cover the costs of exhibiting student art on the walls of the center.
"I loved our new Campus Center and wanted to find a way to bring artwork into the building to showcase student talent," says Dodds, now in his first year of medical school at the University of Louisville. "I thought this Student Art Gallery would be a great way to make the building more of our own as we would be highlighting a few of our students on campus."
"He was passionate about it," says Wildman, noting how she shared his enthusiasm for finding space to honor students. Wildman had visited numerous student centers and had seen how student art helped create a student-defined sense of place. She says she also liked how the project reiterated the purpose and message of the center; i.e., that the space is for everyone.
"For me, student art is such a good way to make the Campus Center feel like it belongs to students and that it's the heart of the institution," she adds.
With approval from all parties secured, SGA funds helped to purchase frames, hanging materials and other supplies. The request for art was announced, along with a statement outlining efforts to be inclusive and respectful of all populations. Submissions from art majors and non-art majors were received and mounted across from the Student Engagement Center. It's accessible whenever the center is open — most days from 7 a.m.-10:30 p.m.
Dodds's vision and Wildman's plan is to add a new art show each spring to the previous year's exhibit. All donated pieces will remain, serving as a sort of time capsule for what was meaningful to students at the time. Wildman thinks the space, including hallways on the upper level, can accommodate 10 years of art. She's eager that students should see student art represented through time.
Both also hope the SGA Student Art Gallery continues to grow into other areas of the center and around campus. "I love the idea of highlighting student talent," Dodds says, "and this project was a great opportunity to do so. I can't wait to see what art is showcased in the coming years."