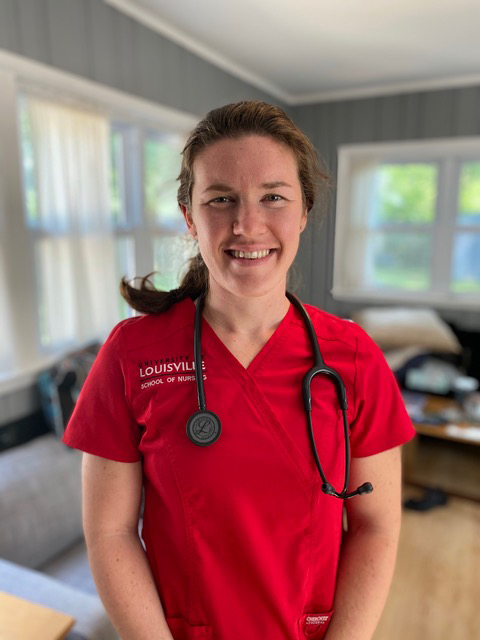 As an undergraduate taking classes like nutrition and lifetime fitness at Transylvania University, Paige Newquist (Napier) '15 learned how food choices impact our bodies, for the better or worse.
Now in her final year at the University of Louisville School of Nursing, she's spreading the message of healthy eating via the Healthiest Cities & Counties Challenge in Perry County, Kentucky. She produces weekly spotlights on fruits and vegetables — from peaches to peppers (both good sources of vitamin C) — for the project's Facebook page.
"My academic background at Transylvania and work experiences surrounded health, wellness and fitness — and this fit perfectly with the objectives of the healthy food project," Newquist said.
The initiative, which is overseen by U of L professor Frances Hardin-Fanning and sponsored by the Aetna Foundation, American Public Health Association and National Association of Counties, "aims to increase access to healthy foods in Perry County and will also serve as an example for other communities across the United States," according to the U of L School of Nursing.
Newquist, who majored in exercise science at Transylvania, said she was motivated to take up this research assistant role after learning about health disparities in areas of Kentucky. Through the Facebook posts, she lets folks know how small changes in eating can make a huge difference in their health. "In addition, as I compile the weekly spotlights, they help me learn new information that will help prepare me to become a better nurse when I graduate in May of 2022," she said.
"Paige uses skills from her undergraduate research courses to review scientific evidence about the health impact of foods," according to U of L. She works at U of L Hospital as a physical therapy technician and is an active member of the U of L COVID vaccination team. Newquist plans to work in orthopedic nursing and become a family nurse practitioner.