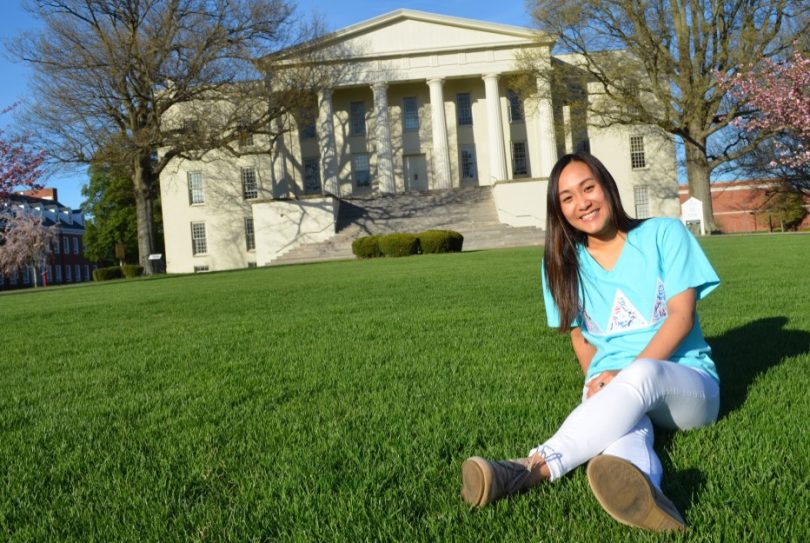 Medicine seemed a likely career path for TH Tran, a 2017 Transylvania University graduate, given her academic bent and how many of her extended family members were physicians. Her father, however, was aware of her broader interests, and suggested she major in accounting. So she did. But she also decided to pursue a pre-med path. 
When her adviser cautioned that the challenging dual track had been done only once before, Tran remembers replying, "It's going to be good. I think business is an area where doctors could have a better understanding of what's going on. So I want to do better at that."
Already sensing the value of gaining knowledge in multiple disciplines, Tran says she was intent on exploring and experiencing as much as possible. "Education is power. But it's not just what's in the textbook. It's applying it."
With that in mind, Tran took full advantage of campus organizations, leadership opportunities and the easy proximity to real-world experience in the field of medicine. As president of Transy's Pre-Health Club, she invited speakers to campus who represented an array of health-related careers, not just practitioners, in order to explore a broader perspective. "That had a hand in my own personal growth," she notes.
And each new medical-related internship or shadowing experience seemed to push Tran to commit further to addressing the structural deficiencies within the health care system. Too often, she says, she found doctors and patients appreciative of aspects of their work or care, but extremely frustrated by the system. When her sorority sisters asked what she planned to do with her life, she recognized it was something different from treating patients.
"I told them I'd be running the hospital," she says, realizing that she wanted to make a difference at the structural level. She was eager to learn as much as she could absorb in order to better understand why the system wasn't working and where the decisions were being made.
As part of her liberal arts experience, and as a senior just shy of minors in chemistry and art history, Tran chose to study abroad for a semester at Regent's University in London. She developed her independence amid myriad cultures, discovering a sense of adventure and love of travel that she realized would be integral to her future and to leading a fulfilled life.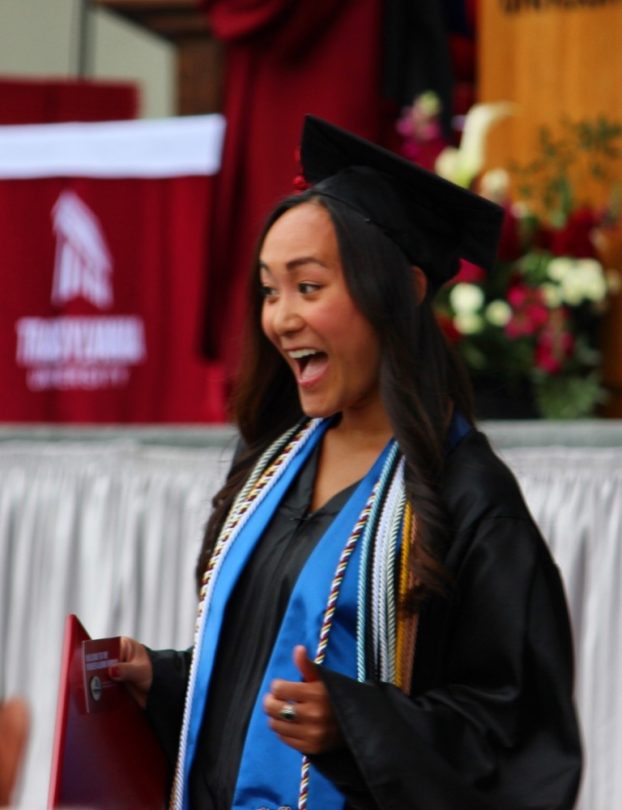 "It changed the course of my decision-making and my life from that point," she recalls. The need to explore, she adds, "is in line with the Transy spirit. Being a lifelong learner isn't only about what you know and your field of study, but being able to incorporate other aspects into your specialty."
When she graduated magna cum laude from Transylvania, Tran decided to take a year to explore medical schools. At the same time she earned online certificates of achievement in biochemistry, immunology, physiology and genetics through Harvard Medical School's HMX Fundamentals. She also worked as an assistant medical manager of a suboxone clinic, further intensifying her desire to find ways to improve the system. "That's when I started interviewing for business schools as well as medical schools," she says.
With the help of Michael Cronk at Transy's Center for Academic and Professional Excellence, she identified the ideal dual program. It would allow her to graduate with an MBA and master's degree in hospital administration from the University of Minnesota School of Public Health and the Carlson School of Management. She chose the top-tier programs for their quality and proximity to Medical Alley in Minneapolis, an international hub for medical and technological innovation.
Reflecting on the ongoing role of the liberal arts throughout her journey, Tran describes the importance of being open to different ideas, and then integrating them into her work. "It's been huge for me," she says. "I can't tell you how many times I've explained things in terms of physics for people to understand. I don't tell them it's physics, but I use physics a lot," she continues. "Accounting was always handy in science as well because of the organization that it brings. And I still read up on organic chemistry because it helps me to interact better with providers here."
Tran is quick to make the connection between the value of the liberal arts, with its study of the human experience, and the relationship between culture and public health that she finds especially compelling.
"Culture is so important in understanding public health and is embedded in the solution of health care problems," she explains, emphasizing the importance of recognizing cultural distinctions and their history — particularly in those communities that suffer the most disparities in health care.
Working with Native American, Somali and Hmong communities in the Twin Cities area taught her the importance of history and understanding aspects of their culture when developing solutions. Tran points to a finance project she did studying rates of obesity and diabetes within Native American communities. She focused mostly on food-related solutions. Fry bread, for example, a delicious deep fried dough was introduced as a cheap staple and as a means of survival. "Food and food history are very much intertwined with public health," says Tran. "And in developing new and innovative solutions, we need to make a return to understanding culture."
As Tran considers her long-term career path, she hopes to be in a role where there is an intersection of innovation, health care delivery and culture. She wants her work to impact not only the people receiving care, but also those delivering it and the system as a whole.
"That is my goal," she says, "and that's why I wanted to be in medical innovation. I think that's where more of this exciting work can be done, because that's where the people who are motivated to do it will be."
And, as she begins her new job in research and development for UnitedHealth Group, she hopes her story might help other Pioneers who are not yet certain of their direction.
"My path was not straightforward and was not what I was expecting," she'd like them to know, "but I'm happier than I've ever been."