What do traditional Swedish Fish, cherry Ale-8 and Transylvania Pioneers all have in common?
Two things. They appear in various shades of red (crimson is the school color). And, not coincidentally, the students and the red treats converged for a candy buffet in the Pioneer rooms of the Campus Center. The event is part of this week's activities that are helping the Class of 2025 settle into campus life.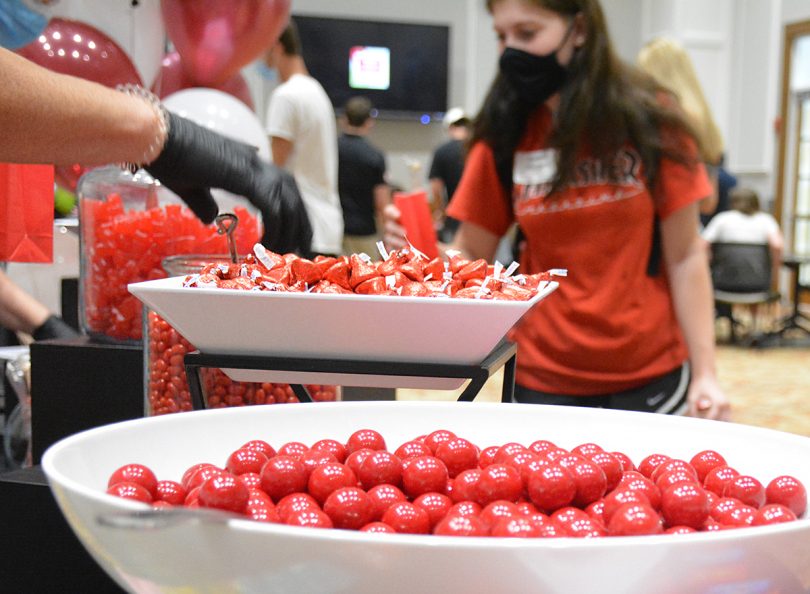 "It's just a way for us to welcome new students and get to meet them in a fun setting," President Brien Lewis said. His office and university food service provider Bon Appétit organized the buffet, which included many types of mostly red candy.
Lewis said his former college threw a cookies and lemonade reception, the fun-ness of which his daughter questioned. Instead, she suggested a candy buffet like she'd seen at a wedding, only with the school color.
The students liked it.
"It's so good," said Lillie Wild '25. "I'm having so much fun." Her favorite: the Swedish Fish.
Among Wild's classmates at her table, Austin Raney enjoyed a red Ale-8, a beverage that got its start in nearby Winchester, Kentucky — created by a Transylvania graduate, in fact. "I'm excited they got my hometown soft drink," Raney said.
This year's sophomores, who missed out on a lot of fun orientation activities because of 2020, will enjoy their own candy buffet this evening.