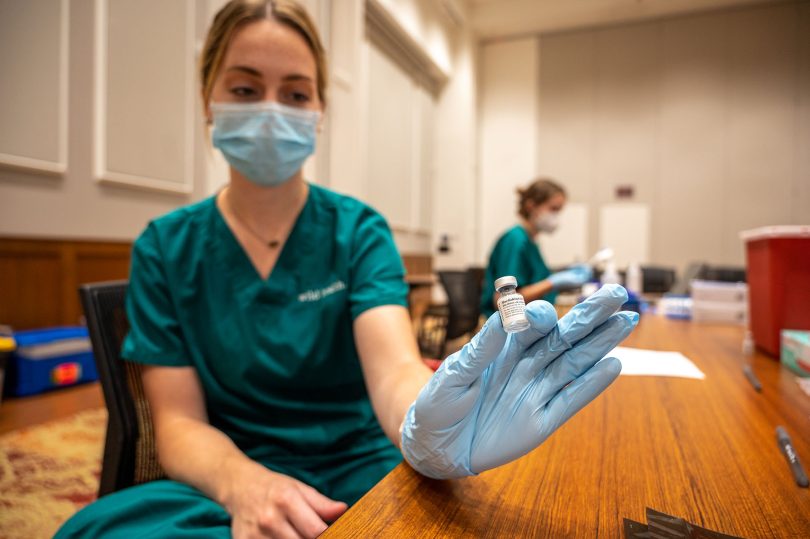 As we officially kick off the 2021-22 academic year, we find ourselves in a time of surging COVID-19 cases, caused mostly by the delta variant. Transylvania University continues to actively work with local health officials to monitor the situation and is prepared to adjust plans as necessary. From the beginning of the pandemic, we have prioritized individual empowerment and community responsibility among our students, faculty and staff. We will continue to do so while making policy decisions based on the most recent information and public health guidance.
Today, we want to share where things stand and our plans for the days and weeks ahead, including:
Transylvania is strongly recommending, but not yet requiring, the COVID vaccine for students and employees returning to campus.
Two COVID vaccination clinics are planned for Aug. 28 and 29 from noon-5 p.m. each day in the Campus Center. To schedule an appointment, go to kyvax.wildhealth.com and select Fayette County and the Transylvania University link.
As students arrive on campus, we will begin providing testing for those with symptoms, as well as biweekly testing for students and employees who have not provided proof of vaccination.
The current self-reported campus vaccination rate for employees is 86% and 68% for students, though that number continues to increase daily as more students upload their vaccine cards.
To upload a completed card, go to my.transy.edu and log in to Colleague Self-Service. Employees should select the Employment icon in the left toolbar, and students should select the Academics icon in the left toolbar. All uploads are secure, and the health information will remain accessible only by those authorized to view it.
The university has also implemented the following mitigation measures for the campus community:
Transylvania will continue requiring isolation for any employee or student who tests positive for COVID per public health guidelines.
All employees, students and visitors to campus are required to wear a mask in common and public spaces inside buildings regardless of whether they are fully vaccinated.
Students and employees who are not fully vaccinated will be required to complete both return-to-campus and ongoing biweekly testing and will be required to quarantine following a known exposure.
Student-athletes will be required to follow the guidelines set by the NCAA, which currently require either a full vaccination or weekly PCR testing (paid for by the student).
Following a known exposure to COVID, all individuals are asked to follow the current CDC guidance on testing, quarantine and isolation.
If an employee tests positive for COVID, they will be asked to self-isolate and are required to notify human resources within 12 hours of receiving the test result.
If a student tests positive for coronavirus, they are asked to immediately notify the Campus Health Clinic. Roommates and housemates of those who test positive and live in multiple occupancy residences will also be asked to mask, test and possibly quarantine until cleared by campus health officials.
While it is expected that many classrooms, meeting spaces and dining and residence facilities will return to normal configurations for the 2021-22 academic year, Transylvania will make adjustments as necessary in accordance with CDC guidelines.
The university will no longer provide COVID-specific remote learning as a full-term option. Faculty will be asked to make individual arrangements with students in quarantine or isolation.
Transylvania is monitoring the impact of COVID on our international students and will work directly with those who are unable to return to campus due to visa or travel restrictions.
Please visit our Healthy at Transy webpage for regular updates.
The university reserves the right to modify these policies at any time consistent with our mission as an institution and our goal of maintaining a safe and healthy campus community. Together we will make it through the challenges along the way as we create our "next normal."