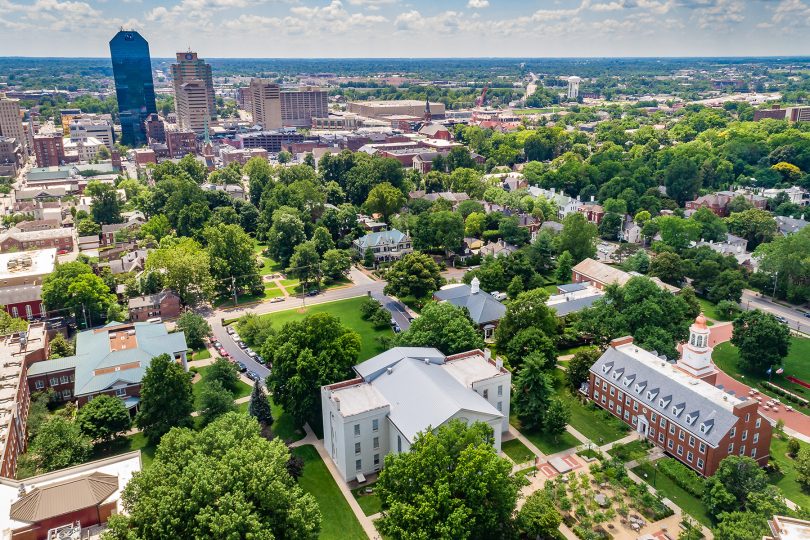 Beginning in fall 2021, Transylvania University will take its first steps in launching a new Center for Entrepreneurship with goals of encouraging students in any academic major to pursue their passion, promoting creativity and innovation and providing exposure to a vast range of entrepreneurial career paths.
The center will initially focus on engaging students with extracurricular, experiential programs and events, including startup competitions, workshops, a speaker series and opportunities to introduce Transy students to successful, innovative entrepreneurs, businesses and organizations.
"We know that we are on the cusp of what Daniel Pink calls the 'Conceptual Age,' a time when creators and empathizers will be the key," said President Brien Lewis. "We also know that we need to prepare students who will be not just problem solvers but problem finders, people who can look around the corner and identify a solution where we are not even thinking there is a problem."
"Transylvania's core liberal arts mission, paired with the immersive experience offered by our new Center for Entrepreneurship, will help shape our students for this age and give them the skills and mindsets they need to live in and craft it," Lewis said.
Being in the heart of Lexington sets Transylvania apart from most other liberal arts colleges, as does Lexington's ranking as one of the top 10 cities in the country for entrepreneurs, creating opportunities for students to connect with local business leaders through jobs, internships and networking.
This week, the university posted a job opening seeking a Center for Entrepreneurship director. That individual is expected to begin this fall and will work collaboratively with students, faculty and staff in the design, coordination and implementation of initiatives focused on fostering entrepreneurial mindsets and financial education within a larger framework of a liberal arts education.
The Center for Entrepreneurship is one of several new programs Transylvania has identified to meet its strategic focus objective to enhance the university's capacity to individually prepare students for the future while growing enrollment. Transy's new esports program is also launching this fall, giving students the opportunity to participate in intercollegiate gaming competitions while building connections between the digital realm and campus social life.