Transylvania student Sammy Clore '22 participated in the University of Kentucky's Professional Education Preparation Program — Discover Modern Dentistry. In this Q&A, he discusses the program, which is geared to those "who are interested in the field of dentistry and in becoming dentists treating underserved populations in rural or urban areas throughout the Commonwealth."
Why did you apply to be part of UK's PEPP program?
One of the main reasons I applied to the PEPP-DMD program was based upon my ultimate desire to practice dentistry in the state of Kentucky after I graduate from dental school. I was born and raised in Owensboro and have lived in this state my entire life. I would love nothing more than to give back to as many Kentucky residents as possible, in part by serving patients who reside in underserved areas. I also applied to the PEPP-DMD program because I truly felt that it would provide me with incredible, hands-on experiences that would further excite my passion for becoming a part of the field of dentistry.
You've had hands-on experience at the The Refuge Clinic. In what essential ways was the PEPP-DMD program helpful to you and your future as a dentist?
By participating in the PEPP-DMD program, I was exposed to a great variety of hands-on experiences, as well as state-of-the-art technology that is becoming more and more prevalent throughout the field of dentistry with each passing year.
One of my favorite examples of such technology is the intraoral digital scanner, which I got to actually use on a fellow participant during the program. These digital scanners take impressions of a patient's mouth digitally, rather than using a paste-like material to make the impressions. Those impressions are then sent to a 3-D printer that will create a physical model out of that same digital impression.
One of the ways in which this exposure to state-of-the-art technology and various hands-on experiences has helped me and my future as a dentist is that I am now able to see how it is important to incorporate both new technology and more traditional methods when practicing dentistry in this modern world. The field of dentistry is adopting such technology to try and improve the efficiency and precision of various procedures, which can be a great step forward for dentists everywhere. However, the PEPP-DMD program has also taught me that I should be prepared to practice in an office that might not have state-of-the art technology. This is why I will plan on incorporating a healthy balance of both technology and more traditional methods of dentistry when I eventually become a dentist myself.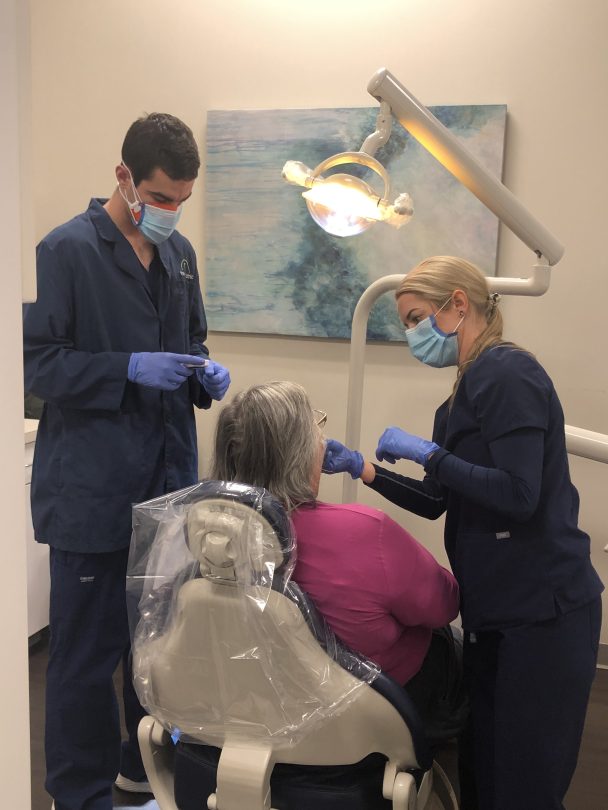 In what way did your Transylvania experience prepare you to make the most of the opportunity?
I definitely felt prepared for this experience. In fact, Bobby [Payne] and I both applied to PEPP-DMD last year and were accepted for the 2020 program; however, it was canceled due to the COVID-19 pandemic, so we were told that we could instead participate in the 2021 program. Needless to say, I was waiting a long time to participate in the PEPP-DMD program, and my excitement kept growing during that time as well.
By being a student at Transy, I have been able to further develop the valuable skills of active listening and of asking meaningful questions. These two skills are frequently incorporated during class discussions, which I think is one of the best aspects of the academic side of Transy. During the PEPP-DMD program, there were plenty of opportunities to exercise my active listening skills, as well as chances for me to ask meaningful questions. I took advantage of such opportunities, and I acquired much valuable knowledge about various facets of dentistry as a result.
Can you explain to other Transy pre-dental students why this experience was of such value to you?
The PEPP-DMD program is such an incredible and unique experience, and it has truly intensified my desire to become a dentist. There is something quite amazing about surrounding yourself with other pre-dental students from across Kentucky who are just as driven as yourself to serve others through the beautiful art of dentistry. I really cannot overstate how awesome of an experience this program was for myself, and I definitely believe that anyone who resides in Kentucky and who has aspirations of becoming a dentist should apply for a spot in the UK PEPP-DMD program. Also, the faculty members and current dental students that you will meet through this program are all wonderful people, and their love and passion for dentistry is so contagious that it creates an atmosphere that makes you excited to learn as much as possible about dentistry.