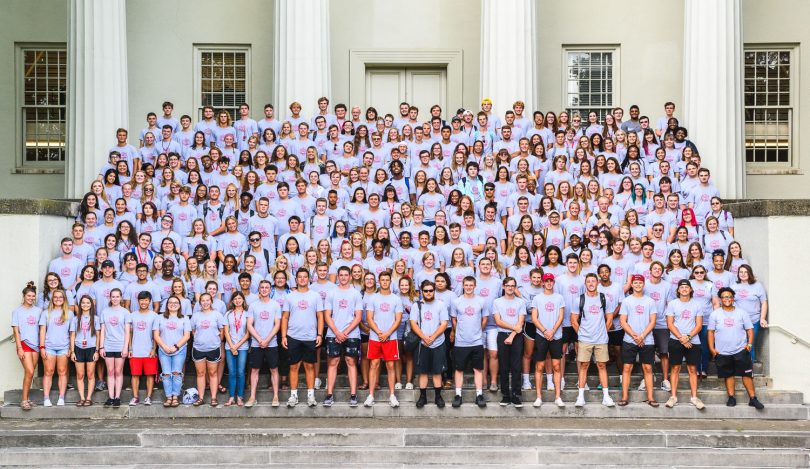 Applications opened July 1 for rising high school seniors to be part of Transylvania University's Class of 2026.
After more than a year of remote and hybrid learning during the COVID-19 pandemic, this fall marks the return of fully in-person living and learning on the university's historic downtown Lexington campus. The incoming class will be among the first to get full use of the brand new William T. Young Campus Center and initiatives like the esports team.
"We're excited to start the recruiting efforts for the class of 2026 with the launch of our application," said Johnnie Johnson, vice president for admissions. "Students can begin the process now to meet the first early application deadline of Oct. 31. This summer is the perfect time to fill out the application and get at least a draft or two of your college essay completed. Contact us with questions — we'll work with you through your entire college search process. I think it's important to give students plenty of time to contemplate their own application process, work on their essays and build their resumes as they prepare for what will probably be a very busy senior academic year."
The Transy application is much more than just your GPA and standardized test scores. Transy was the first test-optional school in Kentucky, meaning that applicants are not required to submit their SAT or ACT test scores if they don't feel they accurately represent their abilities. The admissions office considers your entire high school career when reviewing applications, from leadership roles to community engagement and more.
"We're going to be offering application workshops over the summer and in the fall to give as much assistance as possible to help students make their applications a proper representation of their academic and co-curricular experiences," Johnson said.
Your application also grants you automatic consideration for our highest scholarships. Apply by Dec. 1, and you'll be eligible for our Premier Scholarships, which range from $18,000 all the way up to full tuition and fees. You're encouraged to fill out the Free Application for Federal Student Aid as early as Oct. 1 to be eligible to receive as much financial aid as possible.
Important Dates
To apply for free, visit transy.edu/apply. It has all the instructions you'll need to submit your transcripts and letter of recommendation. If you have any questions about the application, feel free to contact your admissions counselor or email admissions@transy.edu. Dates to keep in mind are:
July 1 – Application opens.
Oct. 1 – FAFSA opens.
Oct. 31 – Early Action I Application Deadline.*
Dec. 1 – Early Action II Application Deadline.*
Feb. 1 – Regular Decision Deadline.
May 1 – Transylvania Deposit Deadline.
*Deadlines for Premier Scholarship consideration