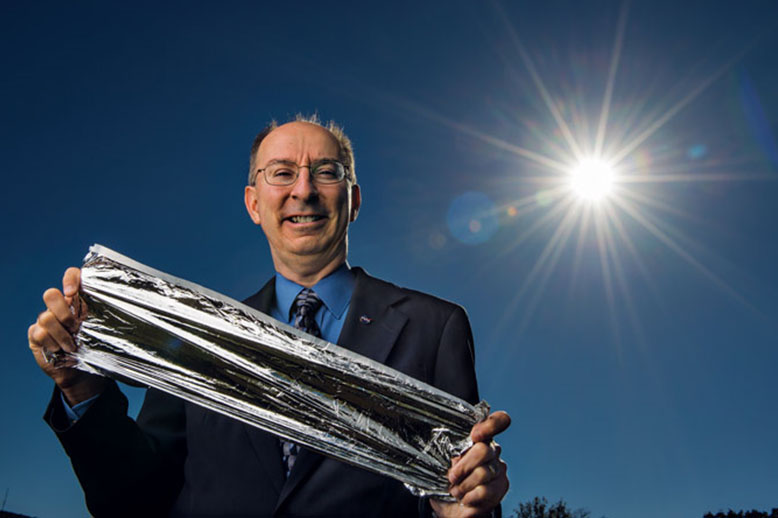 Not to be lost in the news of billionaires blasting into the thermosphere is Transylvania University graduate Les Johnson's own dream of exploring space — which is about to set sail.
He read about solar sail propulsion as science fiction when he was a boy in the 1970s, and then as an adult he spent two decades developing the technology for NASA. In November the Near-Earth Asteroid Scout will launch via rocket as part of the Artemis I mission — then it will sail off under the power of the sun.
"NEA Scout will be America's first interplanetary mission using solar sail propulsion," said the 1984 graduate, who is the principal technology investigator for the mission at NASA's Marshall Space Flight Center. "There have been several sail tests in Earth orbit, and we are now ready to show we can use this new type of spacecraft propulsion to go new places and perform important science."
NASA describes the craft as roughly the size of a large shoebox with a sail as big as a racquetball court but thinner than a human hair. "The large-area sail will generate thrust by reflecting sunlight. Energetic particles of sunlight, called photons, bounce off the solar sail to give it a gentle, yet constant push. Over time, this constant thrust can accelerate the spacecraft to very high speeds, allowing it to navigate through space and catch up to its target asteroid."
It will take photos when it reaches its target to help scientists study these near-Earth astroids, some of which could pose a threat to earth. "Understanding their properties could help us develop strategies for reducing the potential damage caused in the event of an impact," said Jim Stott, NEA Scout technology project manager.
Exploring space has fascinated Johnson since he watched the first moon landing. Not only does he design real-life ways of getting around up there, but he also writes fiction about it. His book "Mission to Methone," in fact, features spacecraft that use solar sails. For a Transylvania Third & Broadway article, he said he thinks such travel will be common in 100 years.
But it's happening now.
"This is the first flight of a solar sail that I have led and the first one that NASA or anyone in the United States has flown beyond Earth and into deep space," he said.