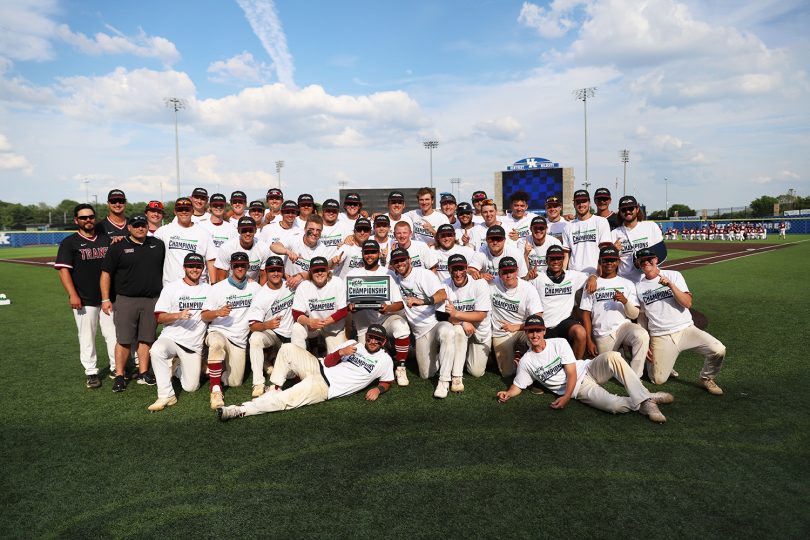 The Transylvania University baseball team's record-breaking season and NCAA Division III tournament appearance came with a price for 12 members of the Class of 2021 — missing the opportunity to walk at the May 29 commencement ceremony. That's why Transylvania is honoring the team's seniors with a special ceremony Wednesday at 6 p.m. in Haggin Auditorium.
"The opportunity to play in the Decatur Regional and represent Transylvania at the NCAA Tournament was an amazing achievement for this team," said Holly Sheilley, vice president for athletics. "However, our seniors missed out on walking across the stage to receive their diplomas. Hosting a ceremony for these student athletes is the absolute right thing to do."
The ceremony will mirror the commencements held on May 22 for the Class of 2020 and May 29 for the Class of 2021.
Among those graduating are Hudson Chastain, who was named today to the second team for D3Baseball.com's All-Mideast Region team and the All-HCAC First Team; Riley Willbur, who was named to the All-HCAC First Team; Michael Blair, who was named to the All-Conference Second Team; and Wade Lopiccolo, who is an All-Conference Honorable Mention.
The Transylvania baseball season ended with a team record of 32-12, the HCAC regular season and conference tournament championships and the program's first-ever NCAA Tournament win. The 32 wins are the most by a Pioneer baseball team in the 26-year history of the program.
Eleven of the 12 graduating seniors are expected to attend Wednesday's ceremony. Evan Hall, an accounting major from Lexington, will be the the student speaker.