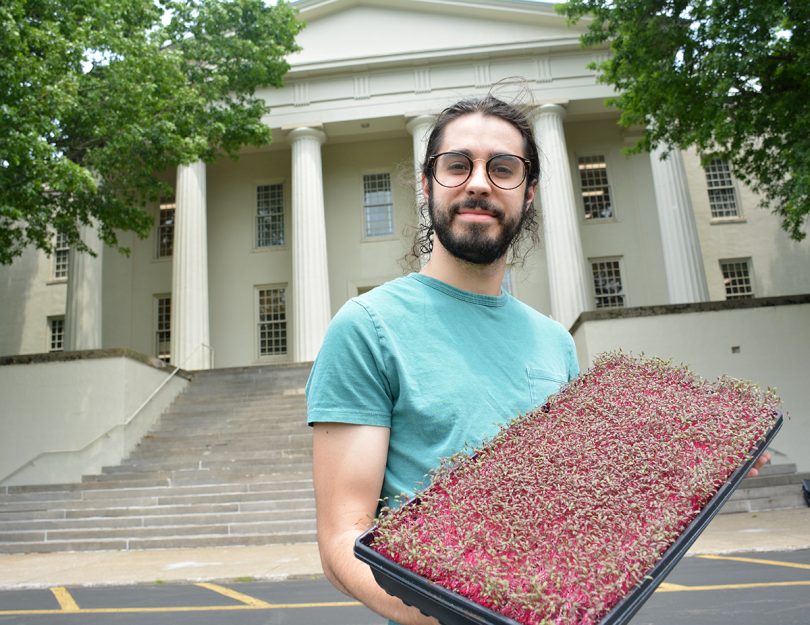 Transylvania University graduate Ryan Sipes launched a microgreens operation after interning as a student at a nonprofit that brings fresh food to the local community — it's a path that shows how connections forged at the school can help after graduation in unconventional ways.
While interning at FoodChain, Sipes performed a variety of roles, including writing grants, staffing event tables, serving in a food sector job training program — and working on a farm, where he'd help seed and harvest plants and package microgreens (nutritional seedlings) for the clients. The skills he gained while at the internship helped him create and grow his own business.
"I was always interested in agriculture, so that was great," said Sipes, who was featured in a Business Lexington article. "I love what they do for the community, providing access to good, quality food for people in a food desert, providing food to people who otherwise don't have it."
After graduating from Transylvania in 2017 with a degree in philosophy, politics, and economics, Sipes worked as a teller at a credit union. While there, he began reflecting on what he had learned during his time at Transy, specifically in his philosophy courses. "One of the basic questions of philosophy is: 'What does it mean to be happy?''' Sipes said. "I realized I don't want to work a 9-5 being unhappy all the time. I wanted to start my own business doing something way more fulfilling."
The organizational skills he gained in college also helped with the desk work side of running his agriculture business, Simply Seedlings. As a small business owner, he is doing a lot of the work independently, with the help of his girlfriend. So keeping track of everything needed for accounting, taxes and insurance is essential.
"I definitely feel like my time at Transy and the internship not only helped me decide to create my business but led me to do so, and I don't think I'd be doing this if it wasn't for that," Sipes said.
---
Lillien Hudson is a psychology major and work-study student in the Office of Marketing and Communications.