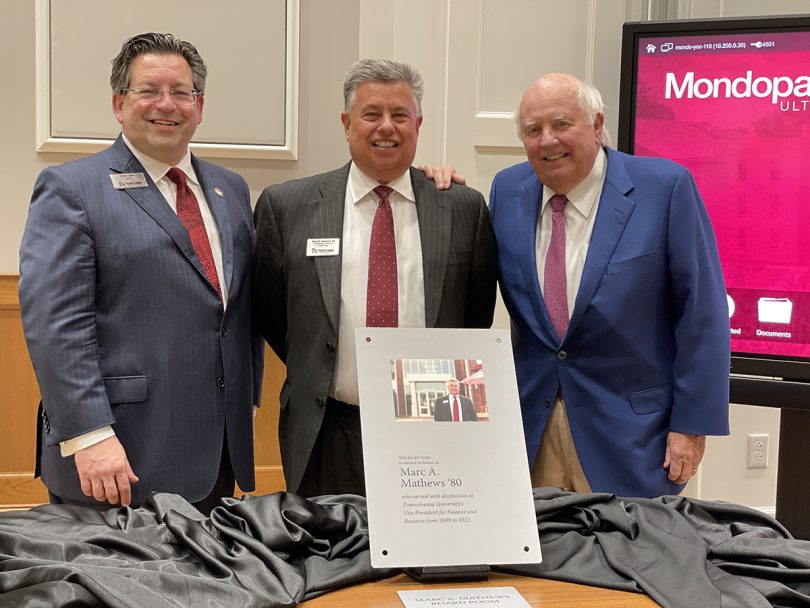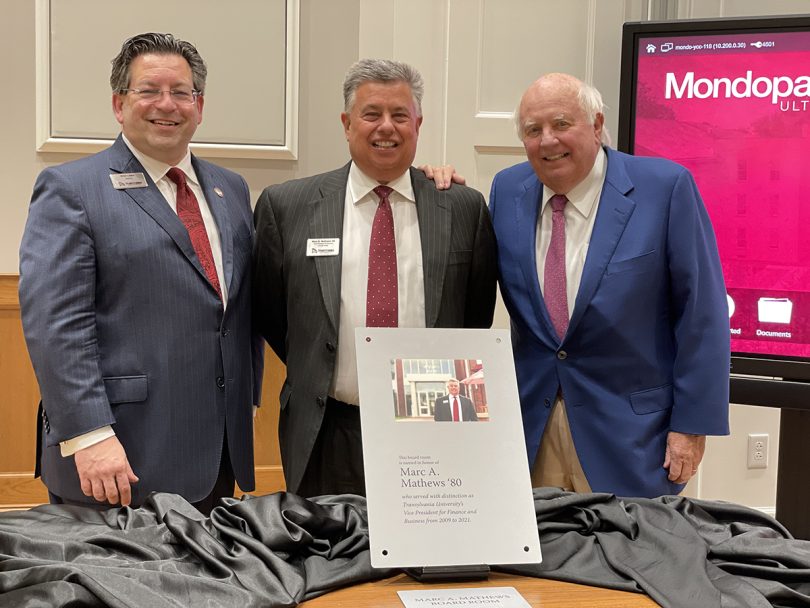 The Transylvania University community isn't letting Marc Mathews retire without first showing him how much his work has been appreciated.
During last month's trustees meeting, a plaque dedicating the board room on the second floor of Old Morrison in his name was unveiled. Earlier this week Mathews, vice president for finance and business, received the June Essential Piece Award from the school's Recognition Committee — and a retirement celebration is planned for his last day, June 30, from 4-6 p.m. in Alumni Plaza.
The appreciation goes both ways. "I'm always amazed at our wonderful community," said Mathews, who has helped lead his alma mater for the past 12 years. "I don't think we ever lose sight of why we're here." That is, serving the students.
He was especially struck by that fact during recent commencement ceremonies, seeing the graduates achieve their goals whatever hardships they may have had to overcome, and knowing what he's done every day has helped make that happen. "It's just really rewarding," he said.
Mathews, who's a CPA, graduated from Transylvania in 1980 with an accounting degree and then earned his master's in the field. He's served in a variety of other roles for almost 30 years, from municipal finance management to treasurer at the University of Kentucky.
His duties at Transylvania have included overseeing a wide range of campus operations, including facilities management, the Department of Public Safety and human resources. He leaves the university in good financial shape with a strong endowment and radically transformed residential side of campus — three new residence halls and a new Campus Center. Other projects have included the construction of the Transylvania Athletics Complex, the complete renovation of Hall Field for softball and improvements to the old Haupt Humanities to create the new Carpenter Center, a state-of-the-art academic building in the heart of campus.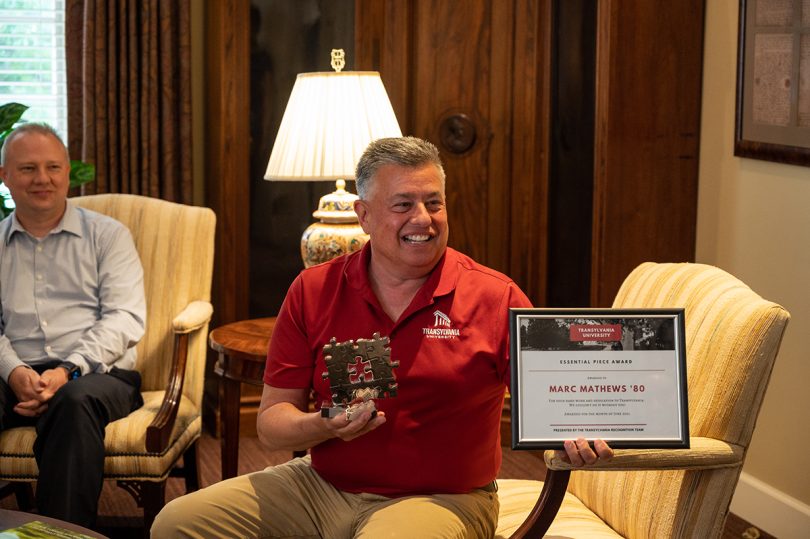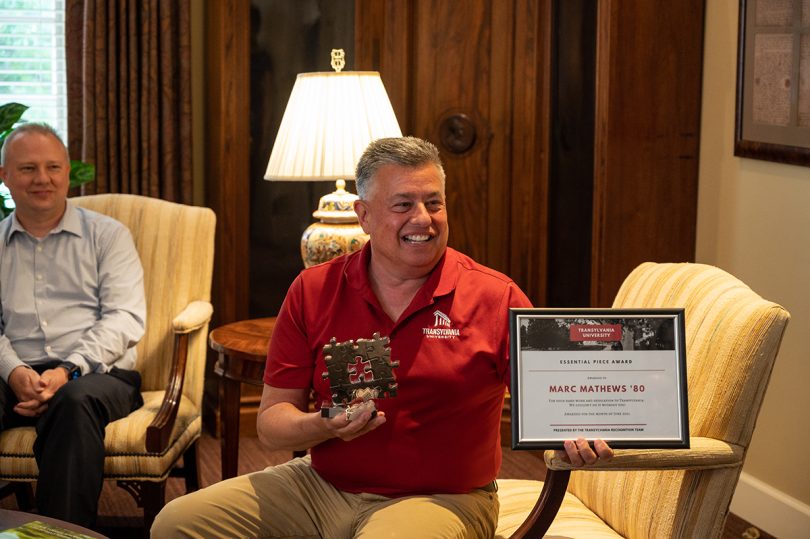 Also, since April 2020 Mathews has been helping get federal COVID relief funds into the hands of students (in addition to room and board refunds). "We are thrilled to partner with the federal government in making these funds available, recognizing that everyone's educational experience and financial situations have been impacted." From accounting to financial aid, staff members have ensured the money went out to students immediately, even if that meant working weekends.
Outside of his role at Transylvania, Mathews serves as independent board chair for the locally founded Dupree Mutual Funds and has been active in community organizations like LexArts, the United Way, the International Book Project and Volunteer Center of the Bluegrass. He's also served as national treasurer of the Omicron Delta Kappa National Leadership Honorary.
Mathews, who will be succeeded by financial operations executive Nelson Murphy, recently earned his license from the Kentucky Real Estate Commission and is doing financial work for his wife, Gwen, a real estate agent and 1988 graduate.
His future plans don't just include more work, of course. "We're going to go to Lake Tahoe for a month to do nothing," he said.