As the founder of Notably Gray, a marketing company in Nashville, Tennessee, Aja Price '11 knows that without a proper business plan and guidance from knowledgeable mentors, even the most original and promising ideas are likely to languish. She remembers the complexities of starting her own business and how integral to her progress was the network of professional women who willingly shared their valuable expertise with her. Eager to provide the same opportunities to other fledgling young women entrepreneurs, she recently founded a sister company, Notably Her.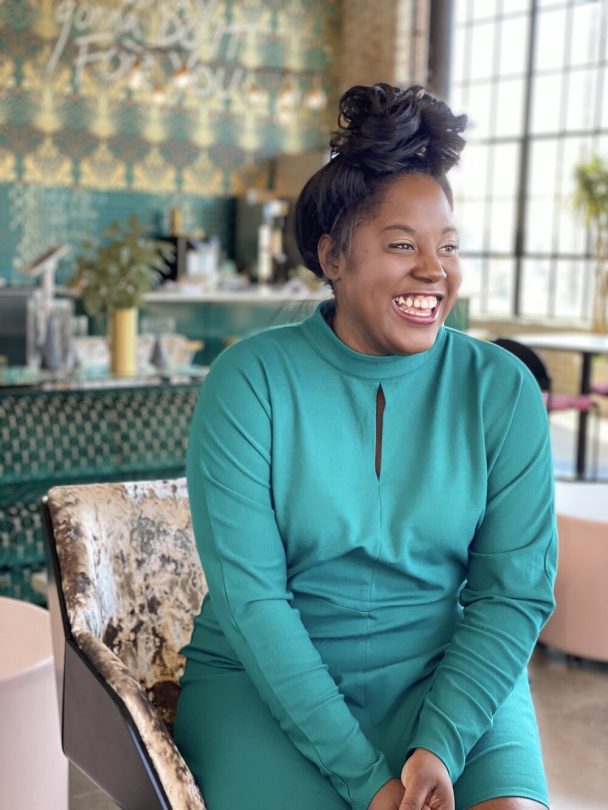 Words like "failure" and "languish" are contrary to Price's ebullience and her confident optimism. As the first in her family to graduate from college and venture away from her hometown of Lexington, Kentucky, she's no stranger to taking on bold pursuits and triumphing. She also knows the extent of the challenges.
From her research into entrepreneurship, she understands that 70% of businesses don't make it past the first year. But startups that receive mentoring tend to grow three to five times faster and raise seven times more capital. She points to her own success as evidence of the role that mentors play.
"These things came from the shared experience and the real-world application that I got to learn from these women," she says.
Price wants to help others in their journey and to push past the existing statistics that reflect gender and economic disparities, particularly for girls from underserved areas. Through her previous work creating programs for the Girl Scouts, she gained insight into ways of reaching out to girls. Her 12-week program, now in beta phase, is focusing on high school girls in grades 10-12. By inspiring as well as facilitating entrepreneurism in girls, she hopes to expand the stats that show that 23% of entrepreneurs are 18-29 years old.
"We want to break those glass ceilings for girls," Price says, "and to let girls know it's OK to have monetary goals" — just as her own company is a social enterprise that seeks "to do good" and generate revenue. "We take them from big idea to business plan," she adds, "providing mutual learning between mentors and mentees and a road map for entrepreneurial success." By the end of the program, every young entrepreneur will have a structure in place as well as continuing connection with the entrepreneurial community.
Recognizing that not everyone will become a lifelong entrepreneur, the program's companion goal is to make every girl career ready. They're learning essentials like financial literacy, communication skills and time management. The marketing side of her business will teach them how to market themselves through effective resumes and interviews. Price has targeted this age group for the potential impact that mentorship and real-world experience will have on these girls as they approach college and vocational decisions.
Her own college decision took her to Transylvania, she says, for the close community and one-on-one relationships she could have with professors. She's seen how Transy's sense of community, mentorship, confidence-building and compassion have helped to define her professional life.
"I owe a lot to Transylvania," she says. "Transy allowed me to be myself and come into myself. It created the space for me to do that. And so many opportunities came after leaving Transy." She marvels over the way that professors not only reassured her that they would help her through that process, but that they continue to be in touch with her today.
"The professors allowed me to really explore and be inquisitive and have that mindset. And the dean of students fostered this environment that encouraged students to grow, to think outside the box and to create things they had always wanted to create but never had the opportunity to do," she remembers.
As a business administration major on the hospitality management track, Price says that Transy created the space, in a liberal arts setting, for her to learn about service and empathy and to take it further into compassion.
"So much of hospitality is empathy," she explains. "You can't have a fulfilling work journey in hospitality without empathy. It's service oriented." But sometimes empathy isn't enough, she explains, and the situation requires asking, "How can I help?" She says she learned a lot of that from the hospitality track at Transy and has seen how well it translates to business as it informs her approach. "How can you best customize your message and actions when you are speaking with your customer or client or colleague to best help them?" she asks. By putting yourself in their mindset, understanding what they need and providing help.
Being active with Transy's many organizations and personalities also helped her to develop important communication skills. "These are the things that allowed me to hone the skills and then take them out into the world and put into my business and the work positions I've had."
Ultimately, however, being an entrepreneur requires being bold. And to be bold, Price explains, means being prepared to be uncomfortable and being confident of coming out on the other side. Transy's ongoing challenges prepared her for both, she says.
"There were many times at Transy when things would be required of us in classes," she says, remembering, for example, the absolute discomfort of being asked to get up in front of her peers and present her work. "You want me to do what?" she says with laughter. But it's having those experiences, seeing that she could get through them and receiving reinforcement from her professors that helped her to grow.
"Every time you live through or complete those types of experiences, it gives you that much more confidence to go out and say, 'You know what? Really, the world is my oyster and I can pretty much do what I want to do' — within reason, obviously. That, I would say, came from Transy," she reflects.
"I had really incredible professors who said, 'Yes you can. You can do this.' And because I did and got through it, that's given me the confidence to go out and really do what I wanted to do — and that is to build a business around empowering women and young girls."