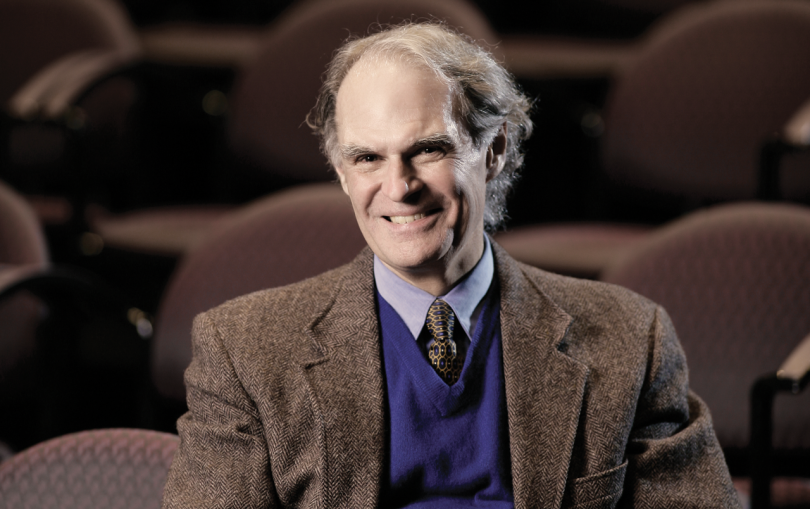 It's a Transylvania University tradition to honor retiring professors during their final class.
This year was no different for professor Tim Soulis. Well, it was a little different.
During the virtual class, his students appearing in their little video boxes on the screen held up signs thanking him, and then others started popping up … the university president, dean, other faculty and staff. "By the end I was in tears," Soulis said.
Having taught at Transylvania for 27 years, he recently was named professor emeritus by the Board of Trustees after recommendations from administrators and faculty. He is grateful for the designation, which will help him continue feeling a part of the university — from participating in events like commencement to keeping his school email address. "I did not want my time at Transy to end," he said.
Soulis most recently served as a writing, rhetoric, and communication professor, but he started 27 years ago teaching drama and directing theater. He staged a variety of productions, including "Fiddler on the Roof," "The Miracle Worker" and "Death of a Salesman" — and each December the community enjoyed his "A Christmas Carol," which raised money for a local charity.
He also wrote lyrics and music for shows, including a new translation of Euripides' "Bacchae," made into a rock opera of sorts called "The Bakkhai." Soulis, who had extensive teaching and directing experience before coming to Transylvania, was the school's first Lucille C. Little Endowed Chair in Theater, and he travelled across the state working with youths as chair of the Governor's School for the Arts drama program. Plus, he was instrumental in the design of Lucille C. Little Theater, sitting down with the benefactor it's named after at her kitchen table sketching out a redesign that ended up ensuring the project didn't run over budget.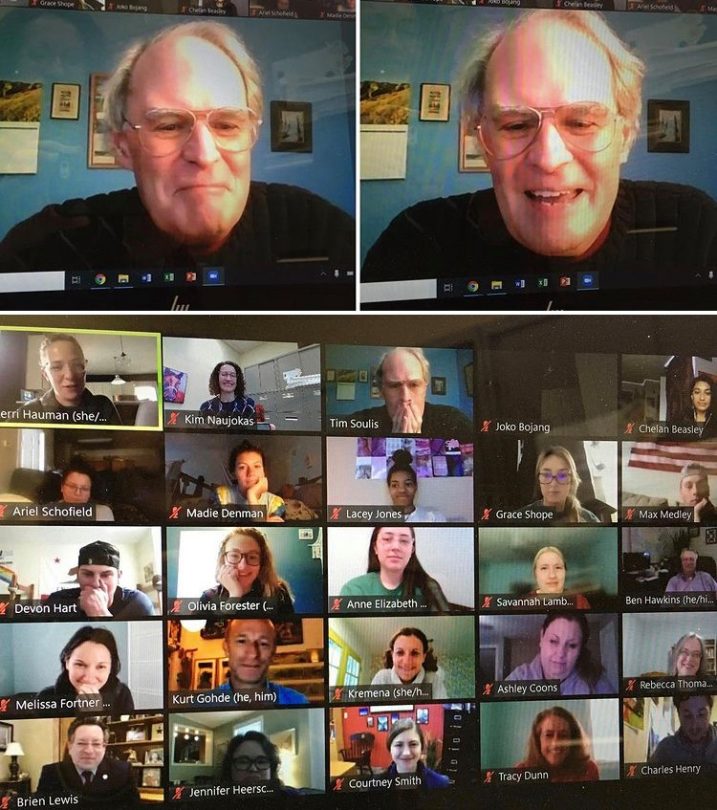 After transitioning to WRC professor, Soulis continued helping Transylvania students develop creatively and intellectually. He taught classes like First-Year Seminar, introducing them to liberal arts studies, along with Playwriting and Interpersonal Communication.
He appreciates the experience of being a professor in two different fields, which enabled him to reshape his thinking.
In addition to this transformative career experience, Soulis said he cherishes the interpersonal relationships he has developed. For instance, many of his students have become good friends. "It's like this community that has endured over time. It's so rewarding to see them blossom and to continue to grow."
Among the things that touched him most were the smiles of people he met on campus. In fact, he honored those who shared smiles with him over the years by channeling Louis Armstrong during his retirement luncheon — he sang a scat version of "When You're Smiling."
The connections Soulis has made with not only students but also colleagues are a big reason he's retiring with a "sense of wonder, delight and happiness."
Now that there are no more papers to grade, he's got a lot more time to read, write and listen to sundry symphonic cycles by various composers and conductors.
And again, the university will not fade into the distant background for Soulis. "I want to maintain a relationship with Transy for sure," he said.