Meet Bethany Peñalva, the newest addition to the Transylvania University admissions staff. As the campus experience coordinator, she works alongside admissions ambassadors and staff to make sure campus visits are unique and fun.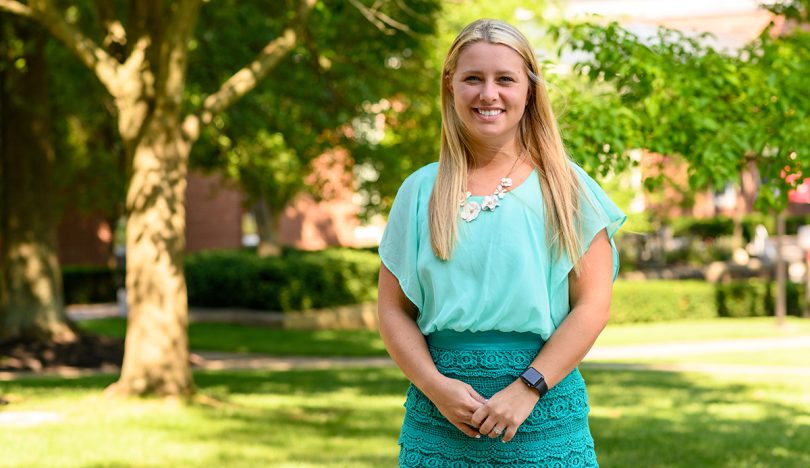 What did you study in college, and why did you choose it?
I studied music performance on the flute. I have loved music my whole life and wanted to further my skills and explore options of the music world. I then went on to receive my master's in management and leadership to broaden my knowledge and hone my skills.
Where did you work before coming here?
I worked in admissions at Campbellsville University and Eastern Kentucky University.
Why did you choose to work at Transy?
A few years ago, I was on Transy's campus for a work event and for the first time got to experience the "Transy Way." As I was leaving the event, I saw Vice President for Admissions Johnnie Johnson, then KYACAC president, pulling around 20 chairs across the room. He saw me walking with my coffee and bags, stopped what he was doing, ran across the room, opened the door and thanked me for attending the event and asked if I needed anything for my ride home. That stuck with me, and I knew that the environment at Transy was something I really wanted to be a part of.
Is there anything specific that you hope to accomplish during your time here?
My goal is to create an experience for students and their families that is tailored to them and allows them to see if they can envision themselves in a Transy classroom, studying in the campus center, decorating their dorm room, playing on an intramural team, etc.
What are your priorities when it comes to campus visits?
My number one priority is to make sure that future students and their families get an authentic experience during their time on the campus — a visit that shows them what makes our campus so great.
What do you do when you are not working? Hobbies?
I love staying active, and I'm very competitive. On weekends and evenings you will find me playing flag football and soccer for a couple different social leagues in Lexington. I also love taking walks with my husband and dogs to coffee shops and fun locations in and around the Lexington area.
What is your impression of Transy so far?
Transy feels like home. Everyone has been very welcoming and sweet to me in my first few weeks on campus. It feels natural for me to be a part of the Transy team, and that makes me very happy and excited for my future here.
Are there any encouragements that you want to give to students?
Don't take any moment for granted, and don't forget to take a step back and appreciate where you are. With life and campus opening up in a post-pandemic world, hop in and get involved with clubs and other activities you love — and push yourself to try something new.