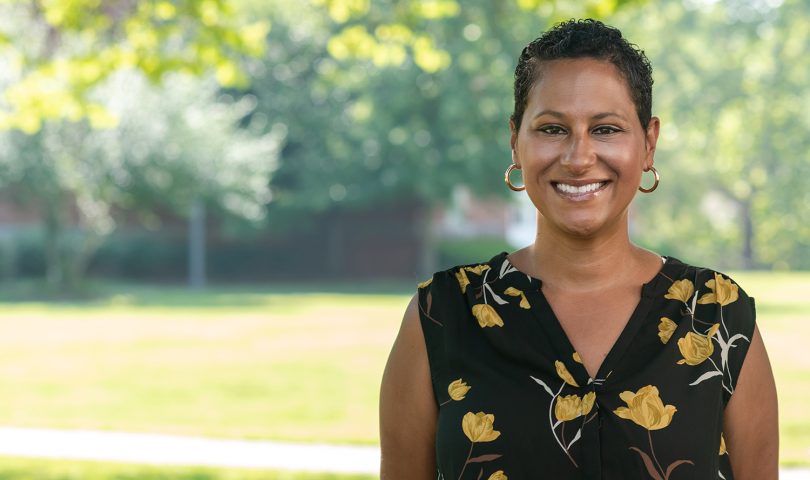 The following tribute was submitted by Natasa Pajic Mongiardo '96, Transylvania's director of alumni relations.
The Transylvania community is saddened by the passing of Rachelle Williams Bolton '98 who died on June 1, 2021, after a hard-fought, 18-month battle with stage 4 breast cancer. Rachelle came to Transylvania from Franklin County High School and graduated with a B.A. in English in May 1998. She was an active member of Alpha Omicron Pi fraternity, later having served as an alumna advisor for Transy's Tau Omega chapter and thus impacting the lives of numerous collegiate members. 
Following graduation from Transylvania, Rachelle went on to earn her J.D. from the University of Kentucky College of Law in 2001 and joined the Fayette Commonwealth's Attorney's Office in Lexington as assistant commonwealth's attorney. In 2004 she became a trial attorney for the office of the U.S. Trustee with the U.S. Department of Justice. Rachelle served on the Bench and Bar Editorial Committee for the Kentucky Bar Association. 
She was the former chair and current secretary of the Providence Montessori School Board of Directors. She volunteered with Big Brothers Big Sisters of the Bluegrass from 2004-14 and served as vice-chair of the board of the Bluegrass Rape Crisis Center (now known as Ampersand – Sexual Violence Resource Center of the Bluegrass) from 2011-14. Last summer, Lexington mayor Linda Gorton appointed Rachelle to the Commission for Racial Justice and Equality. 
Rachelle always said that Transylvania shaped her into the person she was, and she felt a responsibility to give back to her alma mater in meaningful ways. She joined the Transylvania Alumni Board in 2009 and was elected president in 2014, serving on the transition team that helped welcome former president Seamus Carey to campus. 
She was one of the original participants in the host family program for international students that evolved into the Friendship Family Program. She had been part of Transylvania's mentoring program, 100 Doors to Success, since 2014, having successfully mentored two fellow Pioneers, one a 2019 graduate and one a current student. In 2015, Transylvania honored Rachelle with a Distinguished Service Award for her many contributions to the campus community. 
"Transylvania is a huge part of my personal history, like a hometown. It's, in many ways, where I grew up. So I will always consider myself a citizen of Transylvania. I care for it and want to see it thrive," Rachelle said when learning of her award.
She continued her service to Transy as a member of the Board of Regents in 2016 until her passing. She served on, and later chaired, the board's Diversity Committee, always a cheerleader of projects the regents were taking on.
Rachelle gave it her all when it came to serving her alma mater. She had a passion for always doing what's right and leading with a firm hand and a kind heart. Those whose lives she touched will forever be changed. Rachelle will be greatly missed by her AOII sisters, classmates and many Transylvania friends. Our hearts go out to her daughter Delanie, husband Kevin, her mother, brothers and other family members and close friends.
A memorial service will be held Wednesday, June, 9, at 4 p.m. in Haggin Auditorium in the Mitchell Fine Arts Building. Visitation will be Wednesday from noon-2 p.m. at Kerr Brothers – Harrodsburg Road. View the full obituary.