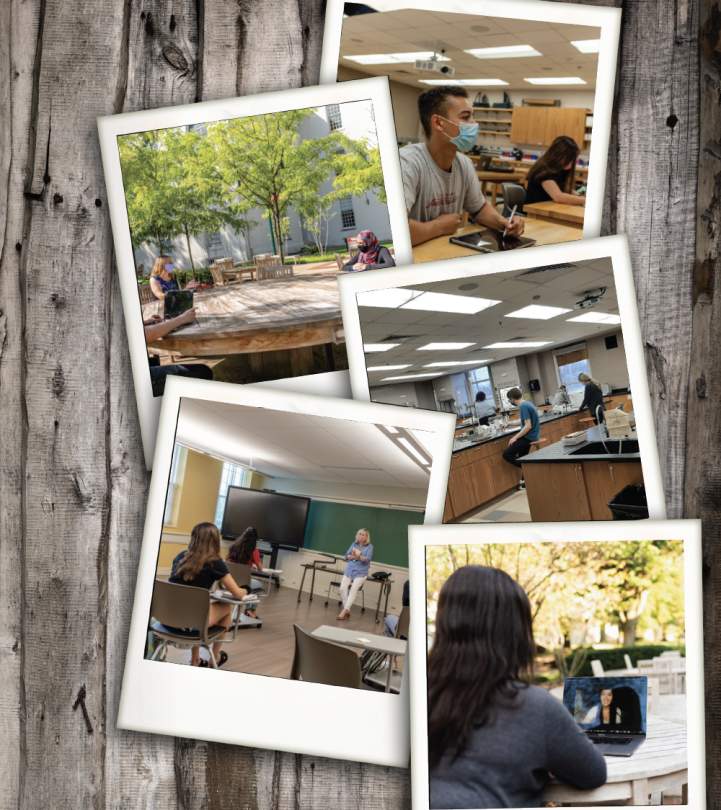 This article appears in the most recent issue of Transylvania's Third & Broadway magazine.
Transy is hard enough under normal circumstances. Ask any Pioneer. Understanding the challenges facing Transy's academic community during COVID-19 — the emergency shift to online instruction last spring, the introduction of hybrid classes in the fall and the modular system that compresses the mighty demands of a 14-week semester into a compact seven — begins by recognizing the sheer tenacity, creativity and resolve of faculty, students and staff.
Pursuing an academic life during COVID requires both sides of Broadway being perfectly aligned in keeping the community safe in order to be productive. In these extreme circumstances, political and pandemic, as 2021 unfurls and the vaccine makes its way from invention into our arms, the supportive, tight-knit community that is Transy finds even greater value in its ability to pull together, learn from each other, leap into action, persevere and evolve, as it has for nearly 250 years. In this issue of the magazine, we offer glimpses into campus life unfolding during the pandemic.
Prepared to Pivot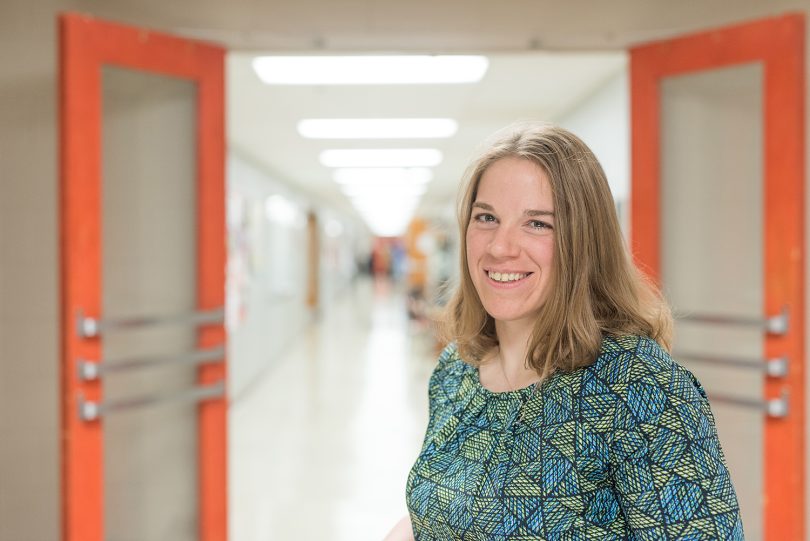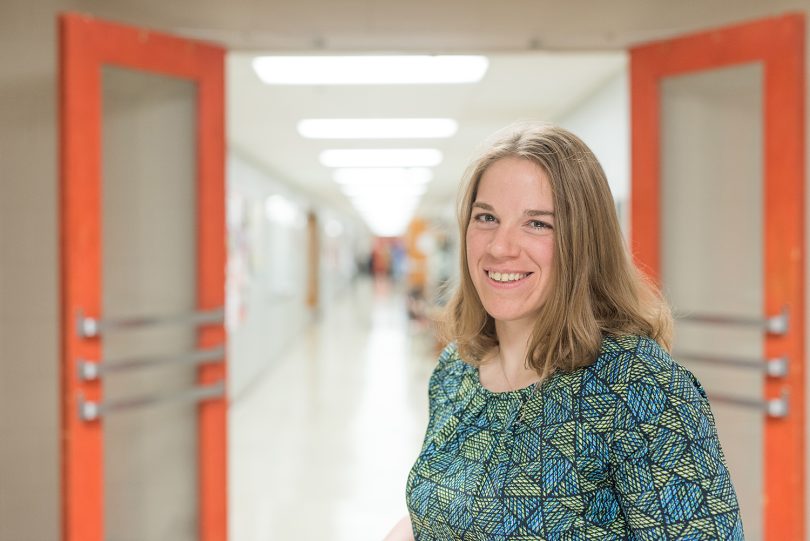 In March 2020, when the world shut down and Transy's campus closed, faculty, staff and administrators came together almost overnight to devise ways for the learning to continue. Transy library staff created how-to videos for faculty to navigate online platforms. They helped match pedagogic goals with digital resources. And the Digital Liberal Arts initiative amped up its regular meetings and workshops, helping faculty to train in and troubleshoot technology issues.
"I really tried to keep the equity at the forefront of my mind," says chemistry professor Jessie Brown, as she quickly adapted her classes for online learning with the understanding that not everyone would have the same access to technology and broadband service. "Instead of going for new digital learning tools and multiple innovative platforms, I wanted to keep it as simple as possible."
As with the rest of her colleagues who were determining how best to be flexible in a world that was altering week to week, she divided her lectures into 15-minute intervals so that students, who might have difficulty logging in during the scheduled class, could access the content at any time. And, with a nod to classroom familiarity, she bought a whiteboard to write on in front of the camera mounted on her computer.
An entire community working together has been making this continuity of learning possible. And in the midst of the extraordinary challenges have come unexpected moments of creative and pedagogical breakthroughs.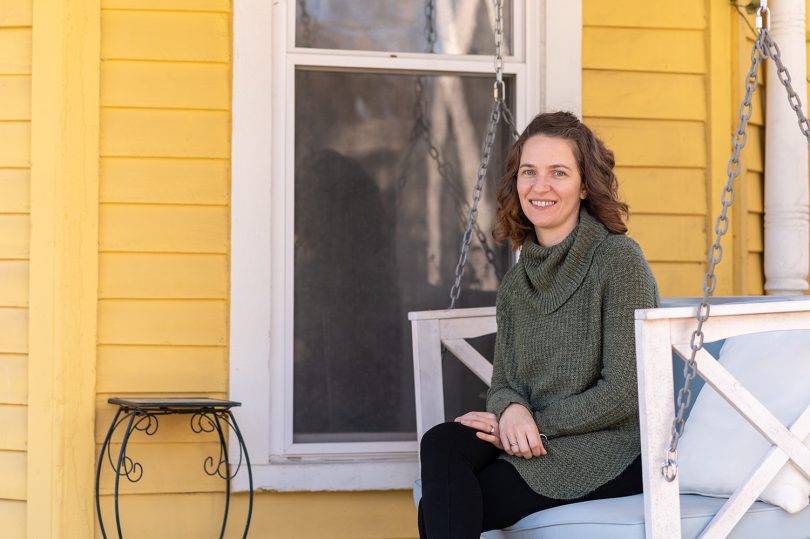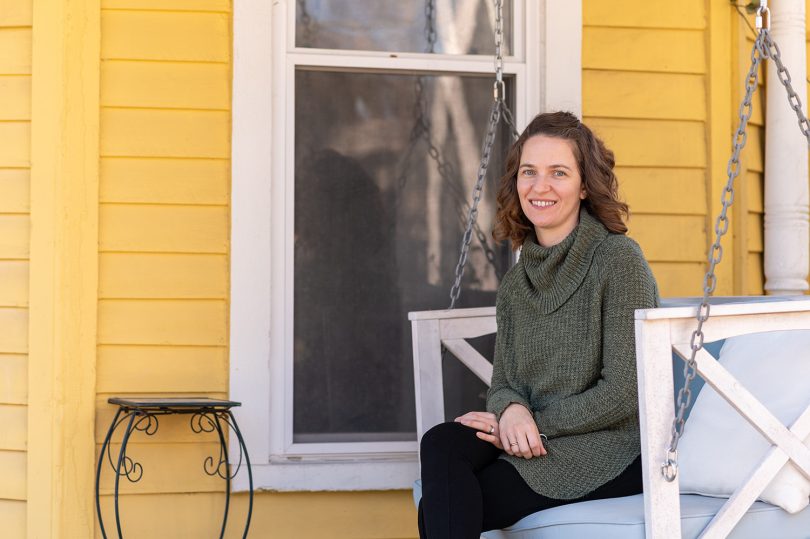 Kerri Hauman, associate professor of writing, rhetoric, and communication, whose tenure as director of the First-Year Seminar and First-Year Research Seminar programs began in earnest during COVID, acknowledges some actual gains made during such difficult times. "As much as the experience of teaching remotely was very stressful and overwhelming in the moment," she says, "and to some degree it continues to be so, I think that one of the benefits of this is that faculty have been able to really think about, 'What are my pedagogical goals here? How do I think creatively about how to help students meet those goals? What various platforms could I use? What various technologies can I use to allow students to engage with the work and each other, even if we're not there in real time, in person?'"
Experiencing science in the moment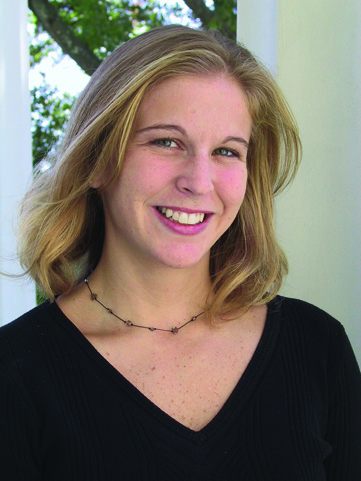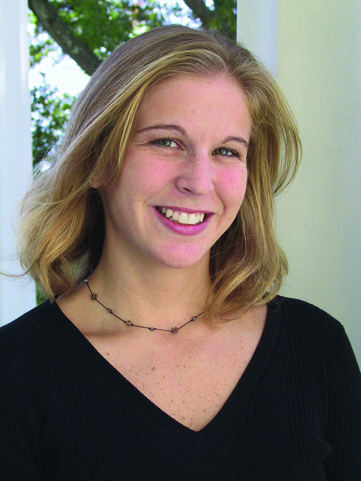 As May term approached and all international travel was canceled, classes meant to take students out of the familiar had to be reimagined, including Belinda Sly's ecology class, originally slated to take place in Belize. Sly paused to consider what might be most relevant and beneficial for her students, with more than half of them destined for the field of health care. Sly says she felt an ethical duty to get them thinking deeply about the pandemic, so she made the class about the coronavirus. She then developed it further for a summer class.
By pairing student curiosity with an immediate, unfolding biology-based challenge, Sly placed her students in the heart of the scientific process and at the center of the intellectual action of the class. Students learned about COVID in real time and about how science works, its dynamism and related complexities. They identified important resources for information and gained insight from guest speakers (virtually) whose work illuminates a variety of issues related to the pandemic. In addition to seeing the direct application of biological foundations, Sly notes, "on a daily basis, students could see the politics and the sociological issues come into play."
Dealing with a subject in constant flux, Sly asked her students to play a central role in researching the literature, learning as the science came out and being flexible as it changed from week to week. "Doing this was the epitome of being a scientist," she says.
Sly loved the process. "I think one of the things it's taught me is that by using an example that students are interested in and that they can go in and explore themselves — that's a very effective way of teaching very basic concepts in genetics." By fall term, she was applying some of these methods and resources to her Introduction to Molecular Biology. "In many ways," she says, "this was my best teaching experience at Transy, even though it was online."
When nothing can replace face to face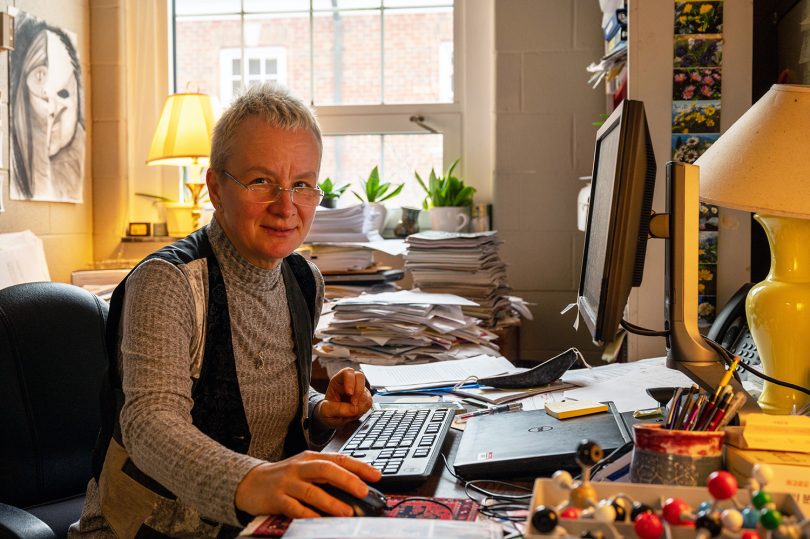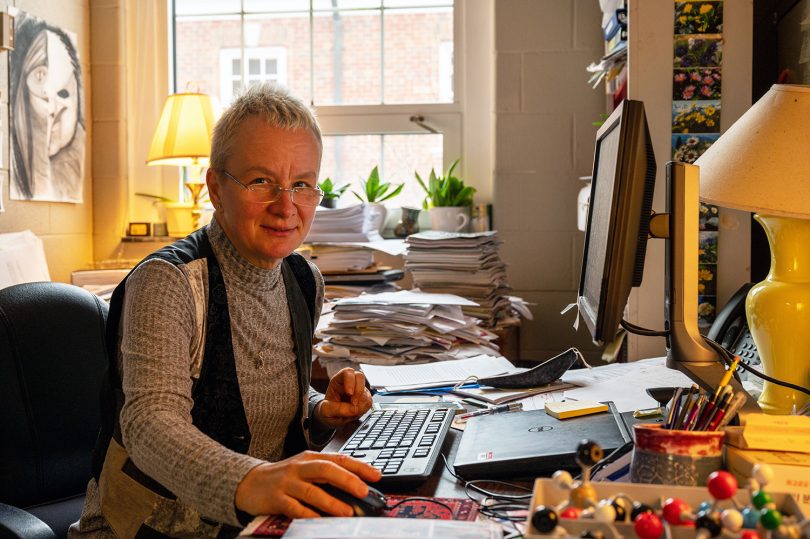 With each round of online teaching, faculty and administrators shared lessons they'd learned, applying best practices to their next classes. But the ultimate goal continued to be a return to the classroom whenever practicable. By fall, armed with a better knowledge of the coronavirus and its transmission, and with extraordinary caution and exhaustive protocols for virus testing and quarantining, some on-campus, in-person learning was offered.
This was a boon for subjects like chemistry, with its reliance on lab work to properly prepare students for graduation. "As scary as it looked in the spring," says chemistry professor Eva Csuhai, recalling the empty labs and unused PPE being donated to help meet Lexington's urgent medical needs, "I think it's working pretty well." In fact, she reflects, "I'm really proud of the way we're doing it because it's state of the art." To all the people who have been asking her how it's even possible, Csuhai is delighted to proclaim, "There is live, in-person chemistry at Transy!"
With the help of Transy physics alumnus and lab coordinator Brandon Bailey '19, people have been organized into pods and their use of the labs well choreographed, including when and how to enter and exit the lab. Chemistry professor Robert Rosenberg took charge of modeling and building at-home experiments for students in general chemistry and junior chemistry majors, and instructor Thomas Russell handled online experiments for sophomores taking Organic Chemistry.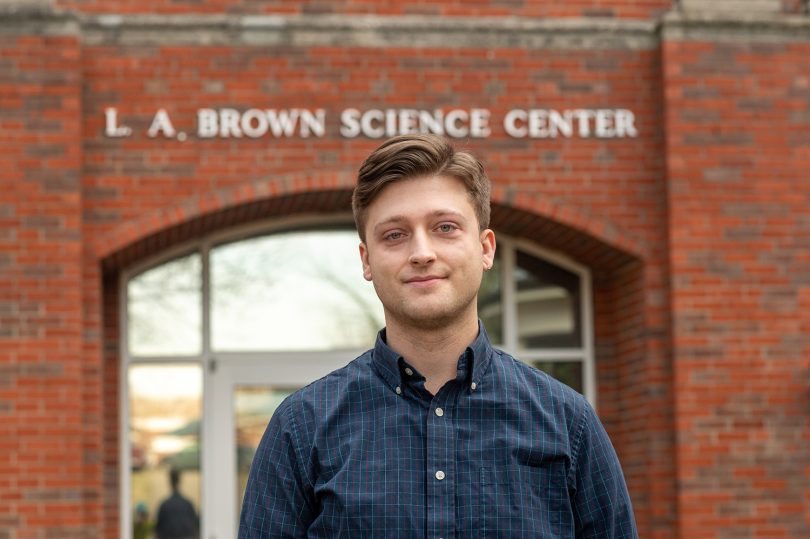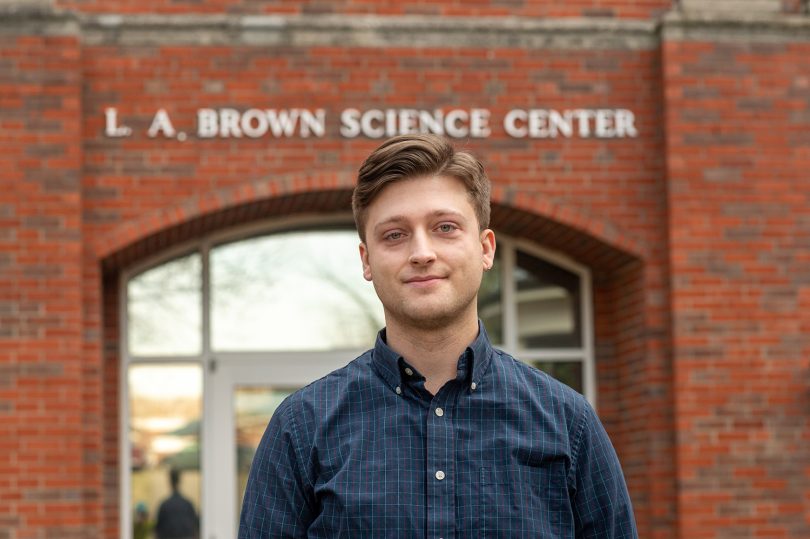 For biochemistry students participating in person, Bailey was the "hero of the story," says Csuhai. Just as the renovated Brown Science Center and the lab fume hoods helped with enhanced air circulation ("it's almost like being outside"), Bailey, with his impressive logistics skills, kept the people circulating safely. "He came up with most of the practical tricks we needed so that everyone can have their own things in their own space and practice physical distancing while working with chemicals and equipment. He lined up the timeline of how we flow people from one lab to the other."
Additionally, by investing in some virtual lab experiences, the department gained time for more theoretical work, as well as opportunities to explore experiments that could never happen in a classroom. "You can do some things virtually that would be too dangerous for a normal undergraduate lab," says Csuhai, after which students process the experimental findings.
Long-term impact
The challenges of the COVID period have helped to push into action ideas that professor Hauman and her colleagues had been formulating for one of Transy's signature critical thinking and writing programs. Although the traditional goals remain the same for the First-Year Seminar programs — e.g. helping students new to Transy join the academic conversation and prepare for a writing-intensive college career — the methods and platforms for developing close reading, analytical thinking and synthesis of ideas are expanding to meet the changing needs of students and their future lives as citizens.
"Preparing students for different types of texts — texts very broadly defined, not just alphabetical or textual or a traditional research paper," is part of that, says Hauman. "They're the types of skills that we need to be helping students learn," she adds, including the question, "What does it mean to be literate in the 21st century? Technology is certainly a pretty big part of that." In the long run, some of the challenges faced during COVID, she adds, "troubleshooting different software, platforms and technologies, will be very useful."
But Hauman also underscores the deeper meaning and broader relevance of this Transylvania education. Noting the many examples outside of academia in which people are unable to engage in constructive conversations on any platform, she reiterates the essential goal of graduating citizens capable of critical thinking who have the ability and willingness to listen and discuss.
"We're very mindful that we want them to build skills that are going to be really useful to them immediately outside the walls of Transy, long-term skills that they're going to use and build on throughout their whole life," she says. "We want them to read widely, to see people who disagree with each other, not to see it as a yes-or-no binary, good-and-bad kind of thing, but to understand that ideas are nuanced and complicated and complex, and a lot of times can be in tension with one another.
"I think those goals — of close reading, summary, analysis, synthesizing other people's ideas, really looking widely at what has been said about a particular question or topic, then thinking about how you enter into that — are so important for all of us and for students as we prepare them to do the things they're going to do at Transy and, more importantly, beyond Transy."
Growing to meet these challenges during COVID is part of the continuum of learning and evolving that is Transylvania University.