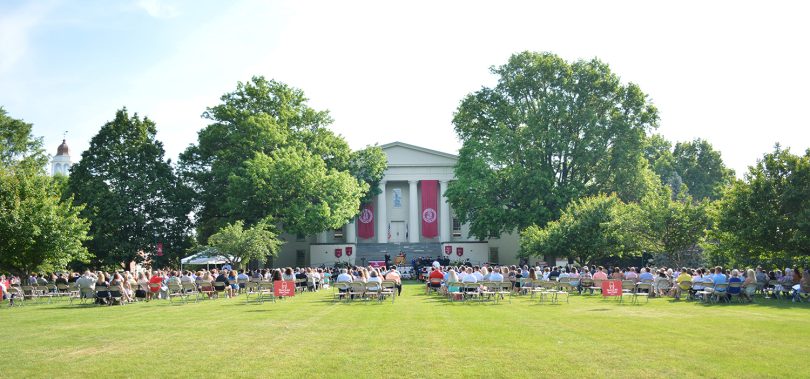 Transylvania University will confer Bachelor of Arts degrees to 220 graduating seniors on Saturday at its 2021 commencement with the celebration split into two ceremonies to allow for physical distancing.
The event begins in front of Old Morrison at 8:30 a.m. for students in the Fine Arts, Humanities and Natural Sciences and Mathematics divisions. The ceremony for those in Social Sciences starts at 11. Both ceremonies will be livestreamed at transy.edu/live, and the rain location is Haggin Auditorium.
"We are delighted that we can celebrate our graduating seniors with an in-person commencement this year," President Brien Lewis said. "During these uncertain times, the bright and talented students in our Class of 2021 have demonstrated a resilience and creativity that will serve them well in their lives after Transylvania."
Two seniors will deliver the addresses at this year's commencement, beginning with Eileen Bunch, a writing, rhetoric, and communication major from Fort Thomas, Kentucky, who received the Southeastern Writing Center Association Undergraduate Tutor Award for 2020-21. The speaker at the later ceremony will be Savannah Lambert, an international affairs and German studies double major from Georgetown, Kentucky. She won a Fulbright grant to serve as English teaching assistant in Germany.
Get more details about the Class of 2021 commencement and Senior Week activities.
This past Saturday, Transylvania celebrated its Class of 2020 during an in-person ceremony that was delayed a year because of the pandemic. Shawna Morton '20 delivered the student address, and former Transylvania President John Norton Williams '74 and first lady Lucy Sims Williams '74 received honorary degrees for their distinguished service to the university.
Class of 2021 highlights
The achievements of year's graduating class include:
Forty-one percent of the students receiving Latin honors for a cumulative GPA of at least 3.5, and 55.5% earning program honors.
Many of them are pursuing advanced degrees at medical, law and graduate schools.
Others are joining the workforce in a variety of positions, from elementary school teacher to mortgage banker to software engineer.