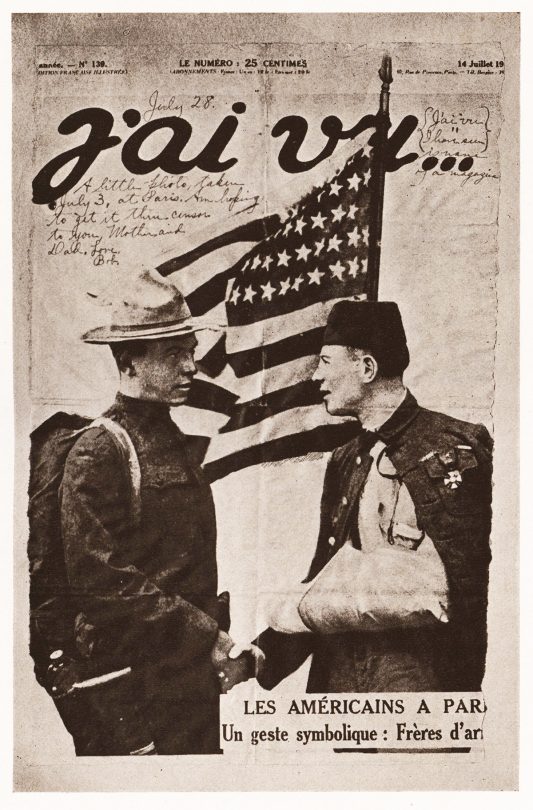 The day before Cpl. Robert McLachlan's battalion represented the entire U.S. armed forces at a 1917 Fourth of July celebration in Paris, he got his picture taken shaking hands with a wounded French soldier.
That image, captured at a train station just after the American soldiers arrived in the City of Light, appeared less than two weeks later on the cover of the French magazine J'ai vu and was later published in his college yearbook — the Transylvania University Crimson.
Phillip Walker, a supervisor at the Transylvania library, has been researching McLachlan's story for an article he's writing to coincide with the 100th anniversary of the Nov. 11, 1921, Unknown Soldier interment ceremony in Arlington National Cemetery.
In the photo, McLachlan — who was a standard-bearer for Gen. John J. Pershing — is represented in a "dramatic, brothers-in-arms" fashion, and he's wearing what was essentially a prewar uniform with a M1912 holster (because he was a guard in a color detail), according to Walker.
The following July, McLachlan's 2nd Battalion of the 16th Infantry Regiment helped spearhead a counteroffensive against the Germans in the Battle of Aisne-Marne. "After advancing to the first objective, capturing significant numbers of prisoners and guns, casualties mounted dramatically from artillery and machine gun fire," Walker continued. The 2nd Battalion was "virtually annihilated" and McLachlan was killed in the fighting, although he's listed as missing in action because his body was never identified.
"Almost all the 16th Infantry dead were later located and initially buried by the Scottish 15th Division," and McLachlan's name is inscribed on a memorial wall of a chapel in the Aisne-Marne American Cemetery, according to Walker.
McLachlan, who was a member of Transylvania's Class of 1919, is honored as the namesake of the Kentucky American Legion Post 137 in Williamstown, Kentucky, which is near where his parents ran a general store in Dry Ridge.
On this Memorial Day, Transylvania remembers McLachlan and all of the members of our armed forces who have made the ultimate sacrifice to protect our freedom.