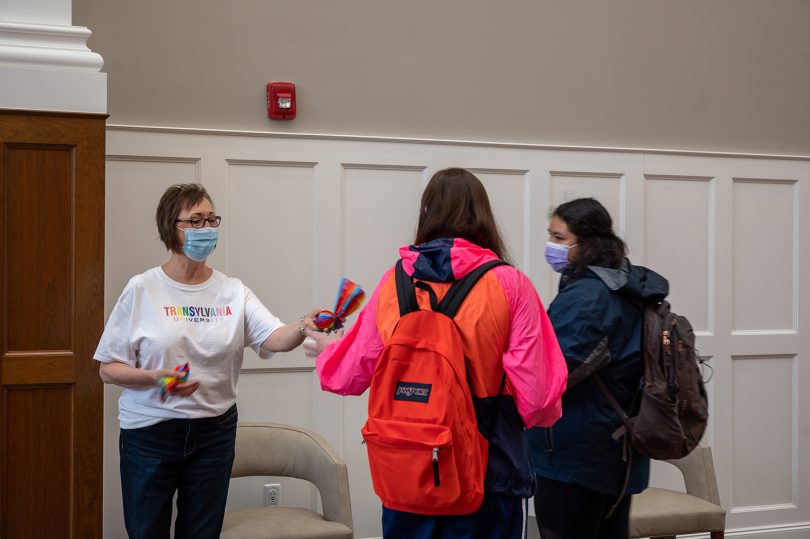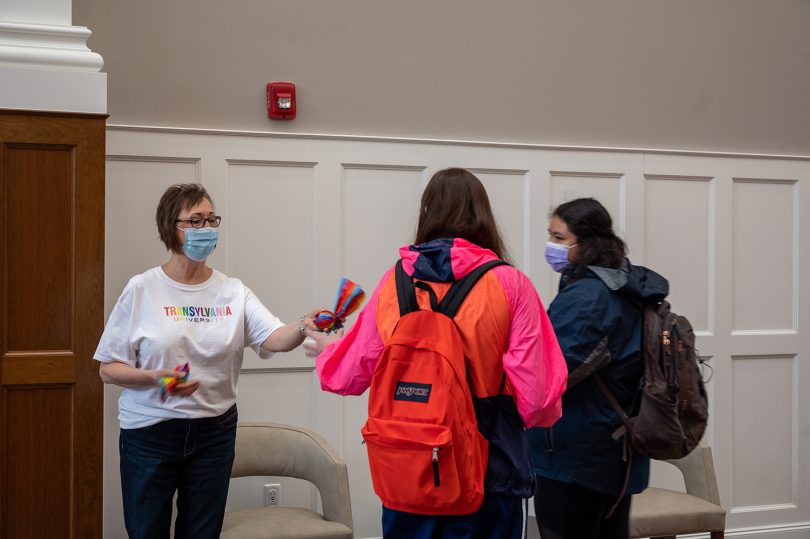 Transylvania University is celebrating the LGBTQIA+ campus community with a variety of Pride Week events.
Today in the Campus Center, faculty and staff gave out "mom hugs" (Hershey's Hugs), in the tradition of the group Free Mom Hugs showing support for people at Pride festivals who may not get encouragement from their own families. Other activities on tap this week include a collection for the Arbor Youth Services emergency shelter and tie-dyeing in Back Circle.
Tevin Monroe, assistant director of campus and community engagement, said this week is a chance for students to know they have a place where they belong, especially before they head home for the summer. "It's all about celebrating the LGBTQ+ community and validating their experiences and identities and providing a chance for folks to learn more about that community."
For those students studying remotely over May term, there are virtual activities as well, such as Kahoot! Trivia sponsored by TUnity, a group that provides support and empowerment, and a virtual panel on sexuality with local community organizations.
Other groups involved with Transylvania Pride Week include Student Life, the Office of Diversity and Inclusion, Student Activities Board, Student Government Association, Staff Engagement Team and Lexington-Fayette County Health Departmet, which will be providing free, rapid HIV testing.
"Pride Week provides a chance for connectedness and community for students who are LGBTQ+ and allies," Monroe said. "I find that a lot of students are able to be themselves fully on Transy's campus."