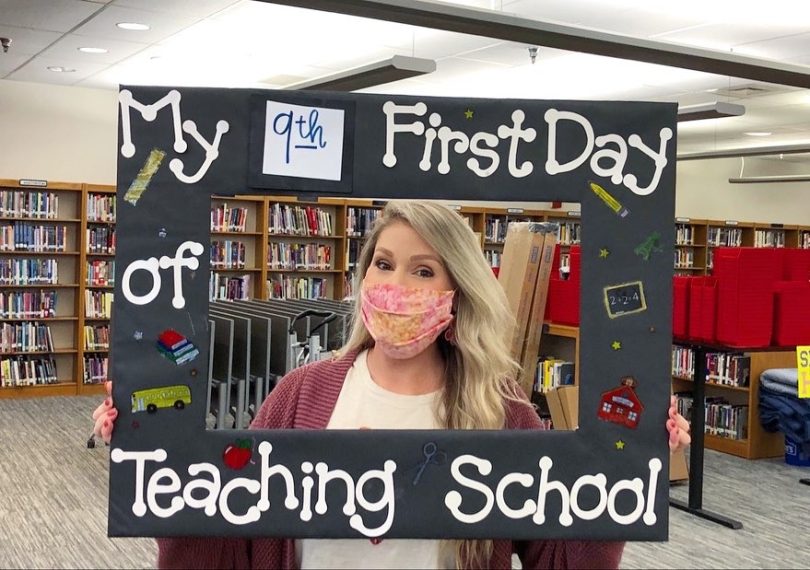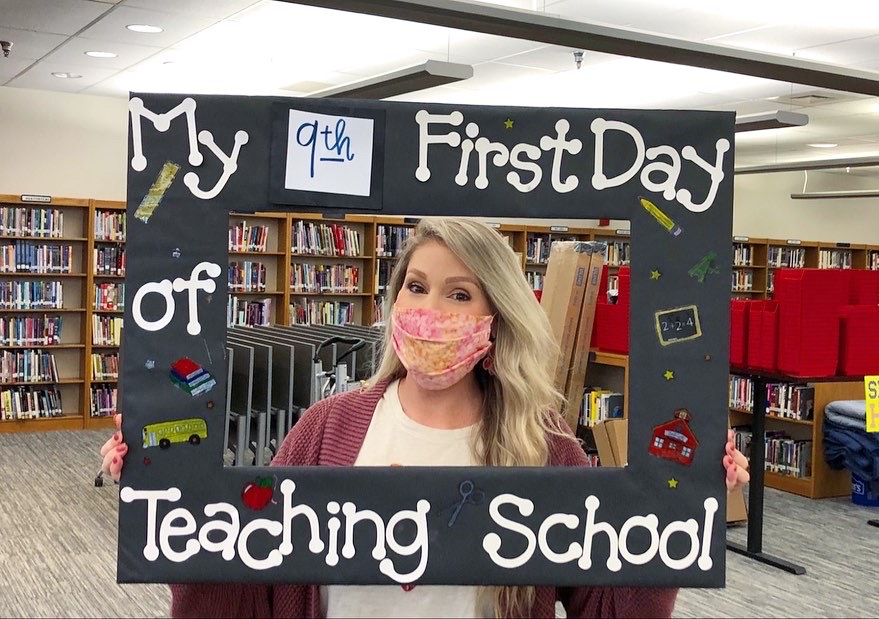 Sophie Schwab '11 likes to tell her students that biology is her first love. Convincing them of its relevance in every facet of their lives is, perhaps, her second. Within the first several years of teaching, she has received two student-nominated awards, one from Barnes & Noble, the other from Fayette County Public Schools.
"She's the teacher in high school that everyone wants to be friends with, ask advice of, or just hang out in her classroom," says Emma Lloyd '21, a former student of Schwab's at Lafayette High School in Lexington, now a senior at Transy. "Her classroom is so inviting and welcoming," Lloyd adds, recalling how she would sit in that environment, planning to emulate Schwab in her own classroom when she became a teacher.
Lloyd, a member of Transy's swim team, is just finishing her student teaching as an elementary education major and psychology minor. She's about to graduate and join Schwab in the ranks of her profession and as a Transy alumna. It's another full circle for Schwab, who has encouraged several former students to attend her alma mater. She's even taught the children and grandchildren of professors who once taught her, including Harrison Lane '20, the grandson of Don Lane, her professor for Lifetime Fitness.
Yet Schwab, who loves science, math and especially biology, very nearly didn't become a teacher. Because of her academic bent, she'd been guided as a sophomore in high school to consider pre-health and a future as a physician. She dutifully adopted that path. "I put the expectation of med school on myself," she says.
When her high school math teacher in Ironton, Ohio, recommended Transylvania over larger state schools as a more compatible option for someone graduating from a class of 11 people, Schwab visited campus and was smitten. On the day she committed, her mother bought her some Transy swag, including a sweatshirt, which she proudly wore and would eventually bequeath to Lloyd, when she, too, committed to Transylvania.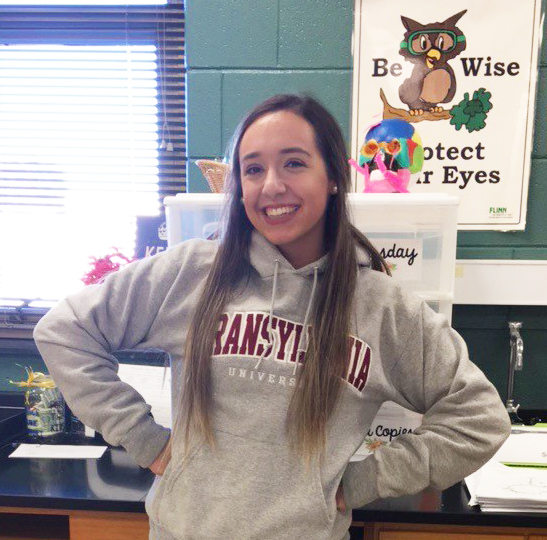 "When I told her I was looking at Transy," says Lloyd, "she was all in." Schwab shared her memories and was encouraging throughout her college search. Transy was Lloyd's top choice as a swimmer, but also "as a teacher and a person," Lloyd explains. "I wanted to have that same experience in college that she had so that I could be more like her when I grew up."
But whereas Lloyd entered Transy having known, since fifth grade, that she was destined to become a teacher, Schwab advanced through Transy's pre-health path until her junior year.
"I loved everything about the biology classes at Transy," Schwab remembers, "and I tried to take as many of them as I could." However, as she realized her lack of enthusiasm for becoming a doctor, she began to feel uneasy about the path she'd fallen into. "My heart simply wasn't in it," she says. Deeply upset and uncertain about what to do, she talked with her adviser, biology professor Belinda Sly, who reassured her and suggested she take a year after her graduation to figure out what was right for her.
Liberated to consider other options, Schwab stepped back and realized in her senior year that her true calling was to be an educator. She laughs now when she describes the clues she'd missed along the way, including how so many of her friends were taking education classes at Transy — classes she's sorry she missed — and that she came from a family of teachers and principals.
Shifting her sight line to education, Schwab quickly learned the enormous value of having a bachelor's degree renowned for its rigor. She was steeped in the subject matter she would teach. After earning a master's in education at Morehead State University, Schwab was immediately hired to teach at Lafayette High School, the home of SCAPA (School for the Creative and Performing Arts) and pre-engineering students.
She notes how having studied biology in the context of the liberal arts further prepared her to teach and relate to students with such diverse interests. Taking fine arts and humanities classes also gave her science brain a respite and opened her to so much more of the world.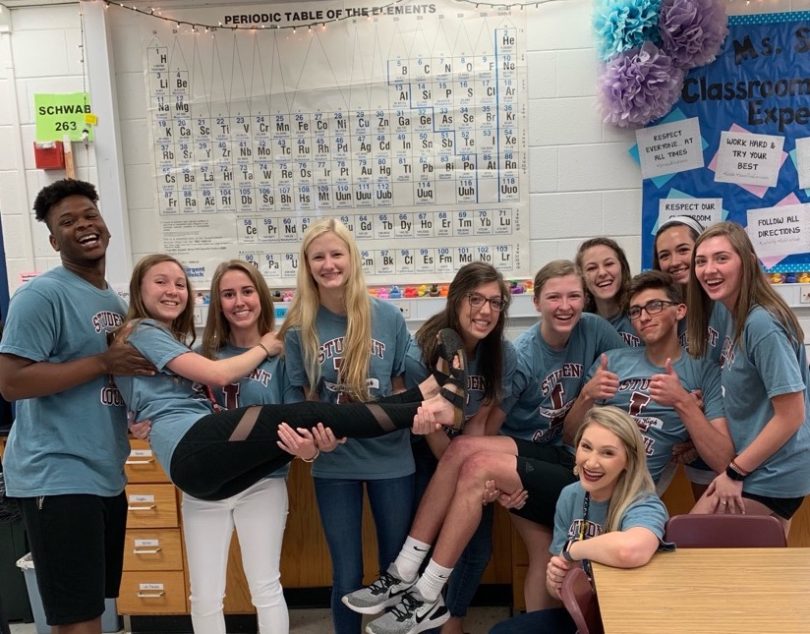 "It's an incredible experience," she likes to tell her students, "to have so many different experiences — art history, fine arts in May term, seeing so many different sides of all these different disciplines." But biology is what continues to ignite her interest and motivate her to share what she's constantly learning.
"I love biology so much," she says. "I love learning about the content; I love talking about it. I get very excited." Her hope, she tells her students, is that by the end of the year, they'll at least appreciate biology — "because it's so applicable and relevant; it's everything about your body, everything happening around you."
Schwab insists that being an effective teacher means being interested in the content and the students. It's the memory of teachers who were excited to be in class, talking enthusiastically about the subject, that always stuck with her. "I knew they wanted to be there," she says. "When you have an excited adult in the room that makes all the difference." She shares those memories with her students, too.
"At Transy you get to know your teachers so well," she adds, noting how hard she's worked to build those same kinds of relationships with her students at Lafayette. "I always tell them about Transy — the small classes and getting to know your classmates and professors. It's such a different world. That personalization has stayed with me all of these years."
So too have the flexibility and self-discipline she learned at Transy. She says she's relied on that ability to adapt and adjust to meet the challenges of teaching biology and anatomy online during the coronavirus pandemic. Trying to take a lab-based class and move it to an online platform, she says, "I have never in my life been so at a loss or so challenged to make it engaging and relatable." But she did.
Schwab incorporated the study of the coronavirus into her teaching of the immune system. It was something her students found immediately relevant. The virtual labs that she and her colleagues created and the many online and digital resources proved to be very useful. She sees the fact that every student now has a computer to be a game changer. "It's exciting and a little overwhelming at times," she says, "but the possibilities are endless now."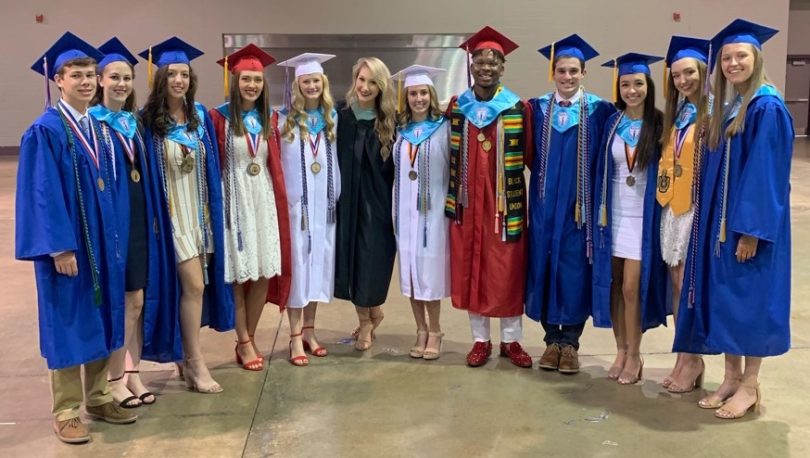 Among her biggest concerns throughout COVID-19 was that her students should not miss out on projects and labs they needed to be prepared for college. Even before the pandemic, she was eager to help her students reach their highest level, drawing on her Transy experience — and even the expectations of her professors — to do so.
"The rigor at Transy is unbelievable," she says. "I carry that with me. It prepared me for my master's degree, but also as a teacher. I think about that rigor level and about what is to come for a lot of these students, if they go into pre-med or whatever it might be. I try to prepare them for that."
When Kirk Abraham, her former professor of health and exercise science, walked into her classroom for an open house, she remembers feeling a little nervous when he picked up a copy of her anatomy curriculum. But she learned from his daughter that when they studied together he would say, "Oh, you're learning that?" Schwab hopes he's pleased with what she's doing.
Her students are. She's been moved by the awards they've nominated her to receive (even requiring an essay to be written). "Sometimes you wonder if you're impacting these kids," she ponders: "Am I doing enough? Do they want to be here?" And then the awards come and validate her impact. "It's the best feeling, the most rewarding thing ever and very humbling." It lifts an already buoyant teacher as she continues on her daily mission to nurture and inspire the next young mind.
"I want to be a teacher that my students look back at and say, 'Ms. Schwab really prepared me for what was to come.'"