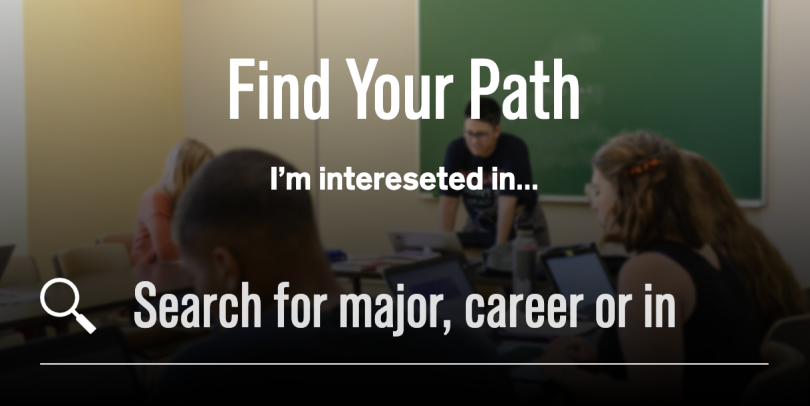 As part of Transylvania University's commitment to helping students find their own path in life, the school's website now gives them an easy way to search for careers and majors.
Simply type in what interests you — and then explore how Transylvania academic programs will prepare you for success. For instance, is your passion health and exercise science? You'll learn how our Clive M. Beck Athletic and Recreation Center offers not only classrooms but also an exercise physiology lab, hydrotherapy facilities and dance studio with sprung floor to give you practical experience for postgraduate studies or the workplace.
"As a prospective student, being able to search for a career and find an academic path is a valuable part of our website," said Alex McConnell, assistant director of admissions. "We offer different academic programs that allow students to study what they enjoy, create their own path and have resources available along the way as they try to find their career."
In addition to the website, Transylvania provides myriad resources for students to chart their futures, even if that means venturing off in an unexpected direction.
Take a student entering Transylvania thinking they want to work in health care, for example — that means some kind of medical degree, right? Not necessarily. "Through advising, guest alumni speakers, our pre-health program and shadowing, Transy students are introduced to many other avenues, including health care administration, genetic counseling and social work," said professor Sarah Bray, associate dean for academic affairs.
And if students can't find just the right major out of the 46 offered, they are encouraged to design their own — from biopsychology to international security to intercultural communication.
This sense of exploration is also baked into Transylvania's liberal arts curriculum, which introduces Pioneers to a variety of disciplines. "Often students have a sense of their vocation but don't necessarily see how the liberal arts connect to that vocation," Bray said. "Our faculty's and our Center for Academic and Professional Enrichment staff's excellent work helps students connect their major to their vocation through their course selection, research opportunities and internships."
Bray remembers a student in an introductory biology course with an emphasis in ecology. "She was telling me how much she enjoyed it but didn't understand what she could do with it. I told her, 'Why not be a scientist and produce the research we were studying?' Today she is working on a Ph.D. in entomology."