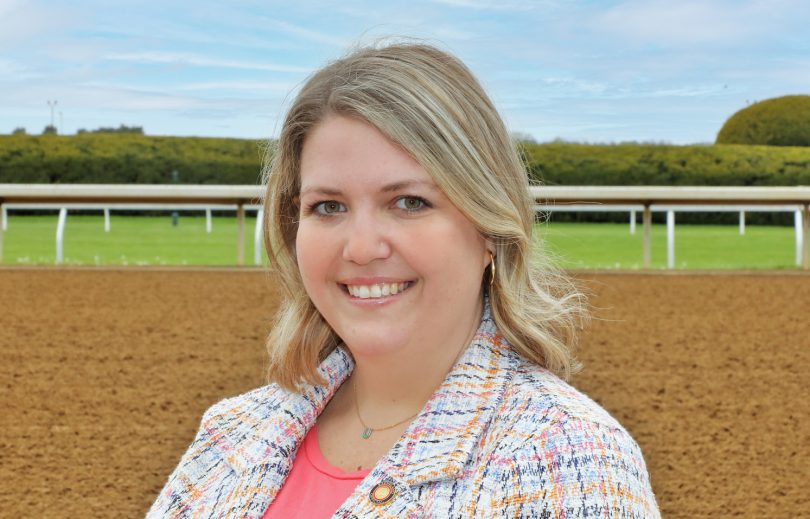 Betsy May graduated from Transylvania University during a time of economic turmoil, when unemployment was skyrocketing and the future was uncertain for millions of young people trying to establish themselves in a workforce in flux.
Sound familiar? Many of today's graduates are encountering a similar landscape to where she and her peers in the Class of 2008 found themselves.
May had majored in business with an emphasis in marketing, but she was willing to be flexible, to take a different kind of position that she could grow into and learn from. So she contacted Transy's Office of Career Development, who connected her with the United Way of the Bluegrass, where she was hired to do fundraising development for the nonprofit's fall campaign. That experience gave her the boost she needed to launch her career, which has now spanned marketing, business development and her current position at Keeneland Race Course in Lexington working in yet another field — employee engagement with human resources.
Her experience over the past 13 years of trying on various hats and adapting to new opportunities is akin to how many young professionals today are navigating their careers — it is estimated that today's college graduates will change jobs 12-15 times throughout their lives, including multiple career changes.
Keeneland, like so many other employers, is embracing this new normal and actively seeking employees that show a willingness to grow and evolve with the rest of the world. The most successful candidates are the ones who align with Keeneland's values and mission. And even though a career in the equine industry may feel niche to an outsider, there are many different types of jobs available to people who are open to learning.
"The cool thing about Keeneland in central Kentucky is you don't have to be in the equine industry to be interested in working here," she says. "We learned in the past year that, when things that we are most comfortable with get stripped away and we have to adapt and do things differently, the folks who thrive are the ones who seize opportunity and are willing to add tools to their toolbelt and grow as individuals. It's sometimes hard to see that in an interview, but you can often tell based on what they talk about and their past experiences."
In her own story, being a liberal arts student at Transylvania served as real-world preparation for that type of adaptability. In addition to her major, she was a music minor in vocal performance, and she took so many classes in her newly discovered interest in art history that she nearly carried a minor in that, as well. The small class sizes and personal relationships she had with many of her professors kept opening doors to new interests and experiences that she cherishes as she looks back on her time on campus.
"The idea that the campus was intimate and a community was really appealing to me, knowing that you're more than just a number and being able to get the classes you want to take," she says.