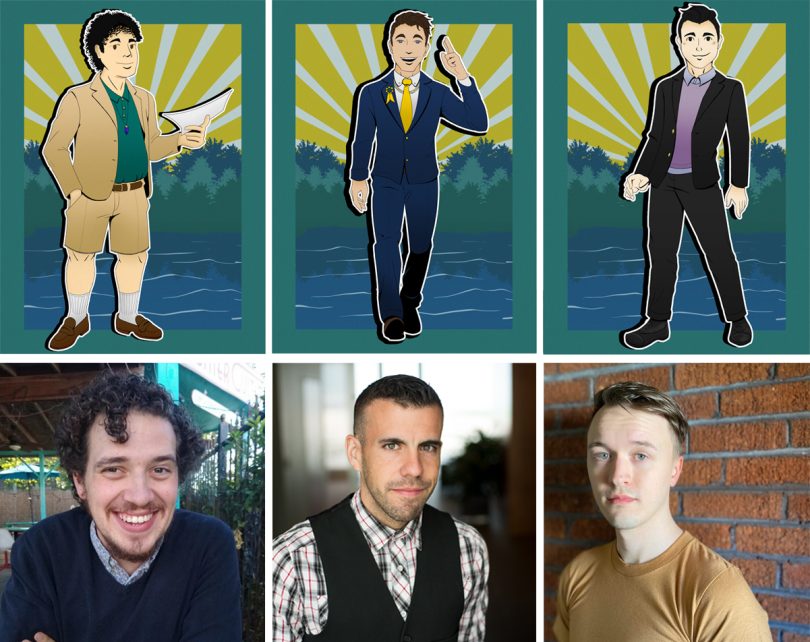 From the recesses of the old Back Caf to Coleman Recital Hall, audiences would gather to watch a group of Transylvania University students pretty much make things up on the spot. And it was hilarious.
The connections forged between these ImprompTU improv group members still endure years after graduation — in fact, three of them this past fall started a podcast called "This is Yallcomeback," a quirky look at the municipal goings on of the "most welcoming landlocked island in the United States."
"The beauty of having shared experiences at Transylvania was that we immediately jumped into the show knowing some of each other's strengths and how to bounce off each other," said Cory Collins '13. "With improv, it can take a lot of time to build that dynamic. But I immediately felt comfortable. At the same time, I get to see how much both of them have grown and become even more hilarious since our Transy days — and it's an honor to be a part of a project that lets them shine."
Besides Collins, who's a journalist and author, Cameron Lindsey '13 and Josiah Knight '14 form the core "Yallcomeback" group, with a cadre of Transylvania alumni as guests.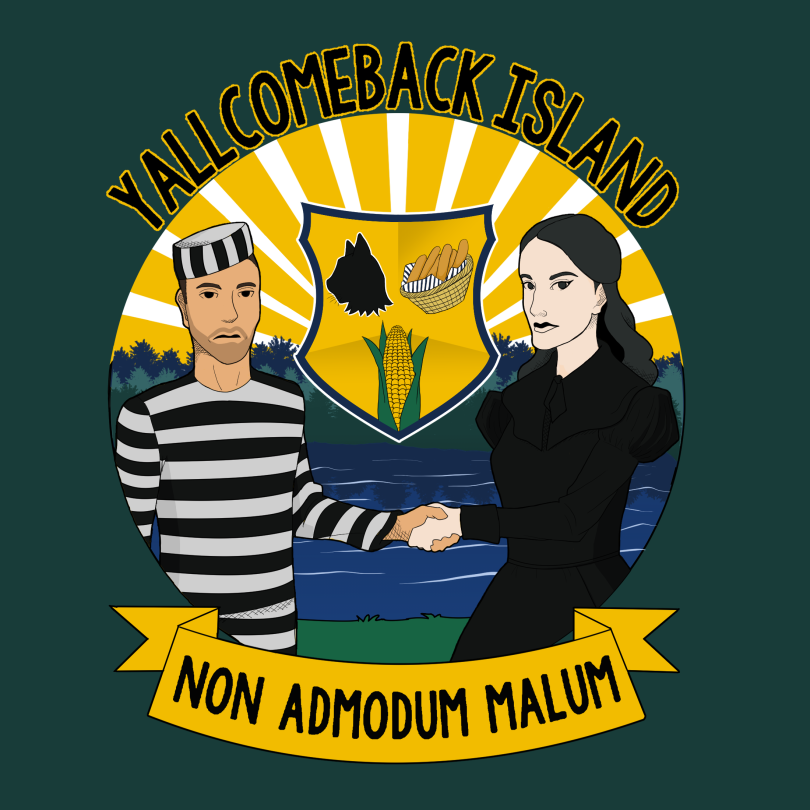 Knight said through ImprompTU he learned to trust both Collins and Lindsey and that he could count on them elevating his contributions. "I knew that I wanted them to succeed as well and found myself recalling the respect for collaborators that was ingrained in me through my training in Transy's theater program. It has been an effortless, easy and absolutely enriching experience."
Launched during the pandemic, the fictional improv podcast has also provided a creative outlet for these performers — and a way to bridge distances. "I knew I'd not only have fun, but be with two people I trust to do comedy thoughtfully," Collins said. "I think that's important right now — to offer something lighthearted but still full of heart, a community for anyone feeling isolated.
"Now, we're in three separate cities, on Skype, sitting at our mics, telling this story," he continued. "But I don't think it'd work so well without the time we spent in random Transylvania conference rooms practicing improv and learning each other's humor."
Lindsey, who has podcast production experience through his doctoral program, pointed out how the podcast is set in the town hall of a municipality so small it serves as a catchall for incoming calls for a variety of services, from the library to the fire and health departments. "This meant that we could have guests on the show that were calling in (their audio could be of nearly any quality) and the subject matter of their call could be incredibly diverse and change from week to week." (Having characters speaking over the phone as part of the plot in a podcast eliminates the need for having actors gather in a studio with the right equipment.)
Knight, who's worked as a professional voice actor, said his favorite aspect of "Yallcomeback" is that "anyone can be a guest, regardless of location or technological limitations. In a way, this reminds me very much of Transy, where anyone could jump into a new group or campus culture and immediately fit in and feel welcome and wanted. Because of that, I learned to celebrate my own quirks and revel in the quirks of others, which is exactly what our show does. Everyone is welcome and celebrated in Yallcomeback."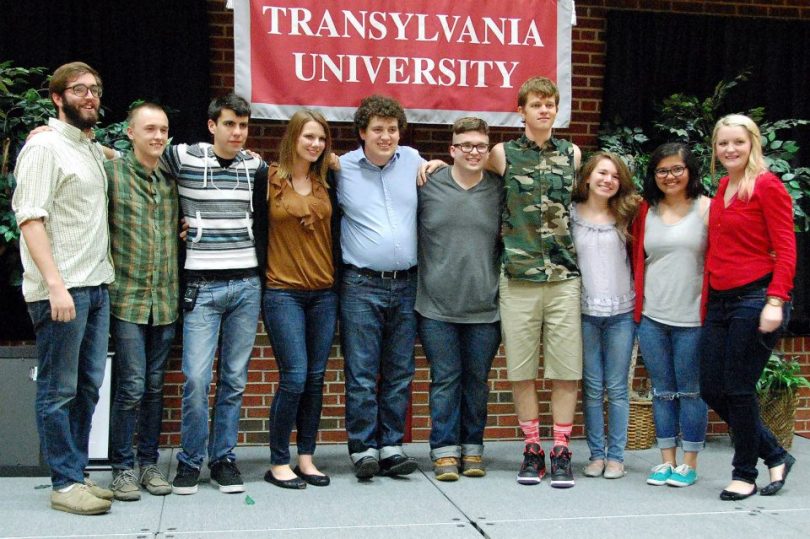 Guests include Caleb Ritchie '12, who created music for the podcast, and other ImprompTU members.
"We have been incredibly fortunate to have such a great community of friends from our time at Transy that help with our show," Lindsey said. "We count on them as subscribers, sure, but as promoters, collaborators, advisers and even guests, and our show would not be what it is without those connections."
As for the appeal of "Yallcomeback," Collins said it's really for anyone. "It'll make you laugh. It'll touch your heart sometimes. It'll poke fun at small town life without resorting to stereotypes. But at the end of the day, it's about celebrating and seeing the magic in what we mistake as mundane, day-to-day lives. With a little imagination, all of it matters, and all of it feels larger than life."
Tune in to the latest episode, and find out why it's so difficult to beautify Garbage Dump Beach — and how a mysterious Icelandic pop star thinks she can solve the town's problems.
---
Top photo (l-r): Cameron Lindsey (Gil), Cory Collins (Manny) and Josiah Knight (Baby)