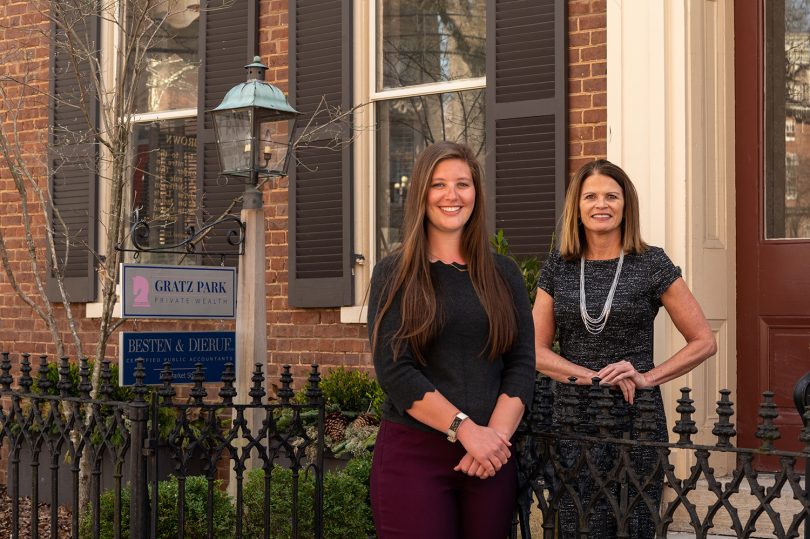 For a Transylvania University business administration major who's on the softball team, it'd be tough to find a better place to intern than Gratz Park Private Wealth.
It didn't take junior infielder Annie Schuck any time at all to walk to the financial advisory firm just across Third Street from the school's softball field and Cowgill Center for Business, Economics, and Education. Plus, it's led by President Sherry Holley '88, a Pioneer Hall of Famer who played three sports at Transy, including softball, and serves on the university's Board of Trustees.
"This gave me a chance to walk to work each day while still being able to make it back in time for softball practice and classes," Schuck said of her paid internship.
Not only was it convenient, but Schuck got real-world experience that will help prepare her for a variety of future careers, and life in general. "Learning about finances does not only apply to you if you are going into the finance industry — I learned how the market works and that investing young in reliable companies will make you more money than investing in new, risky companies," she said.
Holley got a similar start herself. A 30-year veteran in the investment business, she found her path after taking a May term course at Transylvania focused on the stock market, followed by an internship at a large firm in Lexington. "I think it's helpful to allow students to come and experience things … and see if this might be something they'd like to do," Holley said.
Specifically, her interns compile contact relationship management information on clients to help the firm establish personalized connections. Then they move on to tasks like putting together data for portfolios and financial plans while learning things like tax strategies and estate planning.
Holley also wants them to know they're not just there to learn and gain practical skills that they might not get in the classroom — interns like Schuck are also providing valuable services for her company.
Aspects of Schuck's job also gave her experience working directly with clients, such as calling them before meetings to ensure the team had all the necessary information. "I even got to sit in on some financial meetings with clients," said Schuck, who's from Selma, Indiana, and earning a BA major with a concentration in hospitality and tourism.
Holley said she tells her interns: "You're not here to stuff envelopes for me. I really want you to learn and discern that this is a career for you."
After all, getting a Transylvania education is about taking the steps that will allow you to strike out on your own path — and being in the heart of Lexington helps make that possible.