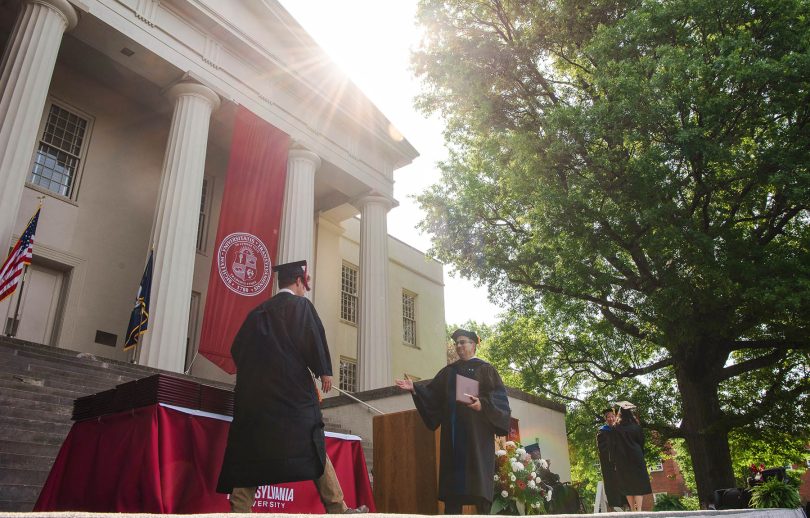 A year ago today, Transylvania students opened their computers and, for the first time as a community, began learning remotely. In the 365 days that have passed since, we have asked our students, faculty, staff, parents and community to remain flexible in the face of changes necessitated by the COVID-19 pandemic.
To say the response exceeded our expectations is very much an understatement. By prioritizing individual empowerment and community responsibility among our students, faculty and staff, and giving each as much choice and flexibility as possible, we have navigated through this challenging year.
Where we find ourselves today is vastly different than where we were last March. With the success of our Healthy at Transy protocols and the efficiency of Kentucky's vaccine rollout, most of our employees and many of our students have been vaccinated. As a result, we can more confidently plan what our campus experience will look like.
Commencement
Transylvania will host an in-person commencement for the Class of 2021 on Saturday, May 29. Details on the ceremonies are being finalized and will be updated on the university's website at transy.edu/commencement.
On Saturday, May 22, Transylvania will host a celebration for the Class of 2020. Virtual commencement events for the Class of 2020 were held last May, but we will welcome back graduates for an in-person gathering. Details on the ceremony are being finalized and will be available on the 2020 Commencement webpage.
Face-to-face instruction
Personalized, face-to-face instruction is the hallmark of a Transylvania education, and our intent is to return most of our classes to this model beginning in August. We are hopeful that because of our small class sizes, we will be back in our usual classrooms for most courses. We also plan to take advantage of the technology we've utilized over the last 12 months and may offer online sections of some courses.
Fall, winter and May terms
To provide maximum flexibility over the past year, Transylvania adopted a modular academic calendar. For the 2021-22 academic year, we will return to our standard 4-4-1 calendar, with most students taking four courses in the fall and winter terms and one course during May term. Registration for fall classes will be April 5-9.
Residence life and campus activities
Part of the university's mission is to provide an educational environment conducive to the learning process, and we consider our residence halls a major part of that learning environment. We believe that the opportunities for exchanging ideas, developing social and interpersonal skills and maximizing campus connections are greatly enhanced by on-campus residency. In January, we announced that we will return to our usual on-campus residency guidelines.
While we expect our Healthy at Transy, NCAA and public health guidance to evolve over the next few months, we anticipate more flexibility with events, activities and athletics on campus in the 2021-22 academic year. Like you, we look forward to being able to gather in spaces across campus with our community.
Employee return to campus
Transylvania will continue to follow Kentucky's guidance for businesses on the number of employees working in person. We expect to begin a phased return to campus for employees over the summer with supervisors, in coordination with the human resources office, empowered to determine whether certain positions and employees may be eligible for some levels of remote work.
The last year has changed us as an institution and as a society. We have learned that we can pivot to accommodate the most daunting of challenges, while taking small steps to protect ourselves and our loved ones.
This ability to change, adapt and innovate is one of the core goals of a liberal arts education and a distinctive Transylvania degree. We prepare our students to be agents of creativity, to be curious and resilient, and this past year they have done so resoundingly. We are excited to plan for the fall and beyond and to gather together again as a campus community.