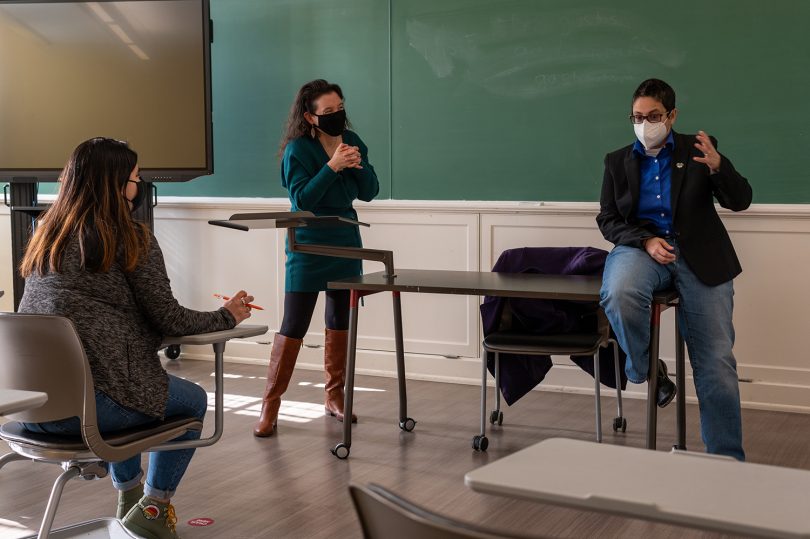 Talk with Transylvania University students and graduates from across the spectrum of disciplines and professions and you'll find they share the same unexpected addition of a particular second major or minor. Their path to it is often similar. They need a general education requirement. They hear about religion professor Carole Barnsley's Introduction to Religion class. They sign up for it and are riveted. They find themselves learning how to better understand themselves and the world. They want more. Before long they've added a major or minor in religion.
It turns out that the critical reading of religious texts and analysis of belief systems, along with being open to diverse perspectives, instills lifelong empathy and respect for others. The study of religion, in fact, is exactly the kind of liberal arts experience that prepares students to become constructive global citizens.
Perhaps, because the liberal arts also serve as a constant reminder that the more we learn, the more we see how much more there is to learn, Transy's religion program periodically reviews its program.  
When Leslie Ribovich interviewed for her position as the new assistant professor of religion at Transy, she was excited to find Carole Barnsley eager to brainstorm ideas for the religion program. It was a continuation of how Paul Jones, Transy's beloved and recently retired professor of religion, had invited Barnsley, now the director, to help reimagine the program with her ideas and perspective when she arrived 10 years ago.
Barnsley and Ribovich share a determination to decolonize the study of religion, removing the 20th-century tendency to divide East and West, and adding the essential lenses of race and gender — "the two formidable isms," Barnsley calls them. They are building up the program's rigor, with new upper-level courses and a methods class that looks at religion from various viewpoints, including history, philosophy, theology, ethnography and even quantitative sociology. Students now take a more active role in creating their own area of focus and skill sets that will serve them in their future careers.
The deeply personal aspect within the study of religion, Ribovich notes, asks students to "challenge their assumptions about the world and their moral assumptions about what is right and wrong. It requires us to slow down, to listen, to be self-critical but also to be open-minded to others. Studying religion and how people have thought about religion forces you to go deeper within yourself and engage in this collaborative process with students."
One way of doing this is to move beyond simply looking at a text or a tradition or a region on its own. "If we focus only on content," says Barnsley, "then we're not decolonizing narratives." So, for example, instead of limiting exploration of the Islamic tradition to a single text and to the Middle East, students learn about it through Black American voices and from a feminist perspective.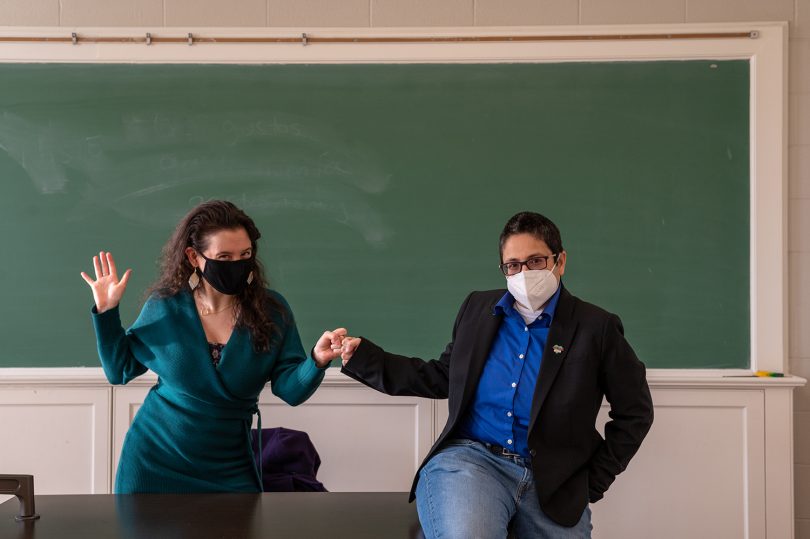 Seth Wyatt '21, a philosophy major and religion minor, who is also the former president of the Student Interfaith Alliance and current student body vice president, recalls his recent study of Judaism being particularly powerful because the class included the work of a Jewish woman writing about practicing her faith as a woman.
"Religion is often the deepest thing in someone's heart," Wyatt reflects. "So, if you're taking the time to learn something that someone holds that sacredly, you have to empathize with them; you have to learn how to understand them, to trust them with their own beliefs and to respect and honor the deep feelings and emotions they have about their faith traditions."
Shearer scholar Alexa Valarezo '21, a math and religion double major, recognizes how helpful it's been to analyze the role of gender in Christianity as she's worked to understand the structures within American society. She's also gained clarity in her math and religion studies by applying both the abstract and concrete nature of each discipline to the other.
Ribovich, who teaches courses in Judaism and race, as well as Christianity and religion in the Americas, points to the collaborative nature of the liberal arts, and the benefits of working with students from various disciplines and how much more they bring to the classes. "We're continually growing as faculty," she says.
"Religion, as a field of study, is inherently interdisciplinary," she continues. "There are so many different approaches that one can take." But it's "the playing ideas off of each other across fields," she adds, that makes her classes especially exciting. She enjoys watching students make connections and joining them as they advance their understanding.
Barnsley notes how well a religion major or minor works in conjunction with a student's discipline-oriented major, and how it prepares them for life post-Transylvania.
"Thinking about how we position ourselves in the world," Barnsley says, "how we ask questions and how we process it through writing and critical reading and thinking — all are key strategies that our religion majors leave with. I often hear from majors who ended up in law school, who were so glad they had to read, think and write so much in our classes. All of those skills bore fruit in law school. They had a leg up because of that."
And, Ribovich adds, because the study of religion prepares them "to be self-reflective when they encounter other people in the future — whether it's as a teacher or someone in the health care profession, a social worker or lawyer — they're able to be more empathetic, not simply because religion teaches you to be nice, but empathetic because we're actually having to get to some of those core assumptions of what people value."
In that and in so many other ways, Barnsley notes, the religion program epitomizes Transy's values and its learning objectives: "to be a global citizen, to be active in the world, to problem solve, to be able to engage." The study of religion, she adds, "is not simply 'do unto others.' It's much deeper."
It can be seen in Valarezo, a campus leader who is thinking about teaching high school math. And in Wyatt, as he prepares to graduate and spend a gap year in his home state of Arkansas, intent on working to improve housing and health care.
"There's really no place where religion doesn't touch," Wyatt says, reflecting on the importance of having studied religion. "I have a fundamental belief that you cannot understand the American person or human person without understanding religion.
"I don't think there's anything that I couldn't take from these classes out into the real world."