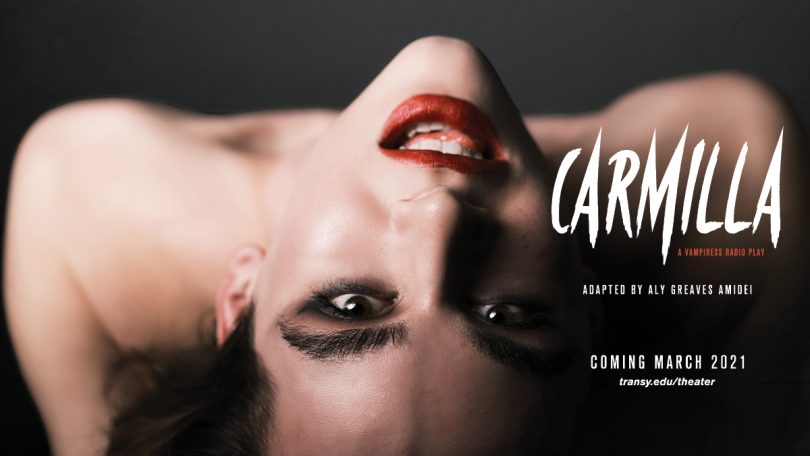 Vampires at Transylvania University?
Actually, yes. The school's theater program will soon premiere an original adaptation of the 19th century Gothic novella "Carmilla."
The production is Transylvania Theater's first podcast show, a radio play of sorts. The first episode premieres Friday, March 19, and two more shows will be released over the following two weeks. Check the theater season page for updates and for links to listen to the episodes once they're ready.
"Carmilla" is the theater department's second production after the pandemic closed the curtain on in-person performances. It comes on the heels of the multimedia "Railsplitter," which was a collaborative effort by faculty, staff, students and alumni.
"We are continuing to engage students in artistic work through the pandemic," said Tosha Fowler, Lucille C. Little Chair of Theater and program director.
Physically distanced students have been working with Daniel Bennett, a theater instructor and production technical coordinator, to produce sound effects on a foley stage set up in Little Theater. They're using things like celery to make neck-biting noises and a bag of water and cornstarch to mimic the sound of a body hitting the floor.
Missy Johnston, resident costume designer and coordinator of costuming, is making specialized masks that project out from the mouth to help voice actors with breathing and sound quality.
The students also are getting assistance from playwright Aly Amidei and her partner, Brian, in the form of a workshop on radio plays. They ran a horror theater company in Chicago — and Aly Amidei wrote the adaptation for the Transylvania production from the original story.
Written in 1872, "Camilla" actually predates Bram Stoker's "Dracula." It's the tale of a female vampire in love with another woman — a strong role for the male-dominated Victorian era.
As for the Transylvania Theater version: "It takes itself seriously, but it's also really fun," said Fowler, who is going on maternity leave and handing over the directing reins to junior Madison Plowman. "It's something you can listen to with your families."