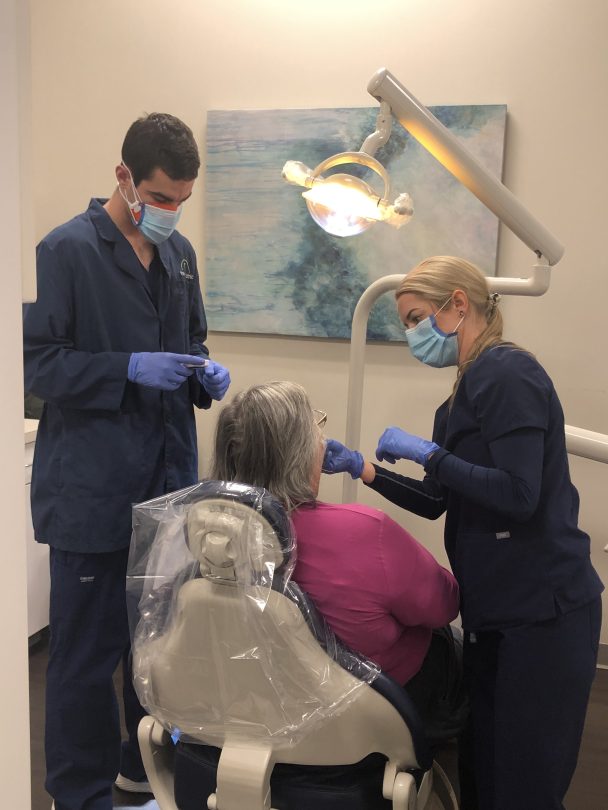 As a molecular biology major and pre-dental student at Transylvania University, Sammy Clore '22 has learned that shadowing dentists is helpful. Indeed, he's already logged 150 hours. Doing so has helped solidify his preference for dentistry over medicine.
But shadowing is limited to simple observation. Volunteering as a dental assistant, on the other hand, is uniquely different. Throughout the current academic year, a very appreciative Clore has been learning by doing, working as a volunteer alongside two Transy alumni at The Refuge Clinic in Lexington.
"Getting hands-on experience is so important to me and to all pre-dental students," says the native of Owensboro, Kentucky. "It's rare to get these experiences."
Clore is one of a series of Transy pre-dental and pre-med students to volunteer at The Refuge Clinic, which offers medical care to the uninsured. He says it's "cool" to have the Transy connection with dental coordinator Cady Calvert Jean-Baptiste '03 and dentist Katie Sutherland Bowen '10. He gets to learn by working with them, but also from their full range of professional experience. 
Jean-Baptiste, who discovered her interest in social services during a May term class at Transy, taught in Haiti before joining the clinic. Bowen worked in private practice and volunteered at the clinic before joining the staff. Both alumni say how much they enjoy working with Clore and all of the Pioneers who volunteer.
"They're fantastic. They're all in," Bowen says. "These students are thirsty for knowledge. You tell them something and they remember it and do it the next time. They have the passion for it." And, she notes, they possess an important combination of attributes. "We need sweet, smart, caring dentists. Everyone I've met from Transy has the personality for it and the empathy that you need. I know they'll be successful. And Sammy will be great."
Jean-Baptiste agrees. "We love working with the students. They come in so well prepared," she says. "They're motivated to figure things out in appropriate ways. And they ask great questions."
Having the opportunity to ask questions of professionals as the work unfolds is part of the privilege of being a dental assistant at the clinic. Clore appreciates how much he's grown in the process. "I've learned a lot," he says, "and it's been really beneficial to me personally."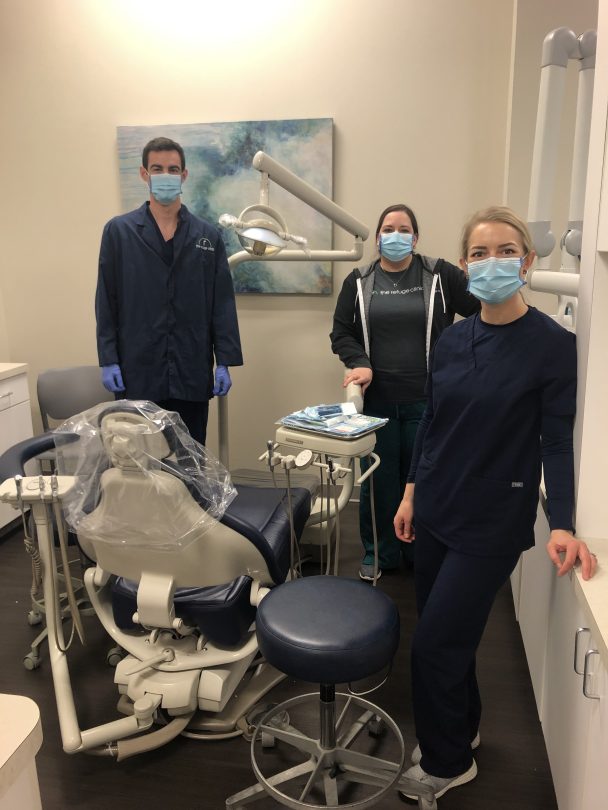 Bowen notes that Jean-Baptiste is good about making sure that Clore and all of the students learn a lot of roles. At the dentist chair, she notes: "They're hands-on. They're suctioning, they're handing me the right things. They're asking me questions and learning about the process that we're doing." They also assist Jean-Baptiste with X-rays and the sterilization of instruments. And, particularly essential, they're building a good rapport with patients.
"It's one thing to know how to do dentistry," Bowen explains. "It's a totally different thing to be able to interact with patients — and patients from all walks of life."
"The Refuge Clinic does a really great job of that," says Clore. "It definitely has helped me realize how to run a proper dental office."
Clore greets patients as they arrive and takes their temperature and pulse oxygen. After the procedure, according to the clinic's policy, he walks them to the door or out to their transportation. He says he's seen how the process helps to put patients at ease and builds a relationship.
"I think dentistry is really a personal profession, even though you're not talking a lot with the patient during the procedure, obviously. I think it's really nice to form that connection before and after the procedure to make them feel more comfortable."
Clore points to his liberal arts education at Transy for preparing him to interact with people from many backgrounds. He's remarked to his parents on more than one occasion about the value to him, a biology major who loves science, of taking ancient Greek and Roman philosophy and non-Western music. "Not all of my patients are going to be science lovers or dentists," he muses. "So I think it's really an important ability to have. Transy has done a really good job of developing that in me.
"And I'm grateful to The Refuge Clinic for letting me volunteer," Clore says. "This unique experience has propelled my excitement and intensified my passion, because I've gotten that hands-on, close experience with working. It's been really fun for me, and I've grown a lot doing it."