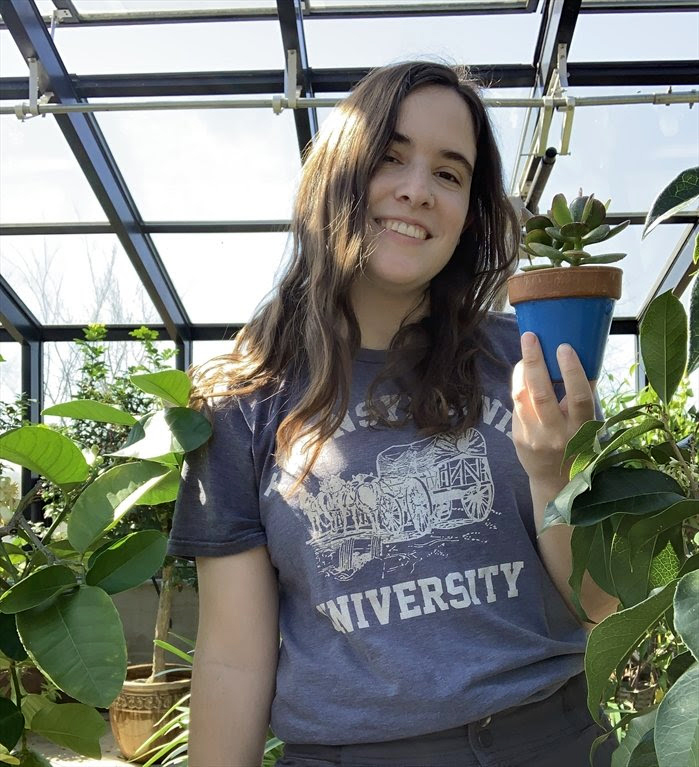 This article by Kristina Farr '15 first appeared in the most recent Crossing Broadway young alumni newsletter. Farr is the head gardener at Woodland Farm in Goshen, Kentucky, where she's worked for the past four years. She tends several gardens and greenhouses, most recently helping grow fruits, vegetables and herbs for Barn 8, a new farm-to-table restaurant at Hermitage Farm.
As many of us have spent a lot more time at home this past year, you may have found yourself looking to spruce up your space. And what better way to literally liven up the place than with plants! Whether you took up vegetable gardening or bought a single succulent, many are finding themselves brand new to plant parenthood. Working in gardens for the last few years, I've picked up a few easy tips to keep your new green friends alive and thriving.
Replicate your plant's native habitat
The first step in owning a plant is research. Plants have so many different requirements when it comes to light, soil, temperature, water and humidity. If you're curious about a certain variety, there is a wealth of information online these days, but you can also ask your local nurseries and greenhouse growers — they really are the plant experts. I've also found that joining my local houseplant Facebook group has been a great way to learn what your plants need from other plant parents — it's also the best way to scope out the best plant sales.
Begin with low-maintenance plants
You don't have to sacrifice beauty when it comes to picking a less fussy plant. There are plenty of sturdy ones that can handle some neglect. My favorite beginner plants are snake plants, jade, spider plants, pothos, pilea and aloe (there are even "air plants" that don't require soil or much water at all!). If you can manage to keep these alive, then it's easier to move on to your monsteras and fiddle leaf figs.
Water once and water well
Watering is hands down the trickiest thing to learn when it comes to plants, and sometimes you unfortunately have to kill quite a few to really get the hang of it. One of the gold standards to watering is to water deeply less often rather than lightly watering more often. Ultimately it's best to let the plant teach you what it needs. You can do this first by examining your plant's foliage often. If it feels limp or dry to the touch or is visibly drooping, it likely needs water. You can also purchase a moisture meter that can let you know when it's time to water if you aren't sure. Also, be sure your pots have drainage holes and the correct potting soil. I've also found over time that some plants respond better to watering from the bottom by placing the pot in a tray of water until the topsoil is moist.
Check for bugs — especially before you buy
Bugs and plants actually have a fairly important relationship, but it isn't always harmonious. There are plenty of bugs that can damage and even kill your plants. It's important to inspect your plant for any signs of bugs or bug damage before you buy it and bring it home. Not only is it bad for that plant but can easily spread to your others. Not all bugs are visible at first, so it's best to keep your new plant in quarantine (sound familiar?) from other plants when you first bring it home. If you can identify the bug (seriously can't recommend Facebook groups enough for bug IDs!) then you can look up how to handle it and keep your plants healthy and happy.
Don't stress!
Over-tending your plants is the most common mistake when taking care of them for the first time. With plants, you learn a lot more from patience and observation, rather than obsessing and stressing. Take note of how it responds to changes before you act; sometimes plants can experience stress just like we can and need the time to adjust. Once you and your plant get accustomed to each other, then you can truly begin to experience the many benefits of being a plant parent.