Allison Wilkerson, a neuropsychology major and communication minor, had never debated prior to attending Transylvania University. Yet she, along with Sameer Ahmed and finalist Savannah Lambert, received the Harlan Hamm Award at the recent Kentucky Forensics Association State Tournament. The highest Kentucky forensics honor bestowed by KFA coaches, it recognizes students who "represent the ideals of forensics participation" as debate team leaders, competitors and community contributors. Transylvania has had 12 student recipients in the past 10 years, including five in the last four years.
Wilkerson remembers when she first became interested in forensics as a spectator watching her older sister compete for Transylvania. "I fell in love with the format, style, topics, people and the atmosphere," she says. Her sister, Kaitlynne Wilkerson '19, was certain she should get involved in forensics. Bolstered by that encouragement, Wilkerson arrived at Transy from Madisonville, Kentucky, and without having any experience in speech or debate in high school, joined the team. She has relished her journey from novice to award-winning varsity debater.
"The thing I love the most about debate is that it makes you think on your toes and teaches you how to do that. It's a very valuable skill to have in our world," Wilkerson says, adding that it has strengthened her ability "to think independently and critically. And it's so much fun."
Along the way, Wilkerson found her favorite form of competition to be individual debate. By the end of her sophomore year, Wilkerson was third in the nation in the Novice Division of IPDA (the individual debate), one of the 10 best finishes in the Transy team's history.
Working as part of the team has its perks, she notes, but it's the individual debate that has strengthened her self-reliance. "Having to rely on yourself allows you to grow and go beyond where you thought you could go," she says.
Wilkerson was able to flourish across the debating spectrum because Gary Deaton, Transy's veteran coach and director of forensics, tends to enter students into a variety of categories — often unbeknownst to the student until the day of competition. Wilkerson says she appreciates the opportunities that exposed her to so many different forms of speaking, interaction and learning. She also counts her classroom experience as an essential part of the final results.
"I'm constantly being challenged in class as a neuroscience major," she says, "challenged to think outside the box and to grow beyond where I am. Transy has allowed me to constantly grow. That's helped me a lot in the debate world."
She's thankful for the extent of the coaching, too, singling out Brian Powell '11, associate director of forensics and a Transy grad, for being "a constant for the team who keeps everyone on top of preps, rounds and speeches. He's always been there to push us forward," Wilkerson adds, noting how much he helped her to prep, but also to better understand herself and how to make the most of her background in science.
But Deaton, she notes, is "our go-to. He is constantly encouraging. Even if you fail at something, he's always there to tell you that it's fine, that you did your best. And he'll make you do it again just to prove to yourself that you can do it and are capable," she says. "I think those are huge growth moments."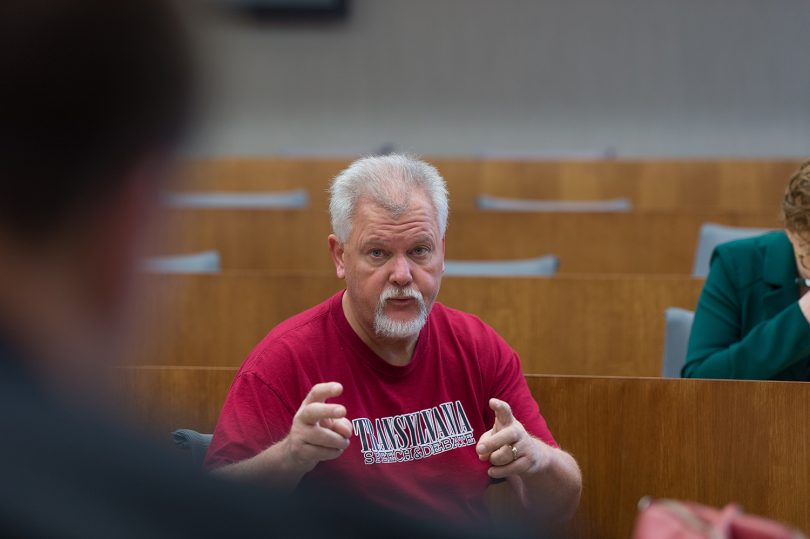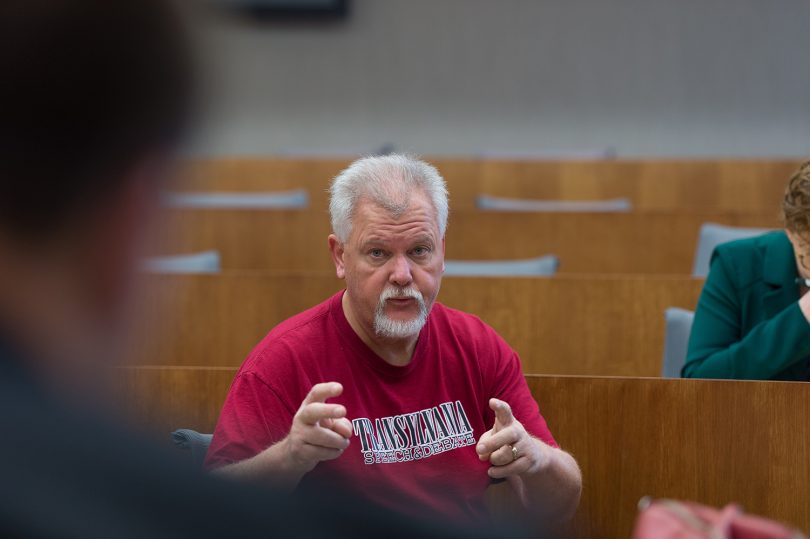 At the recent tournament, Deaton was named KFA Coach of the Year after being nominated by his team members and supported by students from other schools. Within their longer nomination of Deaton, the team wrote:
"We believe that this coach deserves the Coach of the Year award because he takes the concept of what a coach is, and what they do, far beyond the normal expectations. This individual sacrifices his time in and out of school ensuring that we are not only the best debaters we can be, but the best people as well. He deeply values the spirit of growth and learning in debate and fights strongly for the integrity of the sport for the entire community. His messages of kindness and instillation of the spirit of genuine competition have made him the origin of positivity for our team for over 30 years, spreading his influence across numerous generations of student debaters."
Deaton gives kudos to his two other coaches, Powell and assistant director Donovan Finan '19, who are, he says, "instrumental in our team's success."
Also participating in the first competition of the season were two sophomores, Saif Ahmed and Sarah Cayton, who joined the three seniors, Wilkerson, Ahmed and Lambert. All five Transy students finished in the top 10, including Cayton's second place finish.
The next tournament will be this weekend, co-hosted online by Transylvania University and Owensboro CTC.