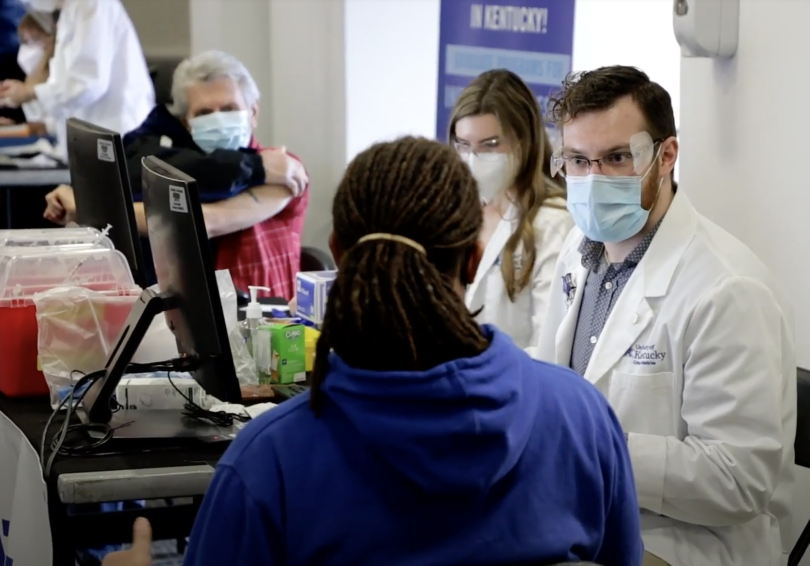 Perhaps it's the liberal arts background … or maybe it's the campus culture of engagement — whatever the reason, those who go into medicine after graduating from Transylvania University do so with a spirit of service.
Two of them — J.T. Henderson and Peyton (Thomas) Couch, now students at the University of Kentucky College of Medicine — volunteered to spend a recent Saturday vaccinating local residents against COVID-19. In fact, each of them gave more than 50 shots as part of the UK HealthCare clinic at Kroger Field.
"Once you got in a rhythm it was easy to keep going," said Couch, who coincidentally administered the doses at the same table as Henderson (they were also both biology and Spanish majors who graduated together in 2018). She said there was a feeling of optimism at the clinic, and some of the patients were so excited they wanted to have their picture taken getting the vaccine.
And for these future doctors, it was one of their first chances to go beyond the lab or textbook and assist the local community in a clinical setting. "It was exciting to finally be able to help," Couch said.
She also pointed out how Transylvania gives pre-med students not only a solid foundation in science but also the skills to work well with people, and help them — "being able to look into the community and see a need and fill it."
Henderson said the tight-knit Transy campus, with its many student organizations, lends itself to volunteerism. "You know so many people that are trying to give back, so it's really hard to not serve the community in some way."
Besides administering the vaccine, their service that Saturday included reviewing patients' medical histories and counseling on possible reactions.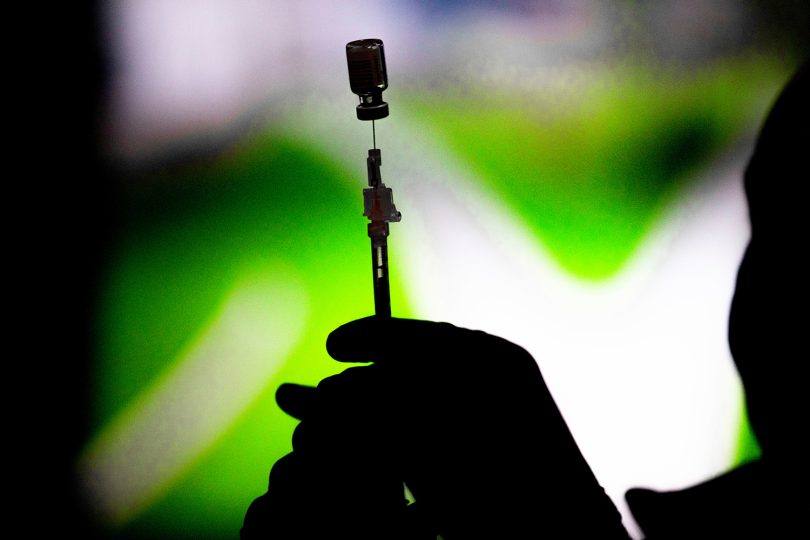 Henderson recommends that anyone with questions about vaccinations should talk with their family physician or check with the Centers for Disease Control and Prevention. (State info is here.)
Robin Prichard '89, Transylvania's special assistant to the president for public health, said Henderson and Couch were outstanding pre-med students who now give back to their alma mater by mentoring current Pioneers. "We knew that they would do great things," she said.
WLEX reported on the expanded clinic, which was made possible when the program received extra doses: "The response was so overwhelming [the volunteers] crashed our sign-up site," said Dr. Joseph Zwischeberger with UK's College of Medicine. "I think what we're seeing is built up frustration that they want to serve and help. They want to be in the profession as quickly as possible and be able to help society improve and get over this disease. It doesn't surprise me, but it does warm my heart to see how they responded."