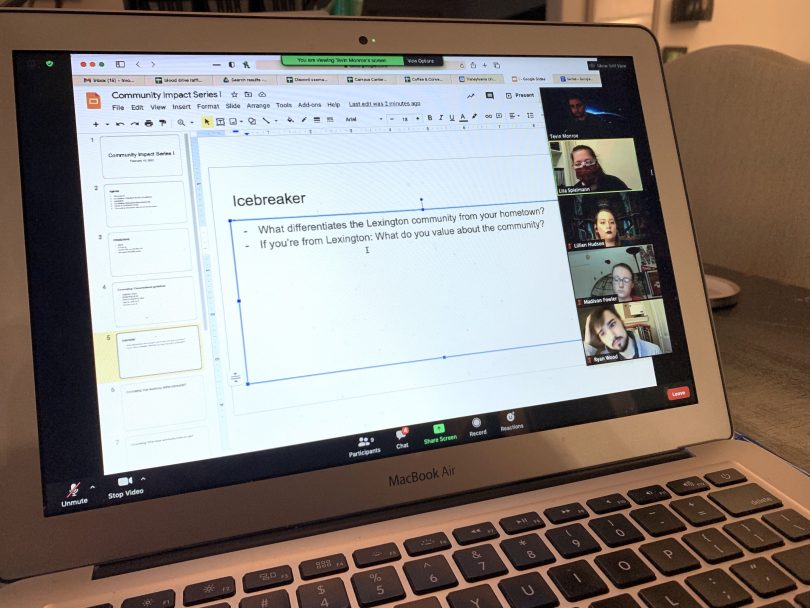 Many community engagement initiatives have been forced on hold over the past year, but Transylvania has remained steadfast in its commitment to helping its students build their leadership skills and gain experience that will help propel them toward being lifelong good citizens and neighbors. Some opportunities — like tutoring with the Carnegie Center and mentoring through Kentucky Refugee Ministries — have been able to continue virtually. The Office of Campus and Community Engagement, however, is also filling the gaps by bringing the conversation back to campus and taking the time to look inward to discover what community engagement really means.
Tevin Monroe, assistant director for campus and community engagement, created a program he's calling the Community Impact Series, which is a series of virtual dialogue sessions exploring what it means to be part of a community, how to develop skills that can benefit that community and what it means to be a leader in the community. He's invited students from all backgrounds to join the sessions, which he calls "co-created," meaning participants set the ground rules for the conversation, as well as share their own thoughts and experiences that contribute to the overall lesson. His presentation is outlined but fluid, as he fills in slides in the moment based on participant input. It works together to become a cohesive piece consisting of different ideas that he compiles and then sends to participants for further reflection.
"In true liberal arts fashion, the Community Impact Series provides a context which allows students to generate their own opinions and takeaways for their own journey of active citizenship," he says of the unique format.
The first session took place on Feb. 10 and explored the idea of communities, how they're formed and how they benefit the members. It compared and contrasted relational and territorial communities, which look different but share the same four requirements: membership, influence, fulfillment of needs and shared emotional connection. Students shared the communities that they're part of and what their ideal communities would look like.
"It is absolutely essential for student leaders to come together and not only discuss how we can uplift communities and improve them, but also what it means to be members of communities," says senior Seth Wyatt, who attended the session. "This is an opportunity for valuable conversation, which pushes us to improve as leaders and as community members."
Future sessions will include guest participants, including Lexington activist Sarah Williams to discuss grassroots organizing and civic change and volunteer administrator Joanna Scott-Scates, who will talk about community needs assessments.
"My hope is that the Community Impact Series provides students with tangible ideas and skills to prepare them for leadership in community engagement," Monroe says. "While we may not be able to directly engage in our community right now, we can hear from community leaders and hone our skills of empathy, active listening and activism."